Industry Insights
Global Polyurethane Foam Market size was valued at USD 48.55 billion in 2015. Increasing demand from bedding & furniture industry owing to rising urban population in emerging economies of Asia Pacific such as China, India, and Indonesia is anticipated to drive growth over the forecast period.
Polyurethane foam is an extensively used polymer and plastic. They are available in two forms i.e. rigid and flexible foams. Rigid foams are used for various insulation applications pertaining to refrigeration and construction. It is energy efficient and helps in cutting energy costs. Flexible foams are used mainly as a cushioning substance in end-use industries such as packaging, furniture, bedding and transportation.
North America and Europe have been traditionally the dominant consumers of such polymers owing to relatively stable industrial output. Although, strong economic development in India and China has shifted the equilibrium and Asia Pacific is expected to emerge as the leading consumer.
The shift of leading automotive manufacturers to countries such as India and Thailand, Vietnam and Malaysia from mature economies of North America and Europe has complimented region's industry growth.
Environmental benefits of this product include high recyclability and clean incineration for pollutant filtration, reduced wastage, and greater sustainability. However, several governments and federal agencies are increasingly being concerned with detrimental health effects of isocyanates utilized in PU production.
Growing need in automotive components including dashboards, armrests, airbags, other vehicular components, and exteriors is anticipated to drive consumption. Strengthening economies, improvements in sovereign balance sheets, and positive demographic outlook, mainly in Southeast Asian countries such as India, Vietnam, Indonesia, and Thailand are likely to contribute to high growth in demand.
Polyurethane foams are anticipated to witness increase market penetration owing to properties such as superior insulation that is ideal for roofs and walls in new houses. Their usage in buildings helps to maintain uniform temperature and reducing noise levels.
Increasing construction spending in countries such as India, Indonesia, Korea, UAE and Qatar due to strong industrial sector growth coupled with rising urban population is anticipated to fuel growth.
U.S. Polyurethane Foam Market revenue by product, 2014 - 2024 (USD Million)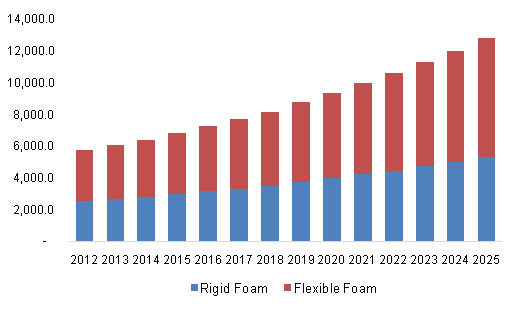 Governmental support in the form of tax incentives and subsidy schemes to encourage manufacturing sector in countries such as China and India is also likely to promote bio-based PU to replace conventional polymers.U.S. Polyurethane Foam Market revenue by product, 2014-2024, (USD Million)

Product Insights
Flexible foam was the leading product segment with its value estimated at over USD 25 billion in 2015. Flexible foam finds wide application in industries such as furniture, transportation, bedding, packaging, textiles and others owing to superior properties such as durability, resiliency, energy absorption and handling strength. Rising automotive sales in emerging economies of Asia Pacific and Latin America along with high demand for packaging is expected to drive industry over the next ten years.
Rigid polyurethane foams are used for manufacturing insulation materials for energy saving in households and buildings. Increasing construction spending coupled with rising per capita disposable income in emerging economies such as China, India, Brazil, and Mexico is anticipated to drive demand. Government support to use rigid foam in refrigeration applications is expected to boost growth over the forecast period.
Application Insights
Bedding & furniture was the leading application segment and accounted for over 30% of the overall volume in 2015. With the growing population, an increase in the number of single-parent families, and the booming real estate industry globally, the furniture market has been growing steadily over the last few years.
Flexible polyurethane foams are used for cushioning application in the bedding & furniture industry and is widely preferred as they provide thin profile cushion and comfort. Revenue growth in the industry will be driven by the rising demand for premium and designer furniture.
Packaging application segment is expected to grow at a CAGR of 3.5% over the next ten years. Growth of packaged food & beverage industry in Asia Pacific coupled with strong demand for corrugated boxes are expected to drive consumption in packaging applications.
Increasing demand from residential and commercial space, with growing preference for energy-efficient products, is estimated to drive demand in construction applications. Stringent regulations in the U.S. and Europe by agencies such as REACH and U.S. E.P.A. are expected to increase product demand in insulation to meet energy standards.
Footwear and other applications such as wire & cable and hose & tubing also occupied lowest volume share in the global market. Polyurethane foams find limited application scope in footwear and other segments and is likely to grow at a CAGR of 2.6% and 1.9% respectively from 2016 to 2024.
Regional Insights
Asia Pacific Polyurethane Foam Market led the global industry and accounted for over 40% of the global volume in 2015 with the growth to be driven by the development of transportation and electronics sectors in China, India, Korea, and Taiwan. Economic growth in the region has enabled greater for sales of vehicles and electronic appliances.
Also, due to increased employment, urbanization and urban migration have generated the escalating investments in construction, transportation, and packaging, hence driving industry growth. Asia Pacific is anticipated to be the fastest growing region.
Various environmental and legal factors are promoting industry development in Central & South America and Middle East & Africa as well. These regions are also home to major countries such as Brazil and South Africa that are growing at a rapid rate on account of expanding automotive and construction sectors.
Recovery of manufacturing sectors in mature economies of North America and Europe such as the U.S., UK, Germany, and Italy will drive regional consumption over the forecast horizon. Increasing government intervention to inculcate bio-based PU foam in various applications is anticipated to impact further industry dynamics.
Competitive Insights
Global Polyurethane Foam Market is characterized with the presence of a large number of layers competing on terms of product innovation and pricing as a key strategy. The key manufacturers in the industry include Bayer AG, Sekisui Chemicals, Trelleborg AG, Future Foam, Elliot Co., Reciticel, Woodbridge Group, Saint-Gobain S.A., Foamcraft Inc., UFP Technologies, Rogers Corp. The highly integrated players include BASF, Dow Chemical, Evonik, Huntsman and Chemtura.