Industry Insights
Increasing power consumption for industrial and commercial applications has built up a demand-supply gap in the power market. This gap is even more evident during the peak hours for electricity consumption. This has led to the development of power rental systems which are capable of providing temporary power during phases of the low power supply. In addition, these systems provide peak shaving which enables industries to distribute their electrical load evenly during peak and non-peak hours. Furthermore, these systems act as standby power supply in times of unplanned power losses.
Peak Shaving is expected to be a key trend for the utilization of power rental systems on account of the growing awareness to curtail power consumption during peak hours. Stringent regulatory scenario imposed by authorities such as EPA, EC, and NRDC. High focus on emission control in numerous countries such as the U.S., India and Germany is expected to tighten the demand for these systems over the next couple of years. Key industry suppliers include component manufacturers and the limited product differentiation in the market makes it highly competitive. Suppliers also pose a significant threat of backward integration from the power rental system manufacturers, with limited product differentiation resulting in a focus on innovation and customization.
Application Insights
Key application segments analyzed and reported in this study include peak shaving, continuous power and standby power systems. Peak shaving is a technique to reduce power bills by curbing the power consumption during peak hours when electricity rates are the highest. Power rental units help in curtailing the power demand during seasonal peak hours, thereby controlling electric billing costs. The electric bills of the commercial and industrial sector are divided into two sub-parts which include penalties. Power demand rises during winter and summer seasonal peak periods. Peak shaving power rental units' demand is likely to grow with growing awareness to curb penalized electric bill. Peak shaving market accounted for 32.7% of the market in 2012.
Continuous power application was the largest application for power rental systems valued at USD 3,476 million in 2012 and is expected to reach USD 11,034.4 million by 2020, growing at a CAGR of 15.6% from 2013 to 2020. Power rental systems are increasingly finding applications in mining, oil and gas, and construction sectors. These sectors normally require a continuous supply of power and which are far off from the power grid. Some of the hydroelectric and renewable power plants also require supplementary power backup solution. Hospitals, government offices, and telecommunication centers require an uninterrupted supply of power, thereby fuelling the continuous power application market. Standby mode consumes up to 25% power as compared to the active mode. Rising data centers, IT industry, and increased usage of electrical appliances that mostly work in standby mode are expected to fuel the standby application segment in the coming year. However, various regulations implemented by EPA and Greenpeace are expected to minimize standby power consumption thereby hampering the demand for rental power units.
Global Power Rental market revenue by end-use, 2012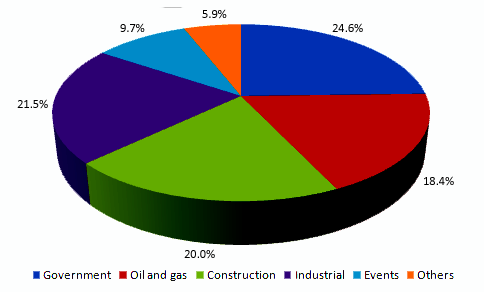 End-use Insights
Key end-use industries analyzed and reported in this study include government, oil & gas, industrial, events, and others. Government offices and projects are expected to remain key end-user segments for power rental market over the next seven years growing at a CAGR of 16.3% from 2013 to 2020. Oil & Gas industry is one of the largest consumers of power in the world, together accounting for over 30% of the global power consumption with consumption of power during peak hours being one of the major contributors to the operating cost. The use of power rental systems helps these industries distribute power loads between peak and non-peak hours thereby reducing the electrical power cost considerably. This segment is expected to witness considerable growth over the next seven years, growing at a CAGR of 16% from 2013 to 2020. In addition, the emerging oil and gas industry in the Middle East and Asia Pacific coupled with demand supply gap in power is expected to augment the demand for power rental systems in this segment.
Industrial segment was the second largest end-user industry for the power rental systems market, accounting for over 20% of the global revenue in 2012. The industrial sector is expected to propel prominently in Asia Pacific and the MEA. Large companies have shifted their manufacturing activities to these regions which have considerably increased power demand of the region leading to a demand supply gap. The construction industry was also a key consumer of power rental systems due to the continuous high demand for power. Urbanization has fuelled the construction industry with opportunities in rural and infrastructural development which in turn has resulted in increased power demand from the residential segment.
Regional Insights
The Middle East and Asia Pacific were the largest markets for power rental in 2012, primarily due to the growing industrialization and development of oil & gas and construction industry in the region. The demand for power rental systems in the Middle East was valued at USD 2,542.0 million in 2012. The Asia Pacific power rental systems market is expected to exhibit high potential growth due to declining ownership demand for generator sets and the growing demand for continuous applications from the construction and utilities sector. Lack of reliable power supply from the utility power grids, particularly to islands, wherein electricity demand has grown substantially over a couple of years is expected to keep the market prospects optimistic. Inadequate power infrastructure in Indonesia, Philippines, and Vietnam is likely to sustain product demand over the next couple of years.
North America is one of the pioneers of rental power systems market. American Rental Association (ARA) regulates the rental policies and also assists in the development of the rental industry. The region is expected to witness market growth on account of growing end-user consciousness of rental benefits such as accessibility of additional capital for core activities and abridged equipment obsolescence. However, mature market conditions of the region coupled with the unfavorable economic climate are expected to hamper the development of the power rental industry.
Competitive Insights
The global power rental market is moderately concentrated with the top five companies accounting for over 55% of the market in 2012. Customized product offerings, based on client specifications is a strong trend in the market, with many participants looking to acquire and retain market share through long-term partnership and strategic alliances.