Industry Insights
Global pressure sensitive tape market size was 41,442.0 million square meters in 2014 and is expected to witness significant growth over the next seven years owing to its increasing consumption in corrugated box packaging of foods & beverages. The industry is also expected to grow owing to advancements in manufacturing processes and materials used for these products.
Growing consumption of this product during construction of bridges, tunnels, water supply, roofing, cladding, glazing, and air conditioning is expected to promote industry expansion. In addition, infrastructure development in emerging economies of Asia Pacific coupled with rising spending in current fiscal budgets by the government of India and China is a key factor responsible for high demand.
The increasing use of biodegradable material for manufacturing the product is expected to fuel growth over the forecast period. In addition, growing demand for high-performance acrylic adhesive tapes owing to its superior features including easy handling and processing will stimulate industry development. However, volatility in raw materials prices is expected to hinder the market over the forecast period.
U.S. Pressure Sensitive Tape Market revenue, by application, 2012 - 2022 (USD Million)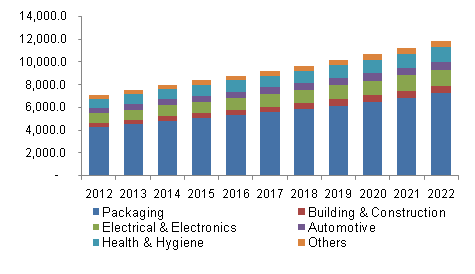 The introduction of new specialty electrically conductive adhesive tapes for telecommunications equipment is expected to create immense market potential over the forecast period. Increasing R&D investments along with ongoing product development to improve the performance of these products will propel growth over the next seven years.
Application Insights
Packaging was the largest application segment estimated at USD 26.01 billion in 2014. It is expected to witness high gains over the forecast period on account of rising demand for corrugated box owing to its biodegradability, and low carbon footprint. In addition, growing food & beverage sector in India and China on account of population growth and new product launches by the manufacturers will drive packaging sector in the near future.
Automotive accounted for over 6.0% of the global revenue share in 2014. Rising automobile production in various countries including China, Indonesia, Mexico, the U.S., Germany, South Korea, Japan, Malaysia, and Taiwan is likely to augment growth.
Backing Material Insights
Polypropylene is expected to witness rapid growth, in terms of volume, at a CAGR of 6.1% from 2015 to 2022 as it offers low-cost, high-tear resistance in mid-direction & cross-direction, extreme flatness, and well-balanced mechanical properties. In addition, this backing is more environment-friendly than PVC, which is expected to drive its demand in the near future.
Paper demand is expected to exceed 9,150.0 million square meters by 2022 in light of its high consumption in masking tapes along with environment compatibility and good temperature resistance.
Product Insights
Carton sealing tapes were the most widely used product and accounted for over 60.0% of the global volume share in 2014. Increasing demand for corrugated box packaging owing to its reusability and recyclability is expected to play a key role in driving demand. In addition, growing preference for corrugated boxes as it serves as a flexible, durable, cost effective, and lightweight packaging solution for food & beverage, automotive and electronics sector is expected to spur market demand.
Double sided tapes are expected to witness lucrative gains over the forecast period as it is durable, reliable and have effective bonding, and fixing properties. In addition, high consumption from construction sector will fuel growth over the next seven years.
Regional Insights
Asia Pacific pressure sensitive tapes industry was valued over USD 21.00 billion in 2014, dominating the global demand. This trend is expected to continue account of increasing demand for food & beverages along with the rise in construction spending in China, India, Indonesia, South Korea and Thailand.
China is expected to drive the demand in light of growing number of domestic producers along with increasing infrastructure sector over the forecast period. Moreover, the presence of prominent tape manufacturers including Lintec, Nitto Denko, and 3M will fuel industry expansion over the next seven years.
MEA is expected to witness substantial rise with CAGR exceeding 6.0% from 2015 to 2022 on account of growing construction sector particularly in UAE and Qatar coupled with rising healthcare industry in the region.
Competitive Insights
The market is extremely competitive with key participants involved in R&D and constant product innovation. Major players include 3M, teas SE, Lintec and Nitto Denko Corporation, which account for over 20% of the global share. Other prominent players include ABI Tape Products, Adchem Corporation, Avery Dennison Corporation, and Jonson Tapes Limited.
In January 2015, Adchem Corporation introduced acrylic adhesive double-sided tape. The new 488M is manufactured in the U.S. on a red polypropylene release liner and caters to various sectors including automotive, furniture, and electronics.
In September 2015, Avery Dennison Corporation increased manufacturing capabilities in Kunshan, China with the installation of a new custom-built coater to strengthen its business presence.