Industry Insights
Growing prevalence of conditions associated with pruritus such as atopic dermatitis, urticaria, and psoriasis is expected to serve the market as a high impact rendering driver. Moreover, the presence of high unmet medical needs and the subsequent introduction of new products such as REMITECH capsules and Bilastine catering to these needs are expected to serve as future growth opportunities.
Global pruritus therapeutics market, by product, 2012 - 2025 (USD Million)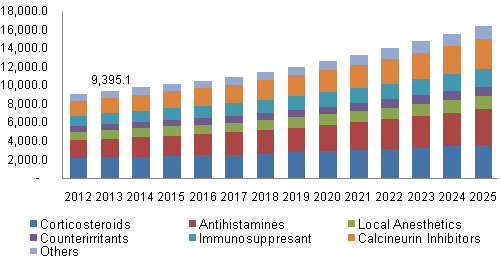 Unmet needs available in the pruritus therapeutics market are analyzed by considering three attributes namely treatment rate, drug efficiency, and the currently existing gaps in therapeutic options. Treatment rate associated with pruritus is largely dependent upon the prevalence of diseases. Low prices and high willingness of patients are expected to further improve the treatment rates over the next six years. High opportunity segments such as the pruritus for psoriasis market are likely to encourage manufacturers to make modifications/additions to their existing product portfolio. Therefore, capitalization opportunity analyzed only on the basis of treatment rates is expected to remain at a moderate level over the next six years. The study analyzes all other attributes on similar grounds.
Product Insights
Corticosteroids, antihistamines, local anesthetics, counterirritants, immunosuppressant, calcineurin inhibitors, and others are the key product segments analyzed in the scope of the study. Corticosteroids dominated the pruritus therapeutics market in 2013 with a revenue share of 23.7%. Corticosteroids are mostly used as the first line of treatment is also expected to contribute towards the aforementioned conclusion. Whereas, calcineurin inhibitors is expected to grow at the fastest CAGR during the forecast period owing to its high response rate and presence of strong pipeline of calcineurin inhibitors and semi-synthetic analogs of these inhibitors.
Disease Type Insight
On the basis of disease severity, pruritus therapeutics market is segmented into atopic dermatitis, allergic contact dermatitis, urticaria, and others. Others include psoriasis, pruritus in kidney, liver diseases, pregnancy, infectious diseases, metabolic and endocrine diseases, drug-induced pruritus. Allergic contact dermatitis is expected to show a CAGR of 5.2% during the forecast period. It is the third most common reason for patients seeking consultation with a dermatologist. Allergic contact dermatitis is more frequently seen in women owing to the rising demand for ear, navel, and nose piercing. Around 20 to 40% of women are allergic to nickel. The prevalence of contact dermatitis in the U.S. ranges between 1.5% to 5.4% and it accounts for 95% of all reported occupational skin diseases.
Regional Insights
Key regional segments of the pruritus therapeutics market include North America, Europe, Asia-Pacific, and Row. North America held the largest share of the market in 2013 over 46%. The introduction of new products and the presence of favorable government initiatives are some key factors attributing to its large share. Furthermore, the growing prevalence of target diseases and the presence of pruritus inducing climatic conditions in the region are expected to drive market growth during the forecast period. For instance, according to the National Institute of Health, in 2011, the prevalence of atopic dermatitis in the U.S. was nearly 10% - 25% in children and approximately 3% - 5% in adults.
Asia Pacific emerged as the fastest-growing region in pruritus therapeutics market owing to the presence of unmet healthcare infrastructure needs and the increasing prevalence of atopic dermatitis and urticaria. According to data published by the National Institute of Health it has been estimated that in 2012, there has been an increase in the rate of hospital admissions for angioedema. The greatest increase in hospitalizations for urticaria was present in patients aged 5 to 34 years which is nearly 7.8% per year. Furthermore, favorable government initiatives in regions like Japan and Australia pertaining to drug price adjustment and the development of novel drugs for the treatment of atopic dermatitis and other skin disorders is expected to provide manufacturers with lucrative future growth opportunities.
Competitive Insights
The pruritus therapeutics market is dominated by a few major companies namely Cara Therapeutics, Ulorac, UCB Pharma, Sanofi Aventis, Pfizer and Actavis Plc, etc. These companies in an attempt to continue their dominance on the market engage in extensive R&D initiatives to develop novel therapeutics which exhibits higher efficacies. Moreover, unmet medical needs are taken into consideration while developing new products. The pruritus therapeutics market holds an extensive portfolio of products currently in the pipeline and future commercialization of these products is expected to drive market growth over the next six years.