Industry Insights
The Quantum Dot (QD) display market size was estimated to be valued at USD 302.3 million in 2014. Increasing demand for optimized display devices with better resolution quality and performance has driven the adoption of QD technology across various consumer electronics application areas.
Increasing demand for QD-enhanced LED displays among global population has driven industry growth. Growth in demand for QLED displays can be attributed to increased energy-efficiency, more vibrant colors, and better brightness. Ongoing improvements in QD performance are driving increased demand for high-resolution displays with lower power consumption requirements.
North America quantum dot display market by application, 2012-2022, (USD Million)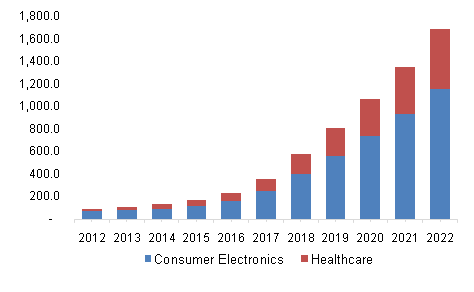 Quantum dots are increasingly used for biological imaging, targeting, and detection applications. The technology is envisioned for significant growth over the forecast period as QDs can be used as effective alternatives to fluorescent probes in biological imaging. Moreover, the rise in awareness levels regarding health and fitness among the global population is presumed to drive market growth across healthcare applications.
The industry incorporates considerable opportunities for growth as top-tier manufacturers are unable to find any other distinguishing factor in LCD displays. They are envisioned to take advantage of QLED TVs earlier than others by developing and introducing quantum dot display devices.
However, compliance with stringent government regulations on the use of cadmium and other heavy metals in the manufacture of QDs is expected to challenge market growth over the next seven years.
Component Insights
The industry can be classified on the basis of components into tube, film, and LED. QDs are increasingly used in advanced televisions that use a thin glass tube filled with QDs tuned to red and green colors.
Quantum dot enhanced films find important applications in displays for tablets, TVs, and other devices. These sheets provide rich and vivid colors with lower weight and higher battery life.
Advancements in technology have led to the production of silicon QD-LEDs through solution-based processes. QD LED TVs are cost and color-effective. The increasing use of QDs in LEDs has resulted in the emergence of super ultra-high-definition TVs, providing richer and deeper colors.
Material Insights
Cadmium-free quantum dots are free of cadmium and other regulated heavy-metals and can be incorporated into electronic and electrical equipment, such as displays, to produce display devices complying with stringent government regulations regarding the use of heavy-metals globally.
The photochemical properties of cadmium containing CdSe-ZnS nanoparticles offer biomedical researchers and those working in related fields greater opportunities to visualize various aspects of biology in a new and interesting way, otherwise unavailable through the use of conventional organic fluorophores. With increased awareness of the harmful effects of toxic heavy metals, their use in consumer devices is becoming increasingly regulated.
Application Insights
Applications analyzed in the report include healthcare and consumer electronics. QDs are increasingly used in consumer electronics owing to their features such as lower power consumption, high efficiency, and high quality. Quantum dots find applications in various consumer devices, image tracing, LCDs and LED TVs, hi-vision cameras, smartwatches, and wearable electronics.
The use of fluorescent colloidal QDs in biological tracing has increased significantly over the past few years due to their distinguished particle size-dependent optical properties and innovations in bio-functionalization. Key areas of biological imaging include Vivo and Vitro imaging, bimodal magnetic-luminescent imaging, and diagnostics.
Regional Insights
The North America regional market dominated the regional share and accounted for over 40% of the industry in 2014 and is expected to grow over the forecast period. The U.S. incorporates significant demand for QLEDs due to early adoption of QD technology.
Increased awareness regarding health and fitness among the population is presumed to boost the regional demand of QDs across medical and bio-imaging applications. The U.S.is expected to attract large business investment as well as high level of research work for developing technologically enhanced nanoparticles and their integration across display devices.
The Asia Pacific regional market is anticipated to grow significantly over the forecast period owing to growing demand from the optoelectronics market segment in the region. The presence of a large number of electronic display vendors in countries such as China and Japan has positively impacted the regional industry growth.
China, Taiwan, and Korea incorporate low labor costs and high-quality infrastructure, which are envisioned to provide significant growth opportunities for multinationals to invest and set-up QD R&D facilities across the region. Moreover, China has its optics valley that resides over 2,000 high-tech companies, 70 research organizations, and universities focused on developments in optics and photonics.
Competitive Market Share Insights
Key companies include Nanoco Group, QD Vision, Quantum Material Corporation, and Nanosys. These players focus on forming strategic and technology alliances with other manufacturers to partner in developing innovative quantum dots that offer enhanced displays with lower power consumption.
Other companies include Dow Chemical Company, QD Laser, Ocean NanoTech, NNCrystal U.S. Corporation, InVisage Technologies, and Qlight Nanotech.