Industry Insights
Lower risk of tissue damage and post procedure infection, quick recovery and cost effectiveness associated with ablation procedures are some factors expected to drive the radiofrequency ablation devices market. These devices are widely used for treatments in the fields of pain management, cosmetology, hypertension, gynecology, cardiac rhythm management and oncology. The global radiofrequency ablation devices market was valued at USD 2,722.4 million in 2013 and is expected to grow at a CAGR of 18.4% during the forecast period.
Global radiofrequency ablation devices market, by product, 2012 - 2020 (USD Million)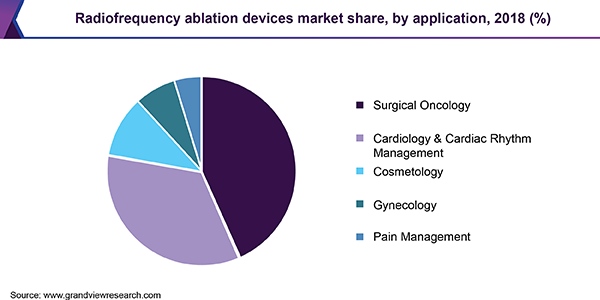 The rising prevalence of disorders related to chronic pain such as osteoporosis and arthritis, especially in the geriatric population coupled with the introduction of technological advancements such as thermocouple sensor and bipolar technology are expected to promote market growth during the forecast period. The increasing use of radiofrequency ablation procedures in developing economies such as Brazil, Russia, China, and India is expected to serve this market as a future growth opportunity. Rapidly improving healthcare infrastructure, increasing patient awareness and disposable income levels in these countries are expected to trigger the usage rates of minimally invasive surgeries and consequently increase demand in these regions.
Product Insights
Key product segments of the radiofrequency ablation devices market estimated and analyzed in this study include capital equipment, reusable equipment, and disposable equipment. Reusable equipment consists of RF probes and electrodes. Disposable equipment includes cannulas, needles, single-use probes and single-use electrodes. Disposable equipment was the largest product segment in 2013 owing to growing prevalence of hospital-acquired infections coupled with increasing the volume of minimally invasive medical procedures. The U.S. FDA classifies radiofrequency reusable equipment as a semi-critical device and therefore, imposes strict guidelines to standardize the process of reusing medical devices in an attempt to avoid contamination. The surge in demand for reusable radiofrequency ablation devices can also be attributed to its cost effectiveness and the growing demand for endoscopic and laparoscopic interventions.
Application Insights
Key applications markets include pain management, cosmetology, surgical oncology, hypertension, cardiology and cardiac rhythm management and gynecology. Radiofrequency ablation devices market for surgical oncology accounted for the largest share in 2013 at over 40.0%. The presence of high procedure volumes as a consequence of ease it provides to the patients in terms of faster recovery is a key factor attributing to its large share. Hypertension on account of high patient unmet needs and limited availability of therapeutic interventions is expected to grow at the fastest CAGR during the forecast period. Radiofrequency ablation renders cost effective treatment to patients suffering from hypertension and entails no serious post procedure complications.
Regional Insights
North America was the largest regional radiofrequency ablation devices market in 2013. The presence of high patient awareness levels pertaining to treatments using ablation technologies, high usage rates of advanced technologies and sophisticated reimbursement framework are some high impact rendering drivers of this market. Europe was the second largest regional market in 2013. Asia Pacific is expected to a high-growth market over the forecast period. Availability of large pool of patients with unmet medical needs increased spending capacity of patients and the implementation of government initiatives aimed at improving healthcare access are some factors accounting for its rapid growth.
Competitive Insights
Major players in the radiofrequency ablation devices market include Stryker Corporation, Accuray, St. Jude Medical Inc., Biosense Webster, Neurotherm Inc., Cosman Medical Inc, Kimberly-Clark Corporation and Diros Technology. Mergers and acquisitions, entering into strategic collaborations with distributors and new product development are some key sustainability strategies adopted by these market players. For example, St. Jude Medical Inc. acquired NeuroTherm in August 2014, for approximately USD 200 Million and subsequently launched NT2000iX radiofrequency generator. This product is a comprehensive update to its previously existing product - NT2000.