Industry Insights
The global rainscreen cladding market size was USD 7.27 billion in 2015. The industry is characterized by growing preference for lightweight, sustainable materials in major construction applications such as residential and office buildings.
Technological innovations have opened up new avenues for high performance, durable cladding systems that allow the creation of unique facades & panels with enhanced moisture management properties, by contemporary architects & designers.
U.S. rainscreen cladding market revenue by raw material, 2014 - 2024 (USD Million)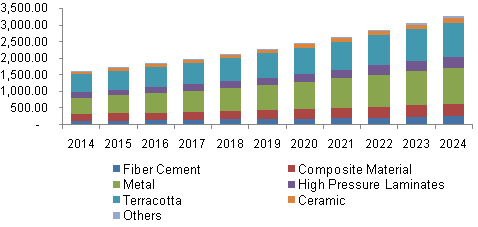 The shift in trend towards protection of exterior walls to extend the lifespan of existing buildings or even in new construction projects is fostering the development of attractive, yet functional rainscreen systems.
Additionally, growing consumer awareness regarding greater energy efficiency in buildings, by lowering the amount of resources required for heating, ventilation, or air conditioning (HVAC) are other factors driving industry growth.
Ease of raw material procurement and low installation costs are key aspects driving investments by numerous multinational companies to develop new & innovative wall systems incorporating high-tech materials.
These systems offer immense opportunities and lucrative solutions for architects, contractors, and developers who are not only interested in solving the issue of rain penetration, but also in improving all areas of wall performance.
Other advantages such as easy installation, speedy and consecutive processing and the ability to overcome deterioration problems with minimal load on the existing structure are also likely to boost industry growth. Simultaneously, these systems also rejuvenate the external appearance of dilapidated structures at a minimal cost.
Rainscreen cladding systems are produced from basic raw materials such as fiber cement, terracotta, high pressure laminates (HPL) and metals among others. Perimeter sealant joints and flexible flashings are often used to seal the air & water barrier specifically in adjacent systems like windows or other claddings.
However, failure of these joints poses a risk of water intrusion especially in extreme weather conditions, which may challenge industry growth in regions with high precipitation levels. The sizing of open panel joints also directly affects exterior element contact within the cladding's structural and waterproofing components.
Numerous federal policies and stringent regulations promoting energy efficiency in buildings, such as the Energy Policy Act 2005, the EU Directive, and the International Energy Conservation Code (IECC), 2006 are expected to promote rainscreen cladding particularly in Europe.
The World Green Building Council (WorldGBC) and International Energy Agency (IEA) are also working on promoting the green building concept by helping contractors achieve energy efficiency in construction applications.
Raw Material Insights
By raw material, the global industry has been categorized into fiber cement, composite materials, metal, high pressure HPL, terracotta, ceramic & others such as reconstituted stone and glass reinforced fibers. Composite materials dominated the industry, accounting for over one-fourth of the global volume in 2015.
Aluminum based composites were the most popular systems utilized in construction applications, owing to their high structural strength coupled with lightness & flexibility. However, terracotta cladding emerged as the fastest growing segment, owing to its low water absorption, flame retardant, frost-proof, and anti-graffiti properties.
Terracotta also has an attractive natural color that provides long-lasting effects on various structures. The product is widely utilized to lend an aged, yet artful look to 'Victorian' style buildings, mainly in museums, heritage sites, and even residential blocks.
Application Insights
Major construction applications for rainscreen cladding include residential, commercial, offices, institutional, and industrial buildings. Offices are likely to remain the dominant application for these systems, occupying over 30% of the volume share in 2015.
However, increasing residential construction spending in emerging economies, coupled with government schemes, and initiatives to provide low cost, yet sustainable housing for all citizens, is likely to foster product demand in residential applications as well.
The segment is expected to emerge as the fastest growing application, at a CAGR of 6.8% from 2016 to 2024. Recovery from global recession owing to mortgage foreclosures particularly in North America, and the development of numerous 'green buildings' in Europe are other major drivers in this segment.
Regional Insights
Regional markets analyzed in the report include North America, Europe, Asia Pacific (APAC), and Latin America and the Middle East & Africa (MEA). Europe rainscreen cladding market led the global industry and accounted for over 25% of total market volume in 2015. Climatic conditions and favorable regulations promoting energy efficiency by the European Commission are expected to foster regional growth.
High investments in residential as well as non-residential construction projects, along with an increasing number of integrated townships in countries such as Vietnam, Thailand, Indonesia & South Korea is also expected to drive growth in Asia Pacific. The region is anticipated to emerge as the fastest growing market at highest CAGR of 8.6% over the forecast period.
Competitive Insights
The global industry is characterized by increasing construction spending, which is expected to drive new entrants into the market and compel participants to reduce production costs to gain a competitive advantage.
Key market players operating in the global rainscreen cladding market include Kingspan Insulation PLC, Carea Ltd., MF Murray Companies, Celotex Ltd., CGL Facades Ltd., Rockwool International A/S, Eco Earth Solutions India, FunderMax, Everest Industries Limited, Euramax, Trespa International B.V., Middle East Insulation LLC, EuroPanels and Centria International.