Industry Insights
The global stainless steel market size was estimated at 37.89 million tons in 2015. The market is expected to witness significant growth owing to superior properties including corrosion resistance, durability, and high strength. Increasing consumption in food & beverage industry is expected to serve as a key driver for market growth over the forecast period.
Rising use in vehicle manufacturing on account of growing need for lightweight automobiles on a global level is expected to accelerate demand over the next eight years. The product is being majorly employed in the automotive sector worldwide as developed economies are increasing emphasis on lightweight automobile production.
The U.S and Europe have introduced regulations pertaining to fuel economy and vehicle emissions to curb global warming which is a key factor promoting stainless steel use in automobiles. In addition, increasing demand for stainless steel in household appliances is expected to augment market growth over the forecast period.
High recycling rates as compared to other alloys is further expected to drive demand thereby propelling market growth. Fluctuating nickel costs are expected to pose a challenge for manufacturers thus restricting market growth. Growing applications in renewable energy, construction, healthcare and cryogenic industries is expected to serve as a growth opportunity over the forecast period.
U.S.stainless steel market volume, by application, 2013 - 2024 (Kilo Tons)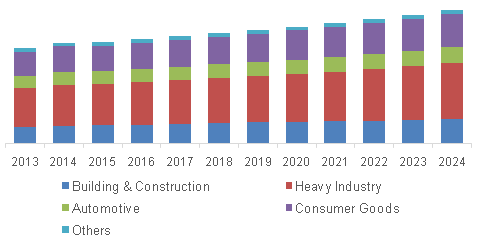 Application Insights
The global market is categorizedon the basis of applications into four major segments including building & construction, heavy industries, automotive and consumer goods. Stainless steel is utilized across various industries including design & architecture, construction, food, automotive, and mechanical in addition to other electronics and electrical applications.
Other applications of stainless steel include railways, aerospace, household, chemical and pharmaceutical industry. Building & construction application is expected to witness the fastest growth at a CAGR of over 4% from 2016 to 2024 on account of suitable functional and aesthetic features of stainless steel.
Automotive was the largest application owing to the corrosion resistance and lightweight of stainless steel. The segment accounted for over 20% of the global volume share in 2015. Non-porous surface, sterile properties coupled with easy cleaning ability of stainless steel makes it the primary choice for application in kitchens, hospitals, and food processing plants which are expected to propel the demand growth over the forecast period.
Grade Insights
The market is primarily classified into three major grades on the basis of the alloy composition of the stainless steel. The Cr-Ni alloy also known as the 300 grade was the most widely used accounting for over 40% of the global volume share in 2015.
316 grade is referred to as food grade and majorly used in the manufacture of kitchen utensils or machinery required in kitchens. The Cr-Mn alloy or 200 grade is used for applications including cookware, freight containers, and infrastructure applications. The alloy is being used widely on account of non-magnetic nature and low or zero nickel content in countries including China, Thailand, and Indonesia.
Duplex alloys are an upcoming segment and are expected to witness a considerable growth over the forecast period. The alloy possesses double strength as compared to standard austenitic stainless steel along with superior properties including improved stress corrosion cracking resistance, pitting and crevice corrosion which is expected to propel market demand.
Product Insights
Various forms of stainless steel including sheets, bars, tubes, billets, ingots and rods are broadly classified under two product segments namely: long and flat. Flat products accounted for a major market share of over 70% in 2015 on account of high demand from food processing, chemical processing, high vacuum, wastewater treatment, power generation, heat treatment, pulp and paper, beverage bottling, pharmaceutical, and brewing industries. Long products comprise of seamless tubes, forged products, profiles, peeled bars, CF bars and wire.
Regional Insights
China was a major market in 2015 on account of high demand from construction, automotive and heavy industries. It is expected to witness the fastest growth at a CAGR of 5.9% from 2016 to 2024 owing to rising construction and automotive production in the country. China holds over 50% of the global production share and hence has easy availability thus increasing market demand.
Asia Pacific countries including India, Japan, Malaysia, Thailand and Indonesia are also expected to witness considerable demand over the forecast period on account of application industry growth. In addition, the demand is further expected to accelerate due to increasing food & beverage processing industry mainly in China, Indonesia, and India.
The growth in North America is largely driven by the growing construction and consumer goods industry. The growth of oil & gas and heavy industries in Canada and Mexico is expected to trigger market demand in this region.
Competitive Insights
Outokumpu is a major player in the global market with a capacity of 2.4 million tons as of 2014. The company has a global presence in China, Finland, Germany, Mexico, Sweden, the UK and the U.S. Penn Stainless is a key player in the North American market offering a variety of products including flat-rolled, bar, structural, pipe & tube which are made of different grades and specifications and are catered to the automobile industry, aircraft, jet engine parts and boiler baffles.
Technological innovations in the stainless steel market are aimed at developing variants of existing steel grades to suit new applications. Aichi Steel has developed a variation of 316 grade which is used in the manufacture of the fuel cell to be used in Toyota cars. Such grades can be used in high-pressure hydrogen gas environment due to which they find preference over conventional steel.