Industry Insights
The global sand blasting machines market size was estimated at USD 335 million in 2012. This market has witnessed significant growth owing to increased usage in both, domestic as well as industrial applications. Increased investment in robotic sand blasting technology by leading players is expected to favorably impact market growth over the forecast period.
Global sand blasting machines market, by product, 2012 - 2020 (USD Million)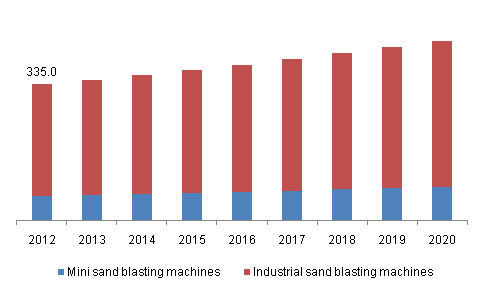 Robotic blasting technique has been adopted to increase the scope of sand blasting in areas where complex process requirements, part complexity, and quality control needs are not sufficed by standard automation solutions. Increased demand from aerospace, automotive and construction sectors is expected to drive market growth over the forecast period. There has been an increase in the use of sand blasting for creating three-dimensional signage and rendering a handmade and carved look.
Inhalation of silica, which has been traditionally used as an abrasive material in sand blasting machines, causes health hazards such as silicosis and other lung diseases. This has resulted in the governments of many countries forbidding the use of blast cleaning abrasives containing more than 0.1% free silica, on account of which other abrasive materials such as water, walnut shells, and crushed glass have gained prominence. Shot blasting machines, which involve the use of metallic shots and grits as abrasives, have substituted sand blasting machines in several applications to alleviate the risk of contracting lung diseases, thereby restraining market growth to some extent.
The practice of sand blasting denim to give them a distressed or worn out look was rampant before instances of workers suffering from silicosis owing to inhalation of fine silica particles came into light. Strict regulations in several countries resulted in this practice being banned; however, it is believed that sand blasting has moved to other countries such as Bangladesh, Pakistan, and Egypt to take advantage of the availability of cheap labor and unstructured regulations.
Product Insights
The sand blasting machines market has been split into mini sand blasting machines and industrial sand blasting machines based on size and target applications. Mini sand blasting machines, which are inherently portable, are used for household tasks such as paint removal, rust removal, and repairing. The mini sand blasting machines market, which is still in the early growth stage, is expected to be lucrative over the forecast period owing to increased substitution of manual labor with sand blasting for performing domestic tasks to save time.
Sand blasting machines used across different applications belong to one out of three distinct technologies, namely pressure, siphon, and gravity-fed. Industrial machines accounted for the majority of the sand blasting machines market in 2013 due to high-volume purchases made by industries because of the multiple utility exhibited by these machines, which helps businesses address numerous metallic cleaning and surface preparation needs.
Regional Insights
Asia Pacific is expected to dominate the sand blasting machines market over the forecast period owing to extensive usage in the automotive, infrastructure, construction, and aerospace sectors. This can primarily be attributed to the considerable Chinese market, which contributes significantly to global volume as well as revenue generation. Although average selling prices are lower in Asia Pacific, high demand is expected to result in sizable market revenue over the next six years. Demand for portable machines is higher in the North America market, where they are used for home improvement as well as automotive applications.
Competitive Insights
Several industry participants have started investing in robotic sand blasting technology. Australia-based Burwell Technologies had invested in Sabre Autonomous Solutions, an Australian robotics company for the commercialization of an autonomous grit-blasting robot to enable human workers to safely operate outside the blasting zone. Owing to the health hazards posed by sand blasting machines to operators, leading manufacturers have emphasized on offering safety devices. Clemco Industries Corp. developed an in-helmet mounted monitor for providing protection against Carbon Monoxide (CO), which has a potential to contaminate the blast operator's air supply from contaminated air drawn in by an ambient air pump or a faulty air compressor.
The sand blasting machines market is characterized by alliances and mergers & acquisitions, some key activities being Empire Abrasive Equipment Company's acquisition of AAC Engineering Systems Inc. and Hoffman Blast Room Equipments Inc., and a strategic alliance between Sintokogio Group and Omega Foundry Machinery.
The global sand blasting machines market was valued at USD 335 million in 2012.