Industry Insights
The global scanning electron microscope (SEM) market size was valued at USD 1,267.4 million in 2014. Rising demand for nanotechnology-based research and growing R&D innovation in application areas are anticipated to serve as key growth drivers.
Growing use of these products by cell biologists for live-cell imaging, extensive use in developing nanotechnology-based products, and growing R&D innovation is anticipated to drive the demand for these products. For instance, the National Nanotechnology Network coordinates the research activities being conducted by institutions globally and is responsible for its systematic representation.
U.S. scanning electron microscope market, by end-use, 2012-2022, (USD Million)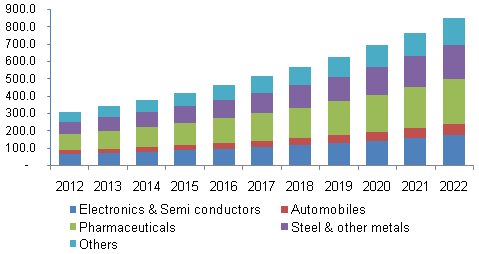 These devices are routinely used to analyze various structures and contaminations along with component identification in different industries such as an automobile, pharmaceuticals, metals, electronics, semiconductors, and others. Growing application in semi conductor, electronics, and pharmaceutical industries are expected to propel the growth of the scanning electron microscope market over the forecast period.
End-Use Insights
Key end-use segments analyzed in the scanning electron microscope market include pharmaceuticals, automobiles, steel & other metals, electronics & semiconductors and others. Automobiles segment is likely to grow at the fastest CAGR of 11.1% over the forecast period, due to its high function in surface observation, film thickness analysis, failure analysis of metallic and non-metallic parts, fractography, coating analysis.
Pharmaceuticals dominated the overall segment in terms of revenue in 2014 at 30.3%. The increasing prevalence of chronic diseases leading to increased R&D expenditure and demand for the digital microscope in the fields of life sciences and medicines are some factors attributing to its large revenue share. Furthermore, extensive usage of SEMs in quality assurance, chemical analysis, and morphological studies of APIs, excipients, and ready formulations are anticipated to drive demand.
Regional Insights
Asia-Pacific held the largest share in 2014 at over 38.0%. Scanning electron microscope witnessed rapid growth in areas such as semiconductors, automobiles, pharmaceuticals, and nanotechnology in this region is the key factor accounting for its significant share. Growing demand for advanced scanning electron microscope for the range of material research is expected to boost the Latin American scanning electron microscope market. The region's revenue is expected to increase at a CAGR of 11.6% over the forecast period.
According to the U.S. National Nanotechnology Initiative, public investment in nanotechnology grew from zero in 2000 to approximately USD 65 billion in 201. The U.S., China, and Russia were the top three countries for public investment in the field of nanotechnology in 2011 from which highest spending was done in China.
The Chinese Nanotech funding for 2011 was approximately USD 2.25 billion. Similar projects have also been funded by European Government including NanoMat-Futur, Nano2012 & NanoInnov in France, NanoMatTextil & NanoLux in Germany, NanoNextNL & NanoLanNL in the Netherlands, and INL & BioCat in Spain.
The Swiss project called "TOP nano 21" was established with the aim to conduct research in the field of nanotechnology that led to the development of products with multiple applications.
Competitive Market Share Insights
Key manufacturers of these devices include FEI, Leica Microsystems, Olympus Corporation, Bruker Corporation, Carl Zeiss, JEOL Ltd, and Hitachi High-Technologies Corporation.
The current extensively adopted strategic initiative by all key players is substantial investment in R&D of SEMs along with other collaborations such as new product launch, mergers, and acquisitions. For instance, Zeiss and UC, Berkley has got into public-private collaboration worth USD 12 million in May 2015 to support Berkley's Brain Microscopy Innovation Centre.
Distribution channels include direct supply agreement between the manufacturers and end-users or maybe through third-party supply agreements. Nikon has entered into an agreement with JEOL Ltd. for the sale of JCM-6000 PLUS NeoScope.