Industry Insights
The global sleep apnea devices market size was valued at USD 5.10 billion in 2016 and is expected to grow at a CAGR of 7.7% over the forecast period.The increasing geriatric population due to increasing life expectancy is expected to increase the prevalence of OSA. Sleep disorders increase with the increase in the age. Furthermore, the prevalence of apnea is high in geriatric population because comorbidities associated with apnea are high in elderly population. Another factor is the increase in the arousal frequency. The rise in presence of OSA is attributed to the reduction in the size of upper airway lumen due to increasing age factor. According to estimates published in 2012 by UN, global geriatric population was nearly 809.4 million and is expected to grow more than double by 2050.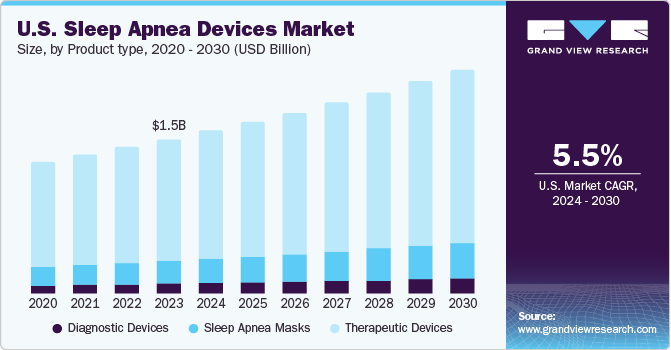 Apnea is a disorder which occurs when the body and brain receive insufficient oxygen and breathing process is interrupted during sleep. Obstructive Sleep Apnea (OSA) is the most generic form of apnea which is caused by airway blockage. In order to avoid this, it is necessary for patients to undergo diagnostic tests and use therapeutic devices for treatment. Sleep apnea is widely prevalent in the elderly population. and remains under diagnosed owing to factors like lack of awareness amongst the people and non-specific presentation of the disease.
Rising awareness among patients, growing geriatric population, increasing prevalence of sleep apnea along with the need for efficient diagnosis and treatment of apnea, are some of the factors promoting revenue growth. Introduction of technological advancements catering to patient safety and comfort is expected to improve device usage rates especially in developed markets such as North America. North America is one the most matured market. High market penetration coupled with new government initiatives aimed at curbing healthcare expenditure associated with sleep apnea disorders are some factors expected to drive regional market growth during the forecast period.
The demand for apnea diagnosis and treatment has witnessed rapid increase during the past few years. This increase has been triggered by the exponential growth in the prevalence of sleep apnea. According to the global sleep survey conducted by Philips Respironics in 2015, nearly 100 million people suffer from OSA globally. The National Healthy Sleep Awareness Project states that the obstructive sleep apnea affects more than 25 million people in the U.S. and is a chronic disease that adversely affects public health.
Prevalence of sleep apnea increases the risk of other diseases such as high blood pressure, heart disease, abnormal glucose metabolism, strokes, diabetes, systemic hypertension and depression. Which in turn increases the overall healthcare cost burden on the economy. Growing awareness regarding the prolonged effects of sleep apnea in turn is expected to boost revenue growth over the forecast period.
Product Insights
Diagnostics devices dominated the overall market in terms of revenue share in 2014 at 52.8%. Increasing demand for early diagnosis and growing patient awareness levels is expected to improve usage rates during the forecast period. Large number of undiagnosed patients is expected to provide lucrative opportunities for diagnostic device manufacturers, as the local governments in various countries introduce initiatives aimed at curbing associated healthcare expenditure for sleep apnea. This in turn is expected to drive market growth over the forecast period for diagnostic devices segment.
Therapeutic devices segment is anticipated to expand at CAGR of 9.2% between 2015 and 2022. It includes products like airway clearance systems, adaptive servo-ventilation systems, positive airway pressure devices, oral appliances, oxygen devices and others. Positive airway pressure (PAP) devices accounted for the largest revenue share of 23.9% in 2014. These devices are considered as gold standards to treat sleep apnea. A PAP device enables the flow of pressured air through the airways of the respiratory tract through a face mask which is attached to a tube and a machine thus, ensuring normal breathing during sleep. Increasing miniaturization of these devices along with availability of customization options with additional features is expected to propel market growth during the forecast period.
Respiratory polygraphs segment is anticipated to be the fastest growing among sleep apnea diagnostic devices. This segment is expected to expand at CAGR of 9.2% over the forecast period. Respiratory polygraphs are widely used for home diagnosis and are considered as an alternative to polysomnography performed in labs. Home diagnosis is affordable for patients and therefore is preferred by number of patients, which in turn is expected to propel revenue growth of this segment.
Regional Insights
North America dominated the global sleep apnea devices market in 2014 with revenue share of 38.9%. Large patient pool and established presence of manufacturers is anticipated to further strengthen market growth in this region. The number of sleep tests being conducted in the U.S. is increasing rapidly as more number of people are concerned about the health risks arising out of sleep apnea. Technological advancements in sleep apnea diagnostic and therapeutic devices and easy availability of these devices like the elastic mandibular advancements (EMA), is another factor promoting revenue growth in this geography.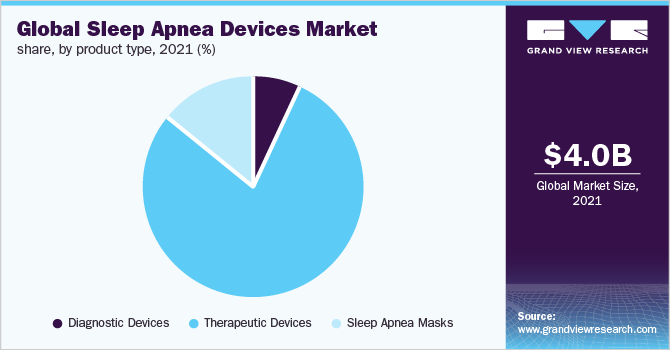 Asia Pacific market is projected to be the fastest growing market over the forecast period growing at CAGR of 8.8% over the forecast period. Asia Pacific has largest number of sleep apnea undiagnosed patients in the world. This presents a lucrative opportunity for device manufacturers. The number of clinics in this region is also growing, which in turn is anticipated to promote robust growth for sleep apnea devices market in this region. India market is anticipated to witness fastest growth in Asia Pacific region owing to its expanding population and rising healthcare expenditure. Manufacturers are focusing on building strategies towards enhancing their customer pool through introduction of affordable devices for price sensitive customers in Asia Pacific through.
Europe apnea devices market accounted for second largest revenue share in the global sleep apnea devices market. France accounted for 31.2% of the total European market in 2014. Whereas, Germany is anticipated to be the fastest growing market in Europe with CAGR of 8.0%. Europe is one of the lucrative markets for device manufactures owing to its established healthcare industry and high awareness among people. Favorable reimbursement rates in several European countries is another factor boosting revenue growth of sleep apnea devices market.
Sleep Apnea Devices Market Share Insights
Some plyers operating in the global sleep apnea devices market are BMC Medical Co.Ltd GE Healthcare, Fisher & Paykel Healthcare Limited, Curative Medical Inc., Cadwell Laboratories ResMed, , Invacare Corporation, Braebon Medical Corporation, ImThera Medical Inc, Phillips Respironics, Curative Medical Inc., Nihon Kohden, and Compumedics Limited. Sleep apnea devices market is oligopolistic in nature with companies like ResMed, Fisher & Paykel, Philips Respironics and CareFusion capturing 90% of the total market share.
The stringent regulations for manufacturing of sleep apnea devices has created high entry barriers for new entrants. There exists fierce competition among market players, who are focused on increasing their geographic presence and strengthen their customer pool through new product development.
Segments Covered in the Report
This report forecasts revenue growth at global, regional, and country levels and provides an analysis on latest industry trends in each of the sub-segments from 2014 to 2024. For the purpose of this study, Grand View Research has segmented the global sleep apnea devices market report on the basis of product, technology, application, test location, and region:
Sleep Apnea Devices Market Product Outlook, by Revenue (USD Million, 2015 - 2022)

Sleep Apnea Therapeutic Devices Market Outlook, by Revenue (USD Million, 2015 - 2022)

Airway Clearance Systems

Adaptive Servo-Ventilation Systems

Positive Airway Pressure (PAP) device

Oral Appliances

Oxygen Devices

Other Devices

Sleep Apnea Positive Airway Pressure Devices Market Outlook, by Revenue (USD Million, 2015 - 2022)

Bilevel Positive Airway Pressure (BiPAP)

Continuous Positive Airway Pressure (CPAP)

Automatic Positive Airway Pressure (APAP) device

Sleep Apnea Other Devices Market Outlook, by Revenue (USD Million, 2015 - 2022)

Masks

Tubes

Humidifiers

Filters

Sleep Apnea Masks Market Outlook, by Revenue (USD Million, 2015 - 2022)

Full Face Masks

Nasal Masks

Nasal Pillows

Nasal Prongs

Oral Masks

Sleep Apnea Diagnostic Devices Market Outlook, by Revenue (USD Million, 2015 - 2022)

Actigraphy Systems

Polysomnography (PSG) device

Respiratory polygraphs

Single-channel screening devices pulse oximeters

Sleep Apnea Market Volume, by Product, 2012 - 2020 (000'units)

Sleep Apnea TherapeuticDevicesMarket Volume, by Product, 2012 - 2020 (000'units)

Airway Clearance Systems

Adaptive Servo-Ventilation Systems

Positive Airway Pressure (PAP) device

Oral Appliances

Oxygen Devices

Other Devices

Sleep Apnea Positive Airway Pressure (PAP) deviceMarket Volume, by Product, 2012 - 2020 (000'units)

Bilevel Positive Airway Pressure (BiPAP)

Continuous Positive Airway Pressure (CPAP)

Automatic Positive Airway Pressure (APAP) device

Sleep Apnea Other Devices Market Outlook, by Product, 2012 - 2020 (000'units)

Masks

Tubes

Humidifiers

Filters

Sleep Apnea Masks Market Volume, by Product, 2012 - 2020 (000'units)

Full Face Masks

Nasal Masks

Nasal Pillows

Nasal Prongs

Oral Masks

Sleep Apnea Diagnostics Sleep Apnea Devices Market Volume, by Product, 2012 - 2020 (000'units)

Actigraphy Systems

Polysomnography (PSG) device

Respiratory polygraphs

Single-channel screening devices pulse oximeters

Sleep Apnea Therapeutics Sleep Apnea Devices Market ASP, by Product, 2012 - 2020 (USD/Unit)

Airway Clearance Systems

Adaptive Servo-Ventilation Systems

Positive Airway Pressure (PAP) device

Oral Appliances

Oxygen Devices

Other Devices

Sleep Apnea Other Sleep Apnea Devices Market ASP, by Product, 2012 - 2020 (USD/Unit)

Bilevel Positive Airway Pressure (BiPAP)

Continuous Positive Airway Pressure (CPAP)

Automatic Positive Airway Pressure (APAP) device

Sleep Apnea Other Devices Market ASP, by Product, 2012 - 2020 (USD/Unit

Masks

Tubes

Humidifiers

Filters

Sleep Apnea Masks Market ASP, by Product, 2012 - 2020 (USD/Unit)

Full Face Masks

Nasal Masks

Nasal Pillows

Nasal Prongs

Oral Masks

Sleep Apnea Diagnostics Sleep Apnea Devices Market ASP, by product, 2012 - 2020 (USD/Unit)

Actigraphy Systems

Polysomnography (PSG) device

Respiratory polygraphs

Single-channel screening devices pulse oximeters

Sleep Apnea Devices Market Regional Outlook, by Revenue (USD Million, 2015 - 2022)

North America

Europe

Asia Pacific

Japan

China

India

Australia

RoW

Sleep Apnea Devices Market Regional Outlook, by Volume, by Product, 2012 - 2020 (000'units)

North America

Europe

Asia Pacific

Japan

China

India

Australia

RoW

Sleep Apnea Therapeutics Sleep Apnea Devices Regional Outlook, by Market ASP, by Product, 2012 - 2020 (USD/Unit)

North America

Europe

Asia Pacific

Japan

China

India

Australia

RoW