Industry Insights
Specialty Ingredients Market was valued at 93.27 billion in 2014. Growing consumer awareness has been driving the need for high quality and greener products which in turn is expected to drive the global Specialty Ingredients Market over the forecast period.
Rising disposable income along with changing lifestyles owing to rapid urbanization is also expected to have a positive influence on the product demand for various end-use segments such as pharmaceuticals, food, and personal care.
Increasing food & beverage demand for leisure products in various countries including China, India, Indonesia, Malaysia, and Japan is expected to spur global industry over the next seven years which in turn is expected to impact positively Specialty Ingredients Market growth.
U.S. Specialty Ingredients Market revenue by application, 2012 - 2022 (USD Million)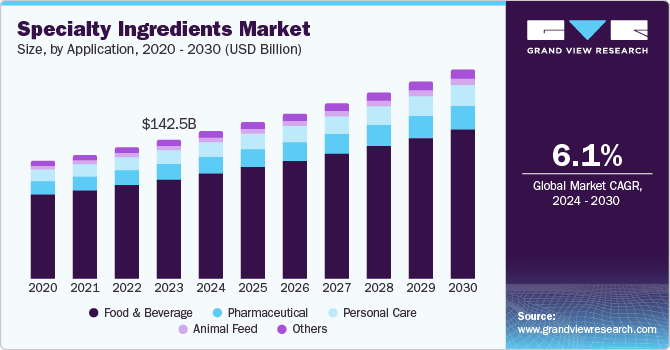 Strong demand for processed products on account of developments in processing and preservation technologies like cold storage, climate control storage, and pasteurization is expected to further fuel demand over the forecast period.
Asia Pacific is expected to witness strong growth on account of increasing processed food production and innovation in segments including bakery & confectionery, dairy, oils and meat products. Therefore, such factors are expected to augment product demand in food & beverage industry
Combined effort by various multinational corporations to reduce the use of harmful chemicals such as aluminum salts, phthalates and parabens have contributed to increasing consumption of personal care organic products. Cosmetics containing natural ingredients including aloe vera, tea extract, lime content, and black sugar are expected to gain consumer importance over the next seven years.
Developing importance of natural ingredients such as herbs, vegetables, and fruits in skin care products with anti-aging properties is expected to fuel demand. Increasing importance of natural ingredients for providing dandruff protection, hair fall control, and shining effect is expected to have a favorable impact on the market
Growing health awareness among consumers is expected to augment focus towards nutritional and healthy diets. Rising health complications such as diabetes, cardiovascular problems, and obesity, particularly among the younger generation have prompted a shift in dietary trend towards healthy & nutritional diet and away from junk food, alcohol, and meat consumption. In the recent years, customer requirements are changing mainly owing to increasing health issues, environmental impacts, lack of nutrition in diets and skin anti-aging problems which in turn is negatively impacting overall supplies.
Application Insights
Food & beverage was the leading application segment. Globally manufacturers use specialty ingredients to enhance product quality, color, texture and add nutritional value. The shift in consumer behavior towards the organic product is expected to boost overall growth from 2015 to 2022.
Food & beverage industry is mainly driven by increasing demand for organic items and the consumer shift towards healthy lifestyles. The industry is expected to witness significant growth in emerging markets particularly Asia Pacific. The industry is expected to show high growth in BRICS and Middle East in light of domestic consumption which in turn is expected to drive global Specialty Ingredients Market in the near future.
Food and beverage based on its product types are broadly categorized as sensory and functional products. Personal care division also utilizes the product for developing skincare, haircare, and oral care segments. Manufactures have been investing in R&D initiatives to develop technological solutions in personal care industry.
Personal care is further segmented into active and inactive products. Pharmaceutical is expected to witness high growth over the forecast period on account of technological advancements coupled with increasing customer expectations. The segment includes active and inactive ingredients.
Regional Insights
North America dominated the global market with demand share exceeding 30% in 2014. Increasing demand for organic products mainly in food & beverage and personal care industries coupled with investment initiatives to improve health issues is expected to drive regional industry demand over the forecast period.
Asia Pacific was the second largest market on account of high product demand in emerging economies mainly India, China, Japan and South Korea. An aging population coupled with changing consumer lifestyle is expected to drive overall revenues in the future.
Europe also covered significant share in the global market, but the regional segment is expected to grow at lower CAGR from 2015 to 2022. The Middle East & Africa and Central & South America are also expected to witness brisk growth over the forecast period.
Competitive Insights
Key manufacturers involved in the business are Naturex, Frutarom, Ashland Inc., Archer Daniels Midland, DuPont, Inolex and Associated British Foods. There is a low degree of integration across the value chain.
Most of the suppliers are based in North America. Key specialty ingredient suppliers include Eli Fried Inc., St. Louis Food Ingredients, Additive Solutions, CK Ingredients, KF Specialty Ingredients, Vantage Specialty Ingredients and Royal DSM. There are significant numbers of multinationals and smaller firms. Small firms offer technical expertise but are financially unstable.
Therefore, multinationals in order to expand their business and gain technical expertise, are acquiring small firms. Over the forecast period, mergers & acquisitions are expected to increase. Manufacturers are expected to expand their business in Asia Pacific to offer affordable and high-quality products. On account of extremely high demand in Asia Pacific mainly China, India, South Korea and Japan, new entrants are expected to enter into the industry in the future.