Industry Insights
The global technical textiles market demand was 26,580.24 kilotons in 2014. It is projected to expand at a CAGR of 3.7% from 2015 to 2022. These textiles are known for superior properties when compared to conventional textiles and are used for special functionalities. Properties such as higher strength, versatility, and superior technical performance make them desirable for numerous industrial, commercial as well as domestic usages.
The market is characterized by massive R&D investments made by industry participants to develop innovative and novel products. The new as well as existing industry participants are taking ardent steps to develop novel applications to cater to the consumer demand and specifications. Such a trend is presumed to aid the global market witness rapid growth and offer ample opportunities for companies.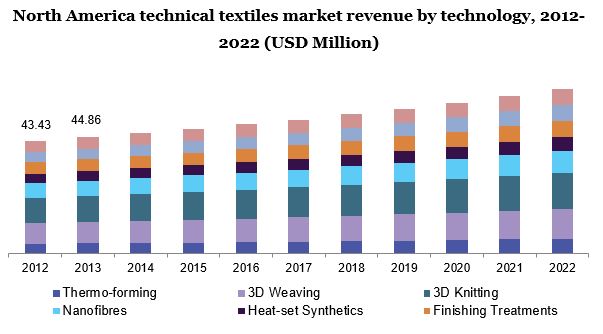 Automotive industry being a major end-use industry, is expected to aid the technical textiles market over the forecast period. Technical textiles are used for rubber products, balance, safety, insulating products, floor coverings, composites, and protective gear in automobiles.
Technical textiles have varying grades that are used for various applications. Such versatility is presumed to complement the industry owing to wide acceptance of the product across multiple industries. High raw material cost is a critical factor anticipated to hamper growth of the technical textiles market as it can negatively impacts profit potential.
Growing acceptance of geotextiles is presumed to offer ample opportunities to the market participants over the forecast period. Emerging regions such as Asia Pacific and Latin America are presumed to witness rapid adoption of the product across several industries. Countries such as China, India, and Brazil are projected to lead their respective regional markets. Such a trend in the developing regions promises ample opportunities for growth and development.
Technology Insights
Fibers, yarns, and filaments are the major products used for manufacturing technical textiles. Numerous technologies involved in the manufacturing includes 3D weaving, thermoforming, 3D knitting, heat-set methods, nanotechnology, hand-made methods, finishing treatments, and others. Thermoforming, 3D weaving, and 3D knitting are the most mostly used methods. Newer technologies such as nanotechnology are projected to witness wide acceptance over the forecast period and offers ample scope for growth.
Thermoforming in textiles is a heat treatment process used to shape composites containing fabric layers into various shapes. This technology is widely adopted in the indutech, mobiltech, packtech, and hometech segments. 3D weaving is a weaving process used for manufacturing products such as spacer fabrics, geotextiles, surgical implants, webbings, conveyor belts, and more.
Three dimensional knitting technology is used to manufacture complete garments with minimal or no cutting. This innovative technology eliminates post labor work, thus saving production time and cost. In addition, this technology offers knitwear consumers more comfort and better fit by eliminating seams. Heat-set method is a thermal process carried out either in a moist or dry heat environment. Finishing treatments are used in the final production stages.
End Use Insights
The market has been segmented into eleven categories viz., indutech, mobiltech, sportech, hometech, buildtech, clothtech, agrotech, packtech, meditech, protech, and others. Mobiltech led the global market in the recent past followed by Indutech. This trend is estimated to continue over the forecast period. Meditech and buildtech are estimated to be the fastest growing segments in the forthcoming years.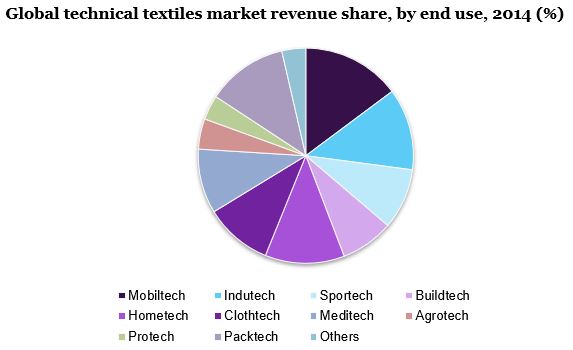 Increasing infrastructure spending, especially in developing regions such as Asia Pacific and Central and South America owing to government initiatives is presumed to be a major regional driver. Growing population coupled with increasing access to medical treatment is estimated to drive the medical and pharmaceutical industry, which in turn is expected to aid the meditech segment.
Regional Insights
Asia Pacific led the global market in the recent past and is expected to continue this dominance in near future. It is projected to account for over 45% of the global market by 2022. North America is projected to witness slight decline over the forecast period owing to saturation of the end-use industry.
Technological developments and huge R&D spending by the industry participants to enhance agricultural output and to develop superior sports apparel are the key factors presumed to aid the Europe market. Favorable regulatory framework and government policies to increase agricultural yield are expected to further aid the regional expansion. Nanofibers, 3D weaving, thermo-forming, and heat-set synthetics are the key technologies that are projected to witness rapid growth over the forecast period.
Economies such as China, India, and Brazil are expected to witness brisk growth and are thus presumed to lead their respective regional markets. Favorable government initiatives and policies encouraging infrastructure spending, manufacturing, and medical industries are projected to play a key role in shaping these markets.
Technical Textiles Market Share Insights
The market is highly fragmented with several prominent participants. Such segmentation has resulted in heterogeneous distribution of demand and supply centers. U.S., Germany, and China are the major supply centers for technical textiles. Such segregation has resulted in the imbalance in the international trade. Differing supply and demand centers results in higher logistical costs, supply management, and increased time required to align business practices according to the market dynamics.
International trade is also negatively impacted by varying trade regulations and policies across different regions. Though such market segregation promises ample scope for the development in certain regions, it does not provide scope for development across the entire globe. This has resulted in market stagnation in certain regions owing to the demand-supply imbalance. To overcome this gap, key players are focusing on capacity expansion in the areas with high demand.
Major companies are engaging in acquisitions or forging partnerships with an aim to increase their production capacity and to enhance their product portfolio. Companies such as Avintiv have increased their product prices as well as acquired Duonor S.A.S. Such strategic steps are being taken to meet the product demand and gain considerable market share by integrating novel technologies and capabilities.
Key market participants include E.I du Pont de Numours & Company, Avintiv, Kusumgar Corporates, SRF, Ahlstrom, Ibena Textilewerke GmbH, Johnson & Johnson, Procter & Gamble, 3M, SKAPS, Kimberley Clark Corporation, Maccaferri, and Strata Geosystems (India) Pvt. Ltd.