Industry Insights
The global thermal interface materials market size was valued at USD 1.23 billion in 2015 and is expected to witness immense growth over the upcoming years on account of the growth of the automotive and medical industries in emerging economies of China, India, Mexico, South Korea and Thailand. Increasing miniaturization of systems and circuit density results in generating the large amount of heat which is neutralized by the thermal interface materials.
Rising demand for thermal interface materials on account of increasing requirement for faster computing, rising awareness for energy efficient lighting systems such as LEDs will increase industry size. Manufacturers are continuously investing in R&D for the development of lightweight, efficient and highly conductive materials to gain market share. Furthermore, advancement in the medical industry will open new growth avenues over the upcoming years.
Automotive production in China, 2011 - 2015 (Million Units)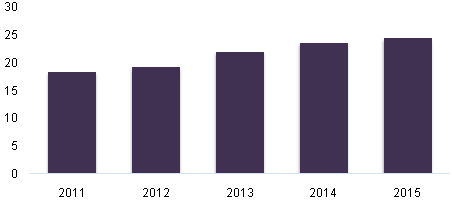 Rising demand for thermal interface materials as they increase the heat dissipation efficiency in electronic devices will augment industry size over the next nine years. High usage in various products including IC packages, LED attach, MOSFETS and power transistors as it extends the life span of the products will propel industry size.
Asia Pacific is expected to witness significant growth mainly in China, Japan, and India on account of growing automotive manufacturing base. The presence of big players including Toyota Industries, Komatsu Limited, and Nissan Motor Company is expected to create immense growth potential over the forecast period.
Rising demand for electric vehicles sales in the China in light of increasing government subsidiaries will drive demand. Moreover, the presence of various key players including BYD Auto Ltd., Beijing Electric Vehicle Co., and Hangzhou Changjiang Passenger Vehicle Co. will further accelerate industry size.
Abundant availability of silicone, epoxy, elastomers and acrylics in the U.S., India, and China, will augment its demand over the next nine years. However, difficulty in the storage of the product along with fluctuation in performance owing to different physical properties will hinder industry expansion.
Application Insights
Computers were the largest application segment and accounted for 24.9% of the global share in 2015. Rising usage of the product in various parts including CPU, graphic cards, hard disks, and chipsets will increase industry size. In addition, rapid urbanization, rising incomes, and changing lifestyle will further augment industry expansion over the forecast period.
Global thermal interface materials, by application, 2015 (USD Million)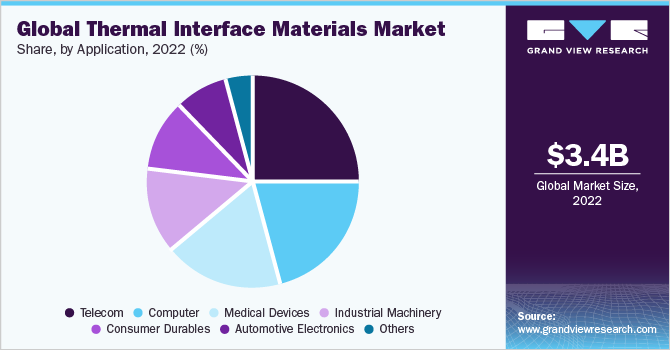 Medical devices will witness significant gains at a CAGR of 11.7% from 2016 to 2025 on account of rising demand for medical electronics in light of growing aging population, disease prevalence, and home healthcare services & devices. Furthermore, increasing adoption of wearable electronics and imaging systems in healthcare facilities is expected to create immense growth potential over the forecast period.
Product Insights
Grease & adhesives were the largest used products accounting for 34.8% of the overall market share in 2015 and are expected to show steady growth in light of their low cost and higher thermal conductivity. Furthermore, increasing demand for silicone grease in automotive and CPUs owing to its flowability and ability to reduce surface roughness will fuel industry expansion over the forecast period.
Phase change materials are expected to show a significant rise on account of their high usage in various components including CPUs, GPUs, IGBTs and discrete component as it provides superior long term reliability performance. Furthermore, high specific heat, density and thermal conductivity of the product will augment demand over the next nine years. The segment is estimated to be worth USD 226.7 million.
Regional Insights
Asia Pacific dominated the global market accounting for 36.3% of the overall share in 2015. This trend is expected to continue over the upcoming years on account of growing automotive production in India, Malaysia, Indonesia and Thailand. Furthermore, favorable FDI and "Make in India" policy implemented by the Government of India is expected to create opportunities for automobile sector in the country which in turn will aid industry development.
Asia Pacific thermal interface materials market, 2014 - 2025 (USD Million)
Rising telecom sector in India in light of increasing subscriber base, government initiatives and investment by foreign players including LeEco, Gionee, and Axiata Digital will fuel industry expansion over the forecast period. Increasing usage of the product in medical electronics owing to improving healthcare infrastructure, rapidly growing the population, and urbanization in India and China will propel market growth over the upcoming years.
North America market was valued at USD 330.8 million in 2015 and will witness steady growth on account of a robust manufacturing base and rapid growth of the automotive sector in the U.S. and Mexico. National policies promoting the development of vehicles, fuel efficiency and green policy will also increase demand for elastomeric pads over the next nine years.
Rising demand for medical devices owing to increasing national healthcare expenditure, the presence of sophisticated healthcare infrastructure, high purchasing power, and technological advancements will augment industry size.
Competitive Insights
Thermal interface materials is extremely competitive in nature with the key participants involved in continuous R&D and product innovation. The thermal interface material manufacturers include Henkel AG & Co. KGaA, Indium Corporation, The 3M Company, Dow Corning, Parker Chomerics, Laird Technologies and Momentive. Various other participants include Fujipoly, SEMIKRON, ShinEtsu, Wakefield-Vette, Inc., AOS Thermal and DK Thermal.
Report Scope
| | | | |
| --- | --- | --- | --- |
| Attribute | Details | Customization Offer (15% free)* | Additional Cost |
| Base year | 2015 | NA | NA |
| Historic | 2014 | Extended historic data (2012 to 2014) | Free |
| Forecast | 2016 - 2025 | Extended Forecast data (2026 – 2027) | Free |
| Report details | Size, company share, competitive Landscape, growth factors, trends | Contact us for specific information not available in this report | Quotation to be shared post feasibility |
| Market representation | USD Million | NA | NA |
| Geographic coverage | Global & Regional (by country) | Information on up to three additional countries | Free |
| Company profiles | All major industry players | Profiles of 10 additional companies | Free |
* 15% free customization - This is equivalent to work done by one research analyst for 5 working days.

Segments covered in the report
Grand View Research has segmented the thermal interface materials market by product, application and region.
Product Outlook (Revenue, USD Million, 2014-2025)

Tapes & films

Elastomeric pads

Greases & adhesives

Phase change materials

Metal-based

Others

Application Outlook (Revenue, USD Million, 2014-2025)

Telecom

Computer

Medical devices

Industrial machinery

Consumer durables

Automotive electronics

Others

Regional Outlook (Revenue, USD Million, 2014-2025)

North America

Europe

Asia Pacific

Latin America

MEA