Industry Insights
Strong demand for lightweight materials with superior properties, particularly from the automobile industry is presumed to be a key driving factor for global TPV market. Strong shift n trend towards replacing metals with light weight materials such as TPV to increase fuel efficiency in automobiles is slated to bolster the global market. Government initiatives and regulations to increase fuel efficiency particularly in developed markets of North America and Europe are expected to fuel further the market demand.
Global thermoplastic vulcanizates (TPV) market volume by application, 2012 - 2020 (Kilo Tons)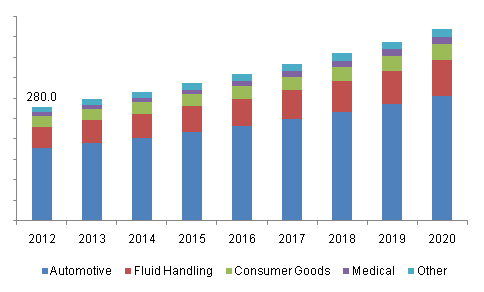 Over dependence on fossil fuels coupled with the diminishing hydrocarbon reserves is expected to bolster the drive for automobile fuel efficiency which has further propelled the growth of engineering plastics. Such a trend is expected to complement the global TPV market over the next six years. Natural rubber substitution across various end-use industries is also expected to have a positive influence on the market growth. Volatile raw material prices coupled with environmental concerns and regulatory guidelines are anticipated to retard the global market growth. R&D initiatives on developing superior TPV and their novel applications promise abundant opportunities for the industry participants. TPV are usually a blend of dispersed rubber particles in a thermoplastic matrix, thus rendering combined elastomer and thermoplastic properties to the material. Typically, TPV contains about two-thirds of ethylene propylene diene monomer (EPDM) and the rest of impact polypropylene.
There are other raw material combinations as well, such as polypropylene & natural rubber (PP/NR), butyl, halobutyl & polypropylene, polypropylene & EPDM (PP/EPDM), polyolefin blends & EPDM and polypropylene & ethylene octene copolymer (PP/EOC). EPDM based TPV are expected to witness strong demand in the future and penetrate conventional markets for thermosetting EPDM applications.
Application Insights
TPV applications are spread over multiple end-use industries such as automobiles, industrial goods, electrical appliances, consumer goods, medical & healthcare, construction and coated fabrics. Automotive is the largest application segment accounts for over half of total TPV market volume. Superior characteristics over conventional materials such as low weight, high strength, abrasion resistance, and flexibility make the product a key substitute for the conventional materials used in the multiple end-use industries. Combined vulcanized rubber and thermoplastic characteristics have propelled TPV to become an evident choice for the end-use industries such as automotives, healthcare and industrial & consumer goods.
Regional Insights
North America dominated the global TPV market since the past years owing to strong demand from the automobile industry as well as from other end-use industries such as healthcare and consumer goods. However, Asia Pacific is expected to overtake North America to become the leading regional TPV market. Rapid industrialization in emerging economies of India, China, and Indonesia is expected to drive the regional TPV market. In 2012, China was the largest automobile manufacturer in the world, and India is expected to be one of the top five automobile manufacturers in the near future. Asia Pacific and Latin American markets offer a host of opportunities for the industry participants, especially in the automotive sector. Rising disposable income and increasing consumer goods demand in the developing regions are expected to aid further the regional market growth. Regulations and policies in the developed nations aimed at increasing automotive fuel efficiency and reducing the fossil fuel usage is slated to bolster the regional markets such as Europe and North America. Ageing population in North America and to some extent in Europe is slated to aid the regional TPV consumption in the medical & healthcare sector.
Competitive Insights
TPV market offers myriad opportunities for the industry participants. R&D initiatives on development with superior properties and newer applications offer ample opportunities for market development. With emerging economies expected to witness a rapid growth in TPV usage, the major global companies are leaving no stone unturned to capture this high growth regional markets. Developed markets also promise robust growth due to wide applications in various end-use industries. Key industry participants include Exxon Mobil, The Dow Chemical Company, Arkema Inc., DuPont Performance Elastomers, Solvay Engineered Polymers, Dexco Polymers and Kraton Polymers.