Industry Insights
Global thermoplastic elastomers market was valued at 3.82 million tons in 2014. Increasing consumption across various applications such as footwear, consumer goods, electronics, and construction has been instrumental in the global market growth over the last few years. Increasing demand in automotive component manufacturing is expected to be a major factor driving the global industry growth over the forecast period. Regulatory intervention by environmental agencies aimed at carbon emission reduction through an increase in fuel efficiency has forced major automotive OEMs to incorporate plastics as a substitute to metals and alloys in automotive components.
Increasing consumer preference for high performance and lightweight passenger cars has been driving plastics innovation in automotive manufacturing. These factors have led to increased thermoplastics consumption in the aforementioned application. Thermoplastic elastomers exhibit superior physical and chemical properties compared to thermoset plastics, thus gaining preference in terms of application. High substitution rate of TPU & TPO as an alternative to ethylene propylene diene monomer (EPDM) in construction materials is expected to complement global industry demand over the forecast period.
Europe thermoplastic elastomers market volume by product, 2012 - 2022 (Kilo Tons)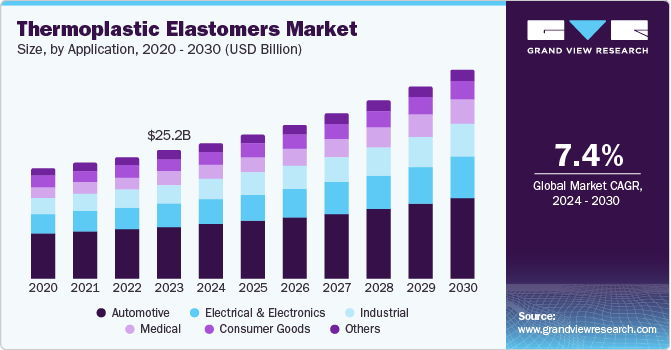 TPEs are unique, eco-friendly thermoplastics that are not only recyclable but can also be re-molded and re-shaped, thereby eliminating wastage quite extensively. These offer various other advantages in terms of physical attributes & characteristics such as resistance to chemicals, UV, oxidation, and providing soft-touch to materials. These properties are increasingly driving rubber and conventional plastic material replacement by TPEs in their respective applications. Several federal bodies such as FDA, US Pharmacopeia regulate product applications in numerous end-use industries to ensure utmost consumer health and safety. These regulations affirm TPE utilization for commercial applications by providing guidelines for prudent product usage.
Product Insights
Key products analyzed for global TPE market includes SBC, TPU, TPO, TPV, and COPES and such as thermoplastic polyamides & melt processable rubber. Additionally, each product has been segmented based on their respective applications. SBC was the largest consumed product with its demand estimated at 1,889.2 kilo tons in 2014. SBS is a major SBC product consumed which accounted for over 70% of the product volume in 2014. Increasing demand for SIS particularly in China and India is expected to drive the product segment growth over the next seven years.
Increasing consumption in automotive under the hood applications and fascia systems is expected to be a major factor driving the global TPV consumption. TPU is gaining prominence in construction applications owing to its thermal and acoustic insulation properties. Growing importance of energy efficiency in buildings and subsequent regulatory policies aimed at zero energy buildings are expected to drive TPU demand in construction over the next seven years.
Regional Insights
Asia Pacific thermoplastic elastomers market emerged as the largest consumer and accounted for over 40% of the overall volume in 2014. China, India, and Japan are major consumers in APAC and accounted for over 85% of the regional volume in 2014. High construction and automotive industry growth in China & India along with increasing footwear and electronic goods production in Southeast Asia is expected to drive further TPE demand in APAC over the forecast period.
North America is characterized by heavy R&D by domestic companies aimed at product innovation and increased application scope. Structured regulatory policies pertaining to application specific plastics consumption and disposal is expected to have a significant impact on the regional market growth. Increasing automotive production in the U.S. and Mexico along with construction and consumer industries' growth in Mexico is expected to drive North America TPE demand over the forecast period.
Competitive Insights
Global thermoplastic elastomers market share is moderately concentrated with top four companies, namely, Dow Chemical Co., Kraton Polymers, Sinopec, and LyondellBasell accounting for just over 47% of total demand collectively. Major companies are shifting their manufacturing capabilities to high growth potential markets such as China, India, Brazil, and Southeast Asia. The shift in production can be attributed to high TPE demand in aforementioned regions coupled with favorable manufacturing conditions such as easy raw material procurement and low labor & operational costs.
Key manufacturers such as Muller Kunststoffe and Zeon have started capacity expansions in China and Japan respectively. The presence of a huge number of small-scale domestic manufacturers in these regions is expected to strengthen competition among companies. Mitsubishi is actively investing in R&D to improve production processes by eliminating toxic ingredients (phosgene) and developing plant-based bio-based thermoplastic elastomers.