Industry Insights
The global tocotrienol market size was 530.4 tons in 2015 and is expected to grow at a CAGR of 7.2% from 2016 to 2024. Rising concerns to treat diseases such as pancreatic cancer and respiratory disorders are expected to aid the demand for the pharmaceutical industry, which in turn would assist the global market growth over the forecast period.
The subfamily from natural vitamin E possesses properties such as neuroprotective, cholesterol reducing, and anticancer characteristics which often are not exhibited by tocopherols. Recent advances have clearly indicated that members of the vitamin E family are not redundant with respect to their biological activities. Thus, alpha and gamma have emerged as potential vitamin E molecules to cure numerous diseases as compared to alpha tocopherol.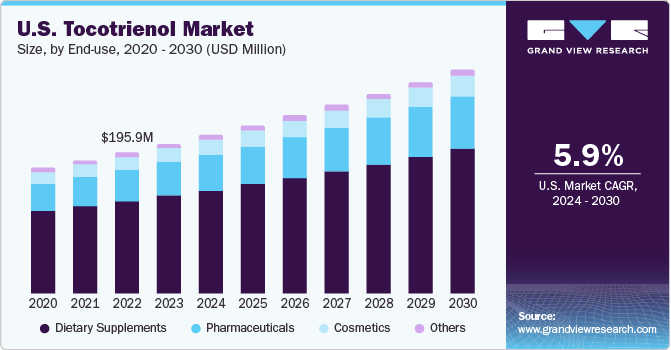 Tocotrienols naturally derived from annatto help in reducing the inflammation associated with cardiovascular diseases and are also used in anti-aging creams. They are commonly derived from rice bran are recognized as a safe mixture with no negative side effects on human beings. Such a trend is presumed to favor its growth in the healthcare industry over the next eight years.
In recent years, they have been found to be effective in anticancer treatment activities. Tocotrienols are generally considered to possess apoptotic & anti-proliferative activities on human cancer cells. In addition, ongoing research activities clearly indicate the potential of these products in clearing the atherosclerotic blockage in the carotid artery that can lead to stroke.
They are considered five times more expensive compared to tocopherols. Although both have similar properties to protect cell membranes; the former is considered more effective to penetrate more into cell membranes and are more popular antioxidants in comparison to their saturated bond counterparts.
The European Scientific Committee on Food (SCF) also declared that tocotrienols could be used as food ingredients and also as a source of vitamin E in dietary food supplements. Such factors are expected to assist the market demand over the forecast period. The production using molecular distillation involves low maintenance costs and offers cost-effective extraction.
Several R&D investments are being taken to slow down the growth of human breast cancer cells which is expected to create ample opportunities for the overall market growth. Recent developments including tocotrienols usage to minimize the size of the tumors and damage to the DNA are expected to offer ample opportunities for pharmaceutical research.
Product Insights
Alpha tocotrienol accounted for 56.4% of the total market revenue in 2015. They have repeatedly shown results in lowering the total and the LDL cholesterol level. It has also been reported that it has more antioxidant properties than alpha tocopherols. As a result, many health promoting benefits are being attributed to their antioxidant characteristics, especially in the treatment of cardiovascular diseases.
On the other hand, gamma tocotrienol is expected to be the fastest growing product segment over the next eight years. This product type helps in reduction of the triglyceride synthesis and transport to a human body. They also help in increasing the calcium content in the bones of the human body.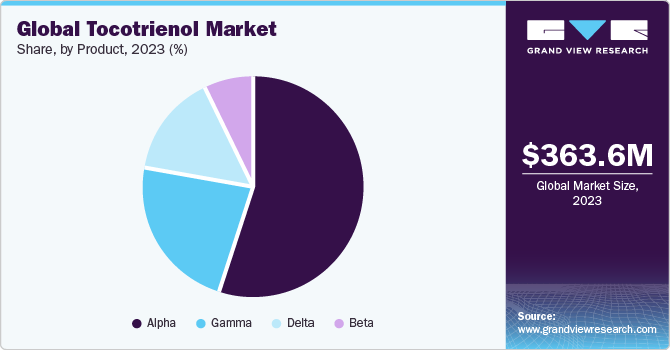 The global gamma tocotrienol market volume is projected to witness a CAGR of 7.4 % over the forecast period and reach 218.0 tons by 2024. Research studies have indicated that gamma tocotrienol helped in increasing the calcium content in bones. Similarly, palm gamma tocotrienol could be a highly potential agent to be used in preventing long term glucocorticoid-induced side effects.
End-use Insights
Major end-use industries include dietary supplements, pharmaceuticals, cosmetics, and others. The others segment comprises of feed additives and research applications. Dietary supplements accounted for more than 65% of the overall market and emerged as the leading segment followed by pharmaceuticals.
Shifting consumer preferences to participate in the diet and changing lifestyle is the primary cause of the surge in the market growth. Human beings suffering from vitamin E deficiency are prone to weakness, muscular & joint pains, lowered immunity, skin lesions, and apathy. This factor can be deterred majorly if tocotrienols are used as dietary supplements.
Tocotrienols are widely used in cosmetics as skin conditioning agents. Prolonged exposure to ultraviolet rays causes skin aging problems, ultimately leading to skin cancer. They are used in cosmetics and skin treatment products help to prevent the harmful effects of oxidation. They also help in increasing the length of DNA structure called telerome, which further helps in skin depigmentation, skin repair, and skin hydration.
Regional Insights
North America tocotrienol market held approximately 60% of the global revenue in 2015. Rising demand for dietary supplements, mainly in the U.S., has resulted in the growth in the regional market. Increasing health concern among the aging population coupled with health awareness benefits in fatal diseases such as cancer and cardiovascular diseases in the region is also expected to augment the market in future years.
Tocotrienol Market Share Insights
The global market is highly competitive with the top four companies hold a majority share of the industry revenue. The market is expected to move towards consolidation and may witness an increase in mergers, acquisitions, and strategic alliances over the next seven years.
Major companies include American River Nutrition, Ltd, Vance Group, Excel Vite Inc, Davos Life Sciences, Orochem, Eisai FOOD & Chemical Co., Cayman Chemicals, Ac Grace Company, Parachem Fine & Specialty Chemicals, and BASF.