Rising burden of tuberculosis, supportive government initiatives, and the advent of advanced methods will drive the tuberculosis diagnostics market
The global tuberculosis diagnostics market was valued at USD 2.1 billion in 2015 and is expected to witness a CAGR of 4.1% over the forecast period. The rising burden of tuberculosis is one of the biggest concerns among the government and healthcare agencies.
As per the Global Tuberculosis Report published by the World Health Organization, TB incidence estimates were around 9.6 million globally. Furthermore, in the same year, around 1.5 million deaths were reported due to this communicable disease. This increasing disease burden serves as a prime factor for the market growth.
As a result, government and independent healthcare organizations have undertaken initiatives to control the proliferation of this infectious disease. Creating awareness about the importance of diagnosis is vital in increasing the screening and diagnosis rates, further helping the TB diagnostics market to flourish.
For instance, the Revised National Tuberculosis Control Program (RNTCP) in India focuses on performing TB screening and providing greater access to treatment through free diagnosis & treatment programs. In addition, private-public partnerships under this program are boosting the diagnosis rate.
Population above the age of 60 years is the target population for the TB diagnostics market as this demographic is susceptible to infectious diseases. The growing geriatric population base, as a result, is contributing toward the growth of the sector.
Advent of advanced diagnostic methods, such as cytokine detection assay, Interferon-gamma Release Assay (IGRA), and serological tests are facilitating the emergence of this sector. These tests yield accurate results in a shorter time span while employing a smaller biological sample.
Global Tuberculosis Diagnostics Market, 2013 - 2024 (USD Million)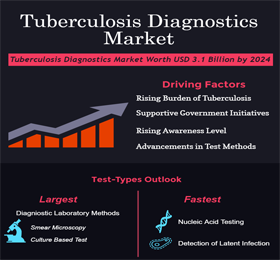 Development of Point of Care (POC) methods such as Xpert MTB/RIF assay by Cepheid and Determine TB lipoarabinomannan antigen test by Alere, Inc.aid in addressing the unmet needs in terms of diagnosis requirements by offering rapid & accurate diagnosis, simplicity, affordability, and quick results.
The major factors accounting for the rising demand for POC in healthcare facilities include government support, clinical & economic outcomes, technological advancements, incorporation of information technology, and end-user awareness.
Diagnostics laboratory methods spearheaded the test type segment in 2015
The TB diagnostics market based on test type is segmented into radiographic methods, diagnostic laboratory methods, nucleic acid testing, phage assay, detection of latent infection, cytokine detection assay, and detection of drug resistance.
Diagnostic laboratory methods consisting smear microscopy and culture-based tests held a significant share of around 38.0% in 2015. Penetration of these methods in the developing regions, where high incidences pose a huge burden, governed the growth of this segment.
Tests such as nucleic acid tests and latent infection detection tests, which include skin tests and IGRA, are anticipated to witness lucrative growth over the forecast period. In addition, the drug resistance detection segment is also expected to grow at a sturdy rate. Misuse of antibiotics contributes to the high incidences of drug resistance.
Asia Pacific is the largest regional tuberculosis diagnostics market owing to the increasing prevalence levels
Asia Pacific led the market in 2015 and is anticipated to exhibit profitable growth over the forecast period. Asia Pacific, due to its high burden as well the rapid proliferation of this disease, dominated the global TB diagnostics market.
As per the 2015 world report, Afghanistan, India, Bangladesh, China, and Indonesia have been identified as the high burden countries. Hence, the WHO and the local government agencies have planned initiatives to strengthen the force of diagnostic centers including laboratories and the screening network.
Infectious and Endemic Disease Control in China, RNTCP in India, and National TB program in Afghanistan are the few programs planned by local healthcare agencies to contain the incidence and ensure equitable access to diagnosis for this disease.
Latin America and Europe are also anticipated to exhibit a remunerative growth rate over the forecast period. The Russian Federation is a key target region for TB diagnostics in Europe as it is indicated as a high burden region by the WHO. 
The tuberculosis diagnostics market players are focusing on new product launches and collaborative development
Key players include Thermo Fisher Scientific, Inc., Hologic Corporation, Abbott Laboratories, Alere, Inc., Becton, Dickinson and Company, F. Hoffmann-La Roche AG, bioMerieux SA, Sanofi, Cepheid, Hain Lifescience GmbH, and QIAGEN.
New product launches, collaboration, mergers & acquisitions, and regional expansion are the key strategic initiatives undertaken by these industry players.
For instance, in September 2015, Thermo Fisher Scientific, Inc. acquired Alfa Aesar for USD 400 million. Alfa Aesar is involved in providing laboratory and research chemicals ranging from catalysts, reagents, analytical, and labeling products. Their combined strength in laboratory chemical development and production is expected to support their growth in this sector.