Industry Insights
The U.S. polymethyl methacrylate market size was 214.6 kilo tons in 2014. Increasing PMMA consumption in automotive and construction industries is expected to drive growth over the forecast period.
Prevailing macroeconomic conditions such as GDP growth and rising industrial output are driving construction and automotive industries. Automotive industry has recovered and reached pre-crisis level in North America due to which the U.S. passenger car manufacturing has increased along with its exports to Canada, Mexico, European, and Asian markets.
Stable raw material supply and process optimization are crucial for producers to achieve economies of scale. PMMA is produced through polymerization of methyl methacrylate (MMA), which is obtained through petrochemical sources such as acetone, hydrogen cyanide and sulfuric acid.
MMA is synthesized through various technologies such as acetone cyanohydrins (ACH) process, isobutylene direct oxidation process, methacrylonitrile (MAN) process, isobutylene direct oxidative esterification (DOE) process, and new ACH process.
Crude oil price volatility has a huge impact on petrochemicals pricing, thus effecting MMA prices. To counter these challenges, companies such as Lucite and Altuglas have invested in R&D to develop PMMA through bio-based sources at prices competitive with conventional PMMA.
The industry is characterized by favorable regulatory policies by agencies such as the U.S. Food & Drug Administration (FDA) and the U.S. Environmental Protection Agency (EPA). FDA, under Code of Federal Regulations 21CFR888.3027, has reclassified PMMA bone cement from class III (premarket approval) to class II (special controls) and framed special controls guidelines.
U.S. PMMA market revenue by product, 2012 - 2022 (USD Million)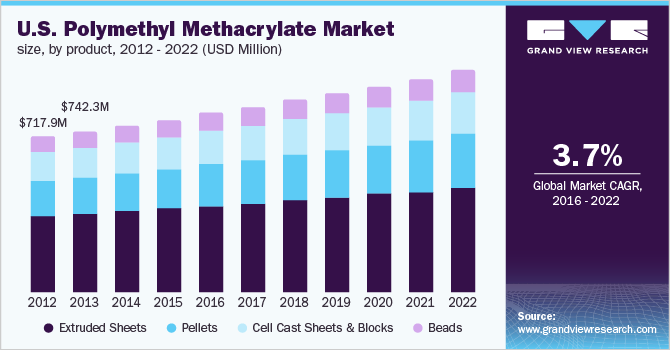 EPA policies are framed on the basis of health and environmental impact of a substance. The EPA has assessed health impact of MMA monomers on humans in 1998 and included it on Integrated Risk Information System (IRIS) database. Based on its assessment, EPA has established that MMA is non-carcinogenic in nature and possesses low to medium toxicity.
Product Insights
On the basis of product, the industry is segmented into extruded sheets, cell cast sheets & blocks, pellets, and beads. Extruded sheets were the largest consumed product accounting for over 55% of the demand in 2014. Extruded sheets are used in numerous applications such as LED screens, decorative interiors, solar panels, building facades and visual marketing communication displays.
Pellets are the most basic forms available in diverse colors and sizes, allowing ease of molding into desired shapes and sizes. PMMA pellets are generally purchased by processors who convert the product into end-use forms by different molding procedures.
Construction industry is the largest consumer of cell cast sheets and blocks. Unique coloring and blending capabilities with weather/chemical resistance and superior clarity enables these sheets as a substitute to glass and polycarbonate (PC) in window glazing, facades, patio roofs and worktops.
Application Insights
The U.S. PMMA market has been segmented on the basis of application into construction, electronics, automotive, signs & displays along with niche applications such as sanitary ware, coating & emulsions, furniture, solar panels, and medical devices.
Signs & display was the largest application segment with demand estimated at 73.3 kilo tons in 2014. Increasing plastics consumption in automotive components is expected to drive growth in applications such as window glazing, LED headlights, and body components. PMMA market for automotive applications was valued at USD 155.5 million in 2014.
Historically, medical applications of PMMA have been limited to its usage as bone cement and dental fixture. It is gaining prominence in medical devices such as cuvettes, incubators, and desiccators as an alternative to other medical polymers such as PC and PVC. Its superior biocompatibility and non-carcinogenic nature are expected to drive demand in medical devices.
Competitive Market Share Insights
Top four companies, Altuglas, Lucite, Evonik, and Plaskolite accounted for 72.0% of the U.S. polymethyl methacrylate market share in 2014. The industry is highly consolidated and characterized by price wars, production process optimization and integration through supply chain. Altuglas International, a subsidiary of Arkema, emerged as the leading company with over 25% of the market share.
Evonik and Arkema have collaborated in 2011 to jointly develop bio-based MMA through their proprietary process known as AVENEER. With a capital investment of approximately USD 150 million, Evonik's eco-friendly MMA plant is expected to start operations in Alabama by the end of 2015 and achieve industrial scale by 2018.