Industry Insights
The global medical polymers market size was valued at USD 9.69 billion in 2013, growing at a CAGR of 8.4% from 2014 to 2020. The global market is expected to witness growth owing to rising demand for lightweight polymer-based devices from health care industry. Approximately 16% of world population is expected to be above 65 years of age by 2050. Growing geriatric population, especially in the developed countries, is also expected to support the growth of the industry.
Polymers based medical equipment are being increasingly preferred compared to conventional materials owing to advantages such as light weight, processing ease, low cost and easy availability. Emerging economies of Asia Pacific such as India, Singapore and Malaysia are high potential markets because of the rise in medical tourism in these countries.
North America medical polymers market, by product, 2012 - 2020 (USD Million)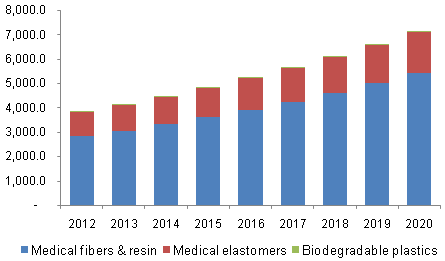 Over the past few years, the home healthcare industry has witnessed significant growth on account of various benefits including low cost in comparison with hospital care and intensive care. Growing need to maintain healthy lifestyle coupled with new preventive care measures has led to the utilization of devices which has contributed to the market growth. Growing demand for advanced and sophisticated healthcare devices is expected to support the industry growth, and this trend is projected to continue over the forecast period.
Product Insights
Medical resins and fibers were leading product segment and generated revenues worth USD 7.04 billion in 2013. Growing demand for low cost, high strength and durable materials for various applications including packaging is expected to drive growth.
PVC segment is expected to grow at a CAGR of 8.8% in terms of revenue from 2014 to 2020. This is primarily because of rising demand for the polymers for manufacturing devices on account of increasing awareness regarding its various benefits including portability, light weight, high strength, low cost and high wear resistant.
Medical-grade PP, PE, PS, SBC, rubber latex, TPO, and TPU are extensively used in a host of healthcare-related application. These products are expected to witness high demand due to their extensive use in manufacturing tubing, and pharmaceutical packaging.
Biodegradable plastics are a niche segment, and this product segment is set to grow tremendously over the forecast period owing to favorable regulations supported by the presence of a stringent regulatory framework for synthetic non-biodegradable polymers. This is expected to fuel growth, and the segment is expected to grow at a CAGR of 15.8% from 2014 to 2020.
Application Insights
In terms of application, medical device and equipment dominated the global market accounting for over 47% of the volume share in 2013. Growing demand for advanced and sophisticated equipment coupled with favorable government initiatives for promoting consumption of medical grade polymers is expected to impact positively industry growth.
Packaging accounted for a significant revenue share on account of increasing awareness regarding hygiene. Furthermore, strict measures being undertaken by regulatory agencies to curb tampering and counterfeit of drugs and equipment. The segment is expected to grow at a CAGR of 7.8% from 2014 to 2020.
Regional Insights
North America market was valued at USD 4.18 billion in 2013. Growing aging population and expanding home healthcare market in the U.S. and Canada is expected to drive growth.
Asia Pacific accounted for over 24% of the overall volume share in 2013. Government initiatives for promoting the use of medical graded polymers are expected to drive growth over the forecast period. Increasing awareness regarding better healthcare facilities and growing demand for low-cost treatment has led to significant growth for these polymers, and the trend is expected to play a major role in driving demand over the next five years.
Competitive Insights
Bayer MaterialScience AG, Evonik Industries AG, Celanese, E.I. DuPont de Numeros Company, The Dow Chemical Company, Victrex and Eastman Chemical Company are some of the key players that dominate medical polymers market share. Companies such as Bayer Material Science and DuPont manufacture customized solution for targeting specific applications.
Oil price fluctuation coupled with capacity expansion and contraction has contributed to price volatility in the market and may act as a key barrier for new players entering the industry. This industry is characterized by forward integration from the manufacturing stage to distribution and end-use industries. In April 2011, Dow Chemical Company announced plans for introducing a new product range of ELITE enhanced polyethylene resins. These resins offer high puncture resistance and stiffness.