Industry Insights
The U.S. terrazzo market size was USD 847.5 million in 2015. Technological advancements in educational and commercial industries are anticipated to further boost overall product demand in near future. It is a non-resilient flooring material which is made up of remaining stone chippings. Therefore, the material is considered as a green product. The flooring material is gaining importance on account of its high-performance characteristics which include high durability, easy maintenance, impact resistance, no shrinkage, negligible bacteria growth, and higher stain resistance.
The product is used for a broad range of buildings and structures. These buildings include educational, transport, commercial, government, residential, and healthcare. The U.S. industry is witnessing a shift in customer preference from a primary flooring material to highly-customized pallets.
U.S. terrazzo market volume by product, 2013 - 2024 (Million Square Feet)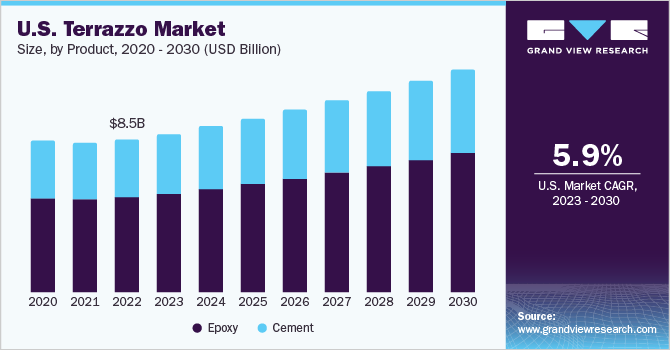 Terrazzo is a customer-centric product which is clean, attractive, and extremely cost-effective on account of low maintenance costs. The manufacturers are providing customization facilities through the internet where customers can design their dream flooring pattern and place an order on their website. Such flexibility and sustainable features are anticipated to impact overall market demand positively.
The product is considered to be inexpensive in nature on account of extremely low maintenance charges. However, the installation cost is higher as compared to other alternatives including coating, tiles, and polished concrete surfaces. Therefore, the presence of low-cost options, including ceramic tiles, is expected to impact overall industry growth negatively in the near future.
Product Insights
The market is segmented on the basis of product which comprises of cement, epoxy, sand cushion, bonded, monolithic, polyacrylate and rustic. The epoxy type was the leading division covering more than the majority of volume share of 63.85% and accounted for 189.9 million square feet of volume in 2015.
The epoxy product is projected to expand its application base in educational segment, retail outlets, healthcare facilities, metro stations and hotels on account of favorable prices as compared to other flooring materials coupled with flexible nature.
Application Insights
The industry is segmented based on application, which comprises of educational institutes, commercial, government buildings, transport and others. The educational sector was the leading division with an estimated volume of 142.8million square feet in 2015 and is expected to increase gradually by 2024.
Key factors driving growth in educational segment includes custom-made designs coupled with extended product lifespan features offered by terrazzo which is growing its preference for institutions, schools, universities, auditoriums. An increasing number of universities, institutions & schools is anticipated to contribute significantly towards overall industry demand in the application segment.
The commercial sector accounted for an overall volume share of around 15.25% in 2015. Others application segment includes hospitals, casinos, houses, healthcare facilities and chemical processing industries.
Competitive Insights
Key manufacturers operating the U.S. terrazzo market include Terrazzo USA & Associates, Inc., Master Terrazzo Technologies, Doyle Dickerson Terrazzo, The Venice Art Terrazzo Co. Inc., RBC Industries Inc., Sherwin-Williams Co., Key Resin Co., EnviroGLAS Products, Inc., and H.B. Fuller (Tec Inc.).
Installation requires highly skilled labors to have perfect finishing. Therefore, such tasks are performed by professionals and contractors. Product installation is either done by hired workers who carry out their responsibilities at the workplace or by contractors who handle the whole project. Services done on contract are expensive in nature.
Many companies have integrated their operations, install material and also manufacture them. Therefore, a customer can choose the design, and the company sets up the desired pattern at the location. Such companies who have integrated their manufacturing and installation businesses are Terrazzo USA & Associates, Inc., Master Terrazzo Technologies, Doyle Dickerson Terrazzo, The Venice Art Terrazzo Co., Inc.
There are a number of distributors in the U.S. which either connect with the end-use customers through retailers, dealers, stores, home centers, furniture stores, department stores, mass merchandisers, paint/wallpaper stores, and internet directly or through contractors.