Industry : Technology
The global 3D scanning market size is estimated to reach USD 8.04 billion by 2025, according to a new report by Grand View Research, Inc.The 3D scanning market is driven by increasing R&D spending and advancements in technology. The emergence of structured light technology, counter to the customary laser dot or laser line technology, is also estimated to fuel the market growth.
The convergence of these technologies may provide enhanced interactive and immersive experiences. The increasing number of advanced wearable devices, complemented by portable & sophisticated 3D scanners, could potentially make the human-techno interaction more immersive, realistic, and adjunct with fabrication practices. The incipient trends, such as mixed reality, Internet of Things (IoT), and the rising conjunction between a wearable device in automotive fabrication and aerospace designing fields are anticipated to drive the market growth.
The 3D scanning can be categorized on the basis of product type into laser scanner, structure light scanner and optical scanner. The optical scanner segment has been evolving gradually whereas the laser scanner segment has received innovative acceptance with the launch of various portable scanners. The increasing demand for 3D scanning application in industrial manufacturing, automotive designing is expected contribute to the market growth. A 3D scanner is used to capture straightforward and rigid dimensions of complex buildings and objects by deploying a laser medium. The modern-day intuitive touch-screen laser scanning models deliver increased clarity thereby conveying an astounding user experience.
The 3D scanning can be categorized on the basis of range into short, medium and long range 3D scanners. Short range laser scanners are anticipated to witness significant growth on account of their low cost nature and numerous dynamic solicitation areas. The short range scanners operate in a range of 0.5 centimeters to 2 meters and are used in applications such as body scanning, medical applications, and reverse engineering. Where, the medium scanners operate in a range of 1 meter to 300 meters and are used in applications such as civil engineering, industrial manufacturing, architecture, heritage, and archaeology. Medium range scanners are anticipated to witness swift growth over the forecast period from 2016 to 2025.
Based on applications, the 3D scanning industry is segmented into industrial manufacturing, aerospace & defense, healthcare, architecture & engineering, and other 3D scanning-based applications. The healthcare application segment is expected to gain colossal prominence. The custom-modelling of operative prosthetic body organs, by means of 3D scanning & printing in the healthcare segment, has further impelled the growth verticals of 3D technology in the dynamic life sciences vertical. 3D scanning technology is used to display augmented 3D models of human body to assist in study of human anatomy, alongside displaying live 3D projections of human organs to provide assistance during surgeries.
The rising adoption of structured light scanning systems and the increasing number of new product launches are expected to draw huge investments from the key participants, thus driving the regional market demand in the years to come. Owing to the aforementioned advantages, the 3D scanning market exhibits high potential in the Asia Pacific countries.
Presence of key industry participants such as Basis Software, Inc. (Surphaser 3D), Creaform, Inc., David Vision Systems GmbH, FARO Technologies, and Hexagon AB in the North American and European regions have resulted in increased demand and higher technology and applicability awareness in the region.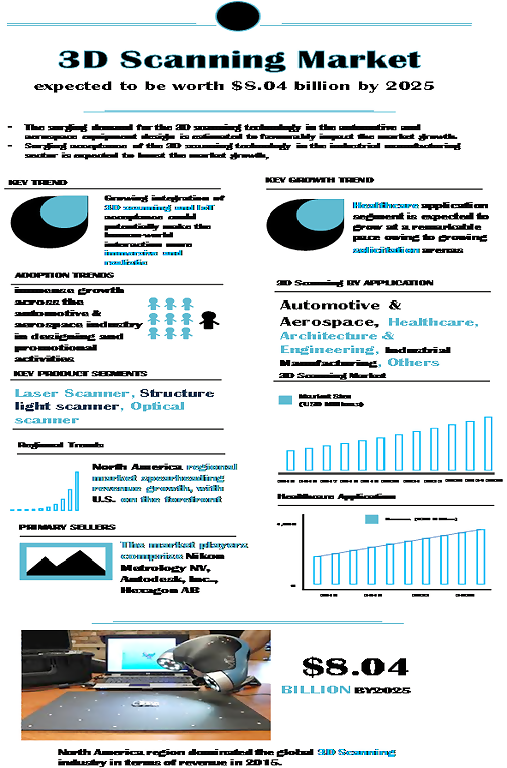 In-depth report on global 3d scanning market by Grand View Research:
https://www.grandviewresearch.com/industry-analysis/3d-scanning-industry