Industry : Technology
The global automotive LiDAR market size is estimated to reach USD 223.2 million by 2024.The automotive LiDAR market is driven by advancements in technology and increasing R&D spending. Stringent global regulatory scenario associated to automotive safety is also expected to fuel the market growth. Automotive manufacturers have been focusing on passenger safety by adopting high-volume mainstream implementations. This has led to modifications in the legal framework in order to regulate a balance between the governmental safety concerns and unobstructed development of ADAS. The advent of autonomous technology in vehicles is expected to potentially reduce road accidents and lead to better management of road space to reduce congestion.
Vertical integration provides several advantages, including low costs due to access to competitive international labor markets, reduced manufacturing and delivery times, and direct sourcing of raw materials. A few of the industry players outsource their manufacturing activities to the third-party contractors or subcontractors. The various competitors prevailing in the market are challenged to provide innovative offerings, which aids consumers in addressing changing technologies, business practices, and security needs.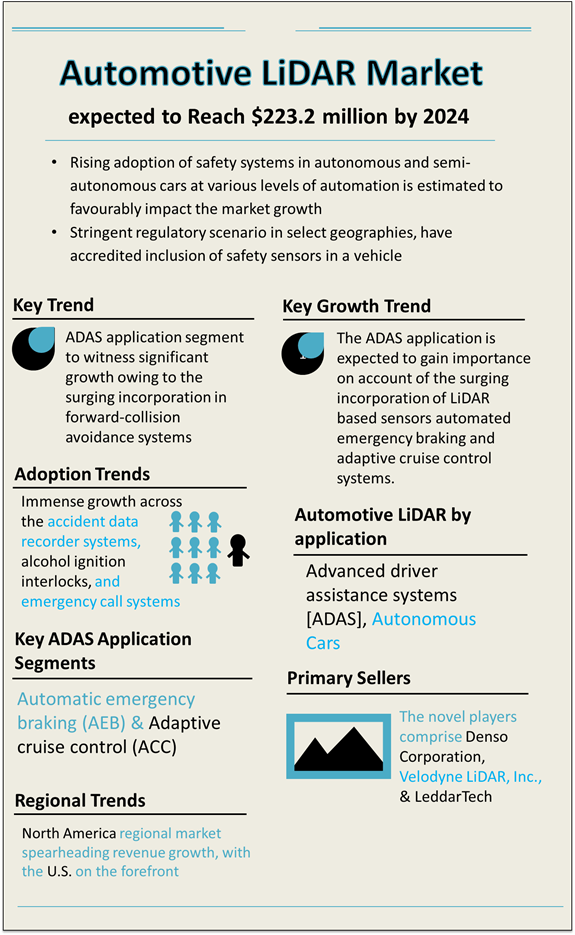 The leading players are in an advantageous yet a vulnerable position and can either lead or lose the market share over the forecast period. In July 2016, Velodyne LiDAR (U.S.) and Dibotics (France), a Paris-based vendor providing infrastructure-less navigation and GPS-denied technologies; entered a partnership agreement to better serve automotive LiDAR technology. As per the agreement terms, Dibotics would be providing consulting services to Velodyne LiDAR customers in the 3D SLAM software segment, while Velodyne would contribute toward enhancing its technology deployed with Velodyne's 3D LiDAR sensors.
Presence of key industry participants such as Denso Corporation, Continental AG, Robert Bosch GmbH, Velodyne LiDAR, Inc., LeddarTech, Novariant Inc, and Quanergy Systems Inc.globally, have resulted in high brand awareness and increased demand.

In-depth report on global automotive LiDAR market by Grand View Research:
https://www.grandviewresearch.com/industry-analysis/automotive-lidar-market