Industry : Biotechnology
Bone morphogenetic proteins (BMPs) are naturally occurring proteins of tumor growth factor family and are found in the human body in pico amounts. BMPs were first identified in 1965. More than 20 types of BMPs have been discovered till date. They are known since discovery for their osteoinductive property to induce bone and cartilage formation in injured areas.
Many type of these proteins have been reviewed in clinical and research institutes around the globe for their potential therapeutic applications in various chronic and bone-related diseases. However, of these, only rhBMP-2 and rhBMP-7 are commercially available. BMP binds with the stem cells in these proteins trigger intracellular signal pathways by binding to the receptor of the mesenchymal stem cells resulting in transformation of stem cells into tissue specific progenitor cells. These cells are involved in the synthesis of musculoskeletal tissue formation, extracellular growth and matrix.
Global bone morphogenetic protein, by Type, 2015 (USD Million)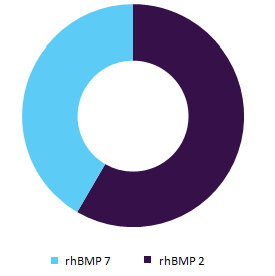 "Advanced alternative for bone grafting procedures"
Traditionally, bone graft such as autografts and allografts are used for fusion of fractured and degenerative bones. Bone grafts have disadvantages such as severe pain, extensive recovery time, unavailability of suitable graft and numbness in the operated part. Aforementioned factors have resulted in most of the patients rejecting the option of undergoing bone grafting.
Introduction of advanced materials, such as bone morphogenetic proteins, has proven to be the better alternative for bone fusion procedures. BMPs are applied on collagen matrix and then are surgically placed in the affected area. These proteins provide scaffold for bone and cartilages to grow on it and then eventually diminish under the bones. BMPs are known to bind sites on mesenchymal stem cells, further triggering the internal pathway for osteosynthesis.
"Increasing applications for BMPs"
BMPs have been approved in spinal fusions, trauma surgeries, long bone non fusion procedures since discovery and, recently, for oral maxillofacial procedures. Researchers all over the globe are working on utilizing potential of these proteins in other applications, such as joint replacement surgeries and dentistry
BMP 4 and BMP 9 have been mostly reported to be used by scientists in clinical research. As these proteins are present in very fractional amounts in the human body, novel manufacturing techniques are being devised for recombinant production of BMPs. rhBMP-2 and rhBMP-7 are commercially approved for human usage.
"Key players"
Key players of this market include Medtronic; Ember Therapeutics Inc; Cellumed Co. Ltd; and ProSpec. Olympus and Stryker had undergone strategic alliance under which the former bought the rhBMP-7 product,OP-1,from Stryker. INFUSE by Medtronic is the blockbuster product in rhBMP-2 range with leading market position. However, recall of this product in 2011 has highly affected market growth by decreasing its market revenue by a large difference. Olympus has also announced to have wound up its biologics business in 2014 by withdrawing OP-1 graft and putty from the market.

In-depth report on global bone morphogenetic protein (BMP) market by Grand View Research:
https://www.grandviewresearch.com/industry-analysis/bone-morphogenetic-proteins-market