Industry : Healthcare
Rising geriatric population coupled with the increasing oral healthcare expenditure are anticipated to boost the industry growth over the forecast period from 2016 to 2024. According to the WHO, caries is still a huge problem among the 60% to 90% of school children and majority of adults in industrialized countries.
World Population Aged 65 and Over, 2015-2030 (Million)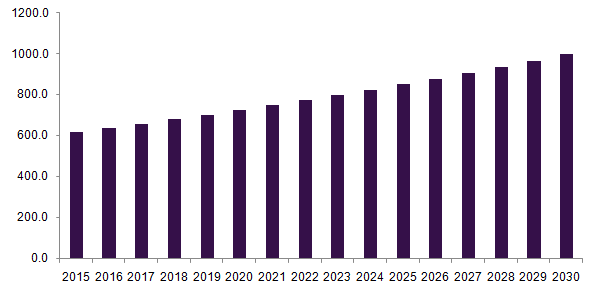 Design and development of newer software that is more secure & compatible and provides various features is facilitating the market growth and could help increase the market share during the forecast period. For instance, in May 2013, Dentimax, LLC announced the launch of a new dental software package that majorly focuses on digital x-ray sensor called Dream Sensor. Presence of sensor can enable software generate clear images. Furthermore, athena health, Inc. launched Athena Insight in September 2016. It is a daily news reporting hub and provides information related to healthcare trends in America.
Based on deployment mode, the market is segmented into on-premises, web-based, and cloud based software. In 2015, web-based deployment mode dominated the market due to lesser capital investment and better compatibility than on-premises mode.Hence, development for user friendly software would further accentuate the growth of the market. However, cloud-based segment is expected to grow at the maximum pace during the forecast period. This is attributed to advantages associated with the mode such as shorter implementation time, less initial investment, and user-friendliness.
Asia Pacific and Latin America are the fastest growing markets due to rising oral healthcare expenditure and increase in advance clinics. Hence, industry leaders are investing in these untapped markets by acquiring, collaborating, or partnering with the well-established domestic players. In August 2015, Curve Dental announced its integration with Jive Communications. With the integration, the company now provides software that has higher level of customer service. In February 2014, Curve Dental announced its partnership with Solution reach, Inc., which allows company's cloud-based software programs to sync information bi-directionally.
Governments in developed regions such as North America and Europe are taking initiatives to boost the healthcare IT in their region. It is expected to increase dental insurance coverage during the forecast period,which is likely to boost the market. However, oral health and reimbursement scenario is not very promising in some countries in Asia Pacific, Latin America, and African region. Growing oral health awareness, investment by the key industry players, increasing number of dentists, and growing geriatric population is likely to propel the industry in the developing countries.
Collaboration or partnership for the distribution of dental equipments to expand geographical reach and thereby revenue generation is a key strategy undertaking by the major market players. For instance, in February 2016, Henry Schein, Inc. entered into an agreement to acquire Dental Cremer S.A., which is a distributor of dental equipment and supplies in Brazil.

In-depth report on global dental practice management software market by Grand View Research:
https://www.grandviewresearch.com/industry-analysis/dental-practice-management-software-market