Industry : Plastics, Polymers & Resins
Fluid dispensing systems are equipment and related accessories that are used for automating or mechanizing fluid application processes. These systems are used for a plethora of fluids that include lubricants, adhesives, sealants, coatings, inks, oils, solder pastes.
In the recent years, production processes across matured markets have begun to adopt industry automation methods in order to cut down on excess workforce & associated costs, improve output and reduce turn-around times.
The trend towards industry automation has ushered in the critical concepts such as digitalization and robotics into everyday industrial processes. Manufacturers across automotive, construction, electrical & electronics and even textiles are gradually incorporating robotic systems. This has led to a huge rise in the sales of automated dispensing systems
FLUID DISPENSING SYSTEMS, STAGES OF VALUE ADDITION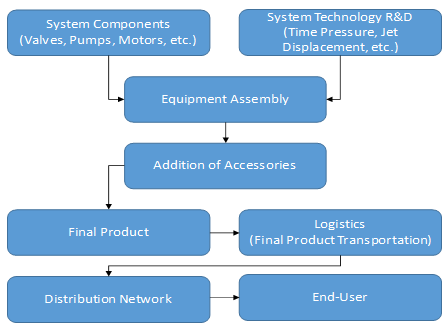 The criticality of dispensing systems across production processes lies in their application scope. Nearly every stage of production requires usage of various fluids either as process aids or as crucial components of the product itself. Efficiency and accuracy of application of these fluids are largely dependent on the medium that facilitates the process.
Human errors, defects in products and extended timelines are a few factors that influence production costs. Though the use of semi-automatic dispensers is in widespread usage, they still require a considerable amount of workforce and workhours dedicated for operating them. Robotic and computer automated systems are touted to be potential replacements for the existing equipment in place.
A key constraint to the fluid dispensing systems market is the high costs (installation & maintenance) costs associated with them. The cost gap seems to widen even more in regions with little presence of domestic manufacturers. Equipment & accessories are imported in these regions through third-party distribution channels which considerably add-up the cost of these systems. Moreover, post-purchase service network is an issue that end-users in these regions constantly face.
In order to address these issues, multinational companies such as Nordson and Henkel have entered into exclusive distribution partnerships and services with local entities. It has to be noted that, these distributors are also involved in the role of resellers, who refurbish the equipment to be sold in the second-hand. A significant portion of the overall systems industry comprises of reselling equipment and aftersales services.
Asia Pacific is a key growth region with fluid dispenser sales touted to increase considerably across automotive, electronics manufacturing, and construction industries. Korea and Taiwan are major semiconductor manufacturing hubs are demand centers for adhesives, sealants, underfill, solder pastes and flux. Greater capital spending by end-users in these regions is likely to have a positive impact on the growth trajectory.

In-depth report on global fluid dispensing systems market by Grand View Research:
https://www.grandviewresearch.com/industry-analysis/fluid-dispensing-systems-market