Industry : Medical Devices
Globally, increasing number of surgical procedures is likely to boost the general surgery devices market during the forecast period. Developments in the field of surgery such as the introduction of minimally invasive procedures and robotic and computer-assisted surgeries, increasing patient affordability, supportive government initiatives, and sufficient reimbursement available in developed countries are the key factors to propel the number of general surgeries.
By product, robotic and computer-assisted surgery devices is anticipated to be the fastest growing segment of general surgery during the forecast period due to continual technological advancements in the field. Furthermore, investments deployed by various market players and commercialization of robots developed for general surgery are some of the other factors to drive the market during the forecast period.
U.S. general surgery devices market share, by product, 2015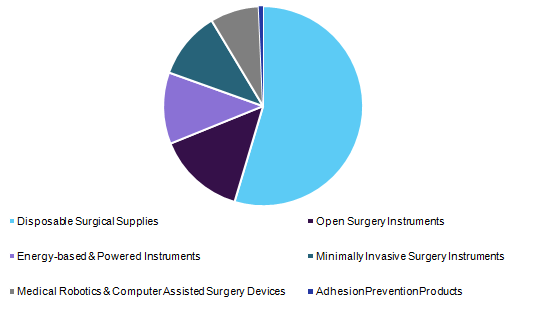 For instance, in April 2015, Ethicon launched the HARMONIC ACE+ 7 Shears with Advanced Hemostasis. It is a next generation product in the HARMONIC portfolio of ultrasonic surgical devices that offers multi-functionality amongst its other features. Disposable surgical supplies segment accounted for the largest share in 2015. The segment consists of disposable needles, sutures, venous access catheters, procedure kits, and surgical non-woven gloves. This is attributed to high demand of disposable surgical supplies due to wide range of application and growing awareness of transmission of diseases through reusable medical devices
By application, orthopedic devices were the largest segment in 2015 due to increasing bone related disorders. According to the International Osteoporosis Foundation estimates, worldwide osteoporosis affects about 200 million women. Furthermore, it is anticipated that by the year 2050, occurrence of hip fracture in men will escalate by 310% and 240% in women, in comparison to the incidence rate in 1990.
Geographically, Asia Pacific is expected to grow at a rapid rate due to rising surgical procedures, increasing patient affordability, and growing investment undertaken by major market players in the region. Japan, China, India, Singapore, and South Korea are the major contributing countries for the general surgery instruments. Increasing medical tourism in these countries due to the low procedure costs and availability of skilled experts or are other factors propelling the market growth.
Mergers and acquisitions, collaborations, product development, and geographical expansion are major strategies undertaken by the companies. For instance, in April 2016, Stryker's spine division acquired the product portfolio belonging to Safe Wire, LLC. This acquisition is well aligned with Stryker's strategy to expand its product portfolio catering to minimally invasive spine surgeries. Furthermore, in May 2016, Medtronic acquired the gynecology business segment of Smith & Nephew to expand its product offerings in minimally invasive therapy. Hence, the rising demand for advanced, minimally invasive, and safer procedures is likely to propel the general surgery devices market during the forecast period.

In-depth report on global general surgery devices market by Grand View Research:
https://www.grandviewresearch.com/industry-analysis/general-surgery-devices-market