Industry : Healthcare IT
With government authorities across the globe emphasizing the need for higher attention towards improvement of healthcare facilities and quality of care, the healthcare CRM market promotes just that! As mentioned across various management books, a problem well understood, is a problem half solved. Healthcare CRM allows for interaction between patients and healthcare personnel's, acting as a catalyst in the process of communication and care delivery.
As of 2015, industry experts are highlighting the switch of care delivery models across developed regions. According to this, hospitals now aim at creating a direct contact with patients via "customer outreach" programs wherein, they would proactively provide patients with multiple plans varying on parameters such as benefits, and cost. This growth may be attributed towards commercialization of hospitals and clinics and businesses being driven by consumer preferences.
Another parameter supporting the augmenting growth of the healthcare CRM market, is the increasing trend of outsourcing services to third-party. This boom has led to emergence of various new players across the industry, which is expected to boost the sale of these software.
Furthermore, expanding portfolio of the CRM industry to cater to all-round care, from case coordination to remote patient monitoring supports growth.
Healthcare Scenarios Captured by CRM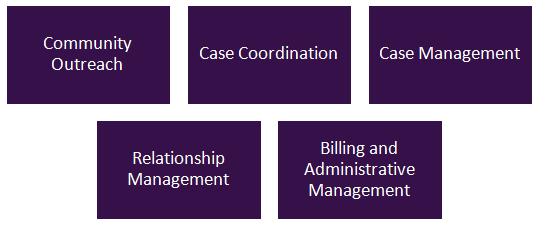 A gist of how higher adoption of CRM may benefits the healthcare fraternity and patients can be understood by the flowchart illustrated below: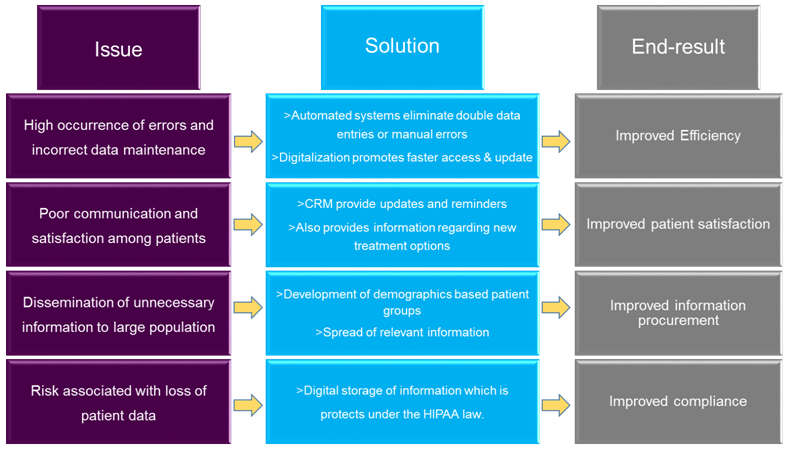 Availability of supportive infrastructure for enabling real time communication with patient is anticipated to foster the adoption of healthcare CRM services. Penetration of high speed internet services such as Long-Term Evolution (LTE) and 4G coupled with advanced devices such as smart phones, iPads and tablets has opened a platform for communicating patient form remote location without disturbing routine. Patient now can access diagnostic reports, have remote consulting form family physician and settle payment using this platform, saving valuable time. On the flip side healthcare providers are now more prepared to provide customized care to the patient using these systems. This is impacting overall care delivery process building more trust, and developing long term relationships of patient–provider.
Other trends propelling the demand for healthcare CRM market are:
Shift in business model towards relationship based management

Rising use of technology by healthcare facilities coupled with growing sizes of databases

Proactive involvement of patients in care delivery models

High emphasis by key players on "one-on-one"/personalized medication

Increasing number of infrastructure transitions and restructuring of healthcare databases/departments
Hence it can be concluded that improvement and standardization of back office functions with front office capabilities is expected to make the patient experience more endearing thereby directing the market players to invest in technological advancements.
Owing to the presence of numerous global and local players with exhaustive pricing strategies in place, the companies are expected to witness high switching by end-users. Hence, over the next two years, healthcare CRM system providers may concentrate their attention towards fostering client loyalty in order to prevent revenue loss. Other initiatives expected to be governed over the forecast period include:
Rising integration of CRM software with clinical data

Improvement in data analysis tools

Development of proactive healthcare call centers

Piloting of gap analysis to identify loop holes/ drawbacks in existing systems
Enough said about the CRM industry, growth of ancillary markets may also influence the development curve. For instance, pioneering work being performed in development of wearable medical devices capable of providing round-the-clock updates to patients regarding:
This new avenue increases the installation base for CRM systems, thereby supporting growth of the industry.

In-depth report on global healthcare CRM market by Grand View Research:
https://www.grandviewresearch.com/industry-analysis/crm-in-healthcare-market