Industry : Healthcare
Growing awareness levels amongst patients and physicians pertaining to the applications of monoclonal therapy in immunomodulation is presumed to be contributing toward market growth. The aforementioned factor is believed to boost the adoption of monoclonal antibodies for a wide range of indications, such as, multiple sclerosis, Crohn's disease, rheumatoid arthritis, and Non-Hodgkin's Lymphoma, which is expected to boost immunomodulators market over the forecast period. In addition, consistent product approvals of highly significant monoclonal antibodies in autoimmune diseases are predicted to be responsible for widening the scope of growth.
Global immunomodulators market, by product, 2015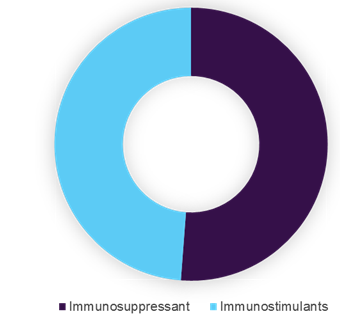 Heightening demand for personalized medicine is a critical factor responsible for the consistent development of therapeutic antibodies to suffice targeted therapies, as every individual responds to a particular treatment differently. In addition, benefits pertaining to monoclonal antibodies such as including minimal adverse effects, specificity, homogeneity, and large-scale production, are presumed to drive toward significant market demand.
Furthermore, the increasing number of government initiatives to fuel cost-effective production of monoclonal antibodies is expected to impel the emergence of this market over the forecast period. For instance, the advent of biomanufacturing initiative in the U.S. by National Institute of Standards and Technology issued regulatory guidelines in order to ensure efficient & safe manufacturing of biologics. In addition to it, this initiative also supports biopharmaceutical manufacturers to develop cost-efficient and high-quality therapeutics globally. The aforementioned factors cumulatively exert a significant impact on the market, thus fueling the growth potential.
The rising demand for drugs has significantly heightened the need for new drug development via extensive clinical trials. Manufacturers are now focusing on remodeling their drug development processes in an attempt to cater to patient needs across the globe. High prevalence of cancer and chronic disorders such as HIV/AIDs, asthma, rheumatoid arthritis, multiple sclerosis, Crohn's disease, and other autoimmune diseases is considered one of the major causes of morbidity & mortality, particularly in patients with compromised immune systems.
Increasing prevalence of cancer is one of the key factors attributing to the growth of immunomodulators market over the forecast period. According to the data published by the WHO, it has been estimated that in 2012, worldwide cancer incidence (cases per year) was nearly 14.1 million, which include 7.4 million male and 6.7 million female patients. This rising burden of cancer, allergies, and asthma is majorly expected to trigger the demand for cost-effective and accurate diagnostics in the coming years. In addition, technological advancements coupled with constant R&D initiative pertaining to eradicate cancer are one of the most critical success factors for the growth.
However, consistent patent expiries of branded drugs are restraining the growth of this market. These expiries are anticipated to influence the sales of branded drugs. It is also anticipated that, following patent expiration, other companies may file for the manufacture of generic versions of the branded drugs. According to the statistics of IMS Health, the decline in sale of branded drugs in 2015 was reported to be USD 27.7 billion. Major branded immunomodulators, such as Herceptin, for which the patent expired in Europe and which holds majority of the share of all drugs used in the treatment of breast cancer, will lose patent protection in 2019 in the U.S.

In-depth report on global immunomodulators market by Grand View Research:
https://www.grandviewresearch.com/industry-analysis/immunomodulators-market