Industry : Petrochemicals
Industrial lubricants market is expected to play an important role in easing manufacturing, processing, and fabricating processes. Lubricants in the form of process oils are utilized in chemical and technical industrial applications in the form of a processing aid or as a raw material component.
Process oils find usage in cosmetics and toiletry as an ingredient in petroleum jelly and haircare & skincare products. Furthermore, these oils also find utilization in the formulation of polymer compound and rubber blends. Other significant uses of process oils include defoamers, textile auxiliary formulations, cable fills, tire manufacturing, adhesive formulation, and fertilizers.
Over the past decade, there has been a tremendous rise in pharmaceutical and cosmetics manufacturing sectors of the Southeast Asian markets. While the Southeast presents growth opportunities for process oils in personal care products, Industrial growth in China and India has led to higher demand for cables, adhesives, and defoamers among others. The Asian region is touted to the frontrunner in terms of lubricants consumption over the near future.
Lubricating oils enhance production processes by means of better quality products and lower energy costs. They play a vital role in also reducing offsets in an industrial process such as metal cutting.
INDUSTRIAL LUBRICANTS VALUE CHAIN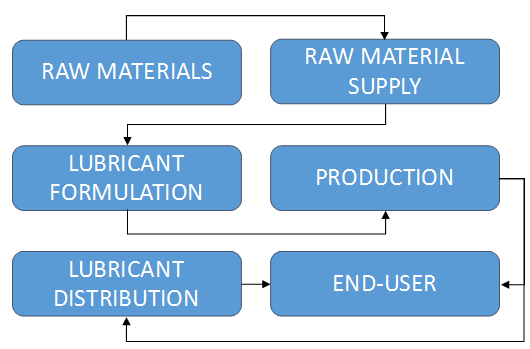 Industrial engine oils are one more significant part of the operations. Engines tend to breakdown due to sheer stress in the combustion chambers, or the liners of cylinders would be susceptible to cracks and distress due to contact between metal surfaces at high temperatures. Engine oils help in maintaining a greasy contact between metal surfaces and therefore reduce the probability of engine failure. Furthermore, these also act as a shielding agent from external stresses such as cold weather conditions and particles in fuels.
Regulations play a significant role in shaping lubricant product specifications and consumption patterns. The industrial lubricants sector is governed by legislations and policies established by environmental and chemical agencies. Key regulatory bodies responsible for lubricants production, specifications, labeling, and consumption include OSHA, U.S. EPA, REACH, CFR, ECHA, U.S. FDA and NIOSH.

In-depth report on global industrial lubricants market by Grand View Research:
https://www.grandviewresearch.com/industry-analysis/industrial-lubricants-market