Industry : Healthcare IT
Medical holography includes production of 3D holographic images in form of video stream or real-time still images. It is believed that medical holography is anticipated to provide new avenues for growth especially in diagnostic imaging and medical education. The images produced by holographic technology are high in resolution and is presumed to help in reveal potential and complex information, unexplored in conventional imaging alternatives. In addition, holographic displays are equipped with 3D modalities, navigation technologies and direct & intuitive user interface that enable the examiners, researcher or healthcare professional to interact with 3D information.
"Current and future trends in medical holography market"
Medical holography market is also presumed to be predominantly fueled by the presence of untapped opportunities in the field of medical imaging. The ongoing strategic collaborations employed by key companies is expected to provide a significant growth platform and increase the adoption rate of holography products in medical applications.
For instance, in August 2015, the Phase Holographic Imaging collaborated with Florida International University to fight cancer and provided Holomonitor to characterize breast cancer stem cells. Also, in July 2015, the company entered into a collaboration agreement with University of California, San Francisco (USCF), to enhance the ongoing skin cancer research process by incorporating Holomonitor.
In the present scenario, holography products are increasingly used in biomedical applications. X-ray holography is expected to be applied in future for imaging of internal body parts, live biologics, and cell imaging. Also, endoscopic holography is presumed to be used in future and increase the possibility of non-destructive measurements and high-resolution 3D imaging.
In addition, X-Ray holography has the potential of examining the samples in aqueous solutions. Furthermore, multiplexed holography is also expected to grow consistently over the coming years. Multiplexed holography is used for gain complete and explicit display of 3D tomographic medical data. These are capable of generating full parallax, horizontal parallax, and physical depth cues.
"Key players"
The market is competitive in nature and is marked by the presence of major players such as Zebra Imaging, Nanolive SA, EON Reality, Inc., Echopixel, Holoxica Ltd., RealView Imaging, Mach7 Technologies, Ovizio Imaging Systems, Lyncee Tec SA, zSpace, AlfahologramEG. The market participants are extensively undertaking strategies to register consistent growth such as geographical expansions, exploring untapped potential in the emerging economies, new product development & research initiatives.
Moreover, the companies are also increasingly inclined toward distribution enhancement strategies and involving in mergers & acquisitions. For instance, In December 2015, the company entered into an evaluation agreement with Boston Children's to evaluate HoloMonitor technology in cell-based cancer research. In addition, In August 2015, the company collaborated with Florida International University to fight cancer and provided Holomonitor to characterize breast cancer stem cells.
Medical Holography Market Segmentation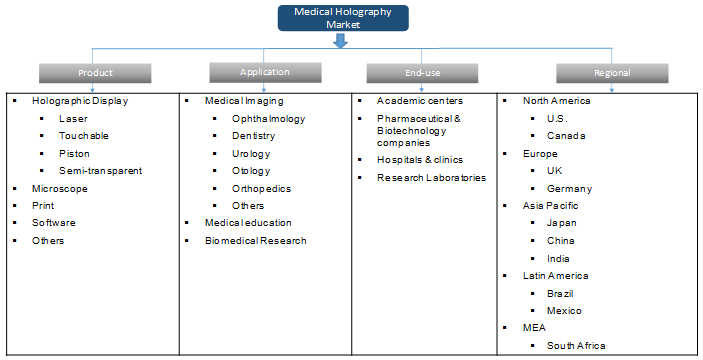 "Medical holography market outlook"
The high prevalence of target diseases that demand highly sophisticated globally is presumed to provide high growth prospects over the coming years. The market is also predominantly driven by the increasing adoption of holography products in biomedical research.
A consistent number of R&D activities undertaken by prominent pharmaceutical and biotechnological companies is presumed to widen growth potential of holographic products in biomedical research initiatives. For instance, In August 2014, Phase Holographic Imaging (PHI) announced to enter into collaboration agreement with Northeastern University of Boston and provide its Holomonitor technology.
This was carried out to develop and establish novel cell analysis tools and conduct cell-based research. This subsequent rise in R&D efforts is believed to present this vertical with high potential growth opportunities in the future. Furthermore, increasing number of clinical application of holography in dentistry, cardiac electrophysiology, orthopedics, radiological & surgical procedures, and owing to high global burden of chronic disorders has triggered the market growth.

In-depth report on global medical holography market by Grand View Research:
https://www.grandviewresearch.com/industry-analysis/medical-holography-market