Industry : Advanced Materials
Metal injection molding market is witnessing tremendous growth across the globe owing to its ability to produce complex large-volume components in a short amount of time, lending an economic advantage over other manufacturing processes.
MIM is a process of producing precision metal parts by utilizing injection molding technology. The ultra-fine metal powder is combined with a binder material to form a feedstock which is fed into the injection molding equipment. The molded part is cooled and extracted from the mold. The binder material is separated from the mixture using a solvent, and the remaining part is sintered to obtain components with enhanced properties and better tolerance.
Metal injection molding market, by region, 2015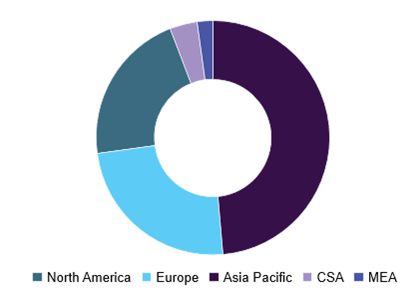 Unique product properties allow manufacturers to produce multiple parts with high production precision, which has been a major driver for the industry growth. Manufacturers prefer MIM process over other customary methods on account of lower raw material, workforce, and inventory costs.
MIM technology is utilized in a wide range of sectors such as aerospace, automotive, telecommunications, optical, medical, and watch industries. Metal injection molding market has diversified into distinct applications, out of which firearms have shown immense growth potential. The growing demand for lightweight & smaller automotive parts is also generating lucrative opportunities for MIM companies.
MIM technology has gained popularity across the globe owing to several factors including cost effectiveness, ability to offer unlimited shapes as compared to other conventional processes. Furthermore, the process contributes to waste reduction, limited production time, and elimination of other secondary operations. MIM process is widely used in the manufacture of components consumer goods such as charging cables, laptop hinges, phone casings, mobile connectors, and camera components among others.
Metal alloys used to manufacture MIM components includes stainless steels, low alloy steel, copper, gold-copper alloys, and also braze alloys. MIM technology has certain draw backs which are likely to restrain the overall market growth. The components produced are usually small in size and weight is restricted due to the usage of finely powdered metal which results in higher initial costs. Multiple manufacturing steps may also create several defects in numerous metal forms.
Currently, MIM sector is witnessing steady growth in the North American and Asia Pacific region. The market size is likely to grow at a rapid rate in Asian countries on account of rapid industrial and technological development in upcoming years.
The introduction of advanced technologies, transitioning financial conditions and currency variations are likely to support market growth. MIM market with stood several challenges in past few years caused by recent recession and commodity cost collapse. However, MIM industry will continue to enjoy better margins across the globe owing to expected growth in the automotive sector.
Key players in MIM industry include companies such as Dynacast, GKN Plc, Britt Manufacturing, Dean Group International Ltd., Cypress Industries, Sintex, CMG Technologies, Indo-MIM Pvt. Ltd., Real Technik AG, and ATW Companies.

In-depth report on global metal injection molding market by Grand View Research:
https://www.grandviewresearch.com/industry-analysis/metal-injection-molding-mim-market