Industry : Medical Devices
A rising prevalence of chronic and acute wounds has been witnessed worldwide. This in turn has led to advancements in wound care management to meet the growing demand efficiently. A wide array of treatments, such as compression therapy, topical dressings, adhesive bandages, bioengineered skin grafts, foams, gels, and antimicrobial dressings, is available for wounds. However, Negative Pressure Wound Therapy (NPWT) has emerged as a widely accepted wound care therapy to facilitate fast healing of acute and chronic wounds.
Global negative pressure wound therapy market segmentation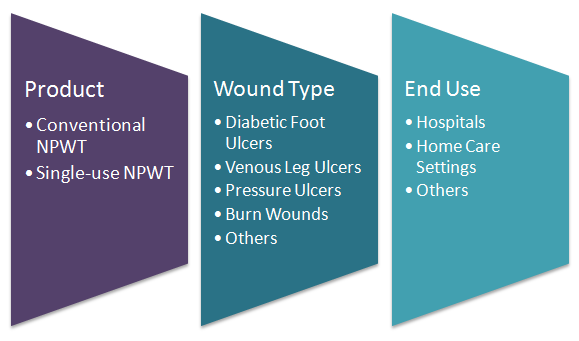 Diabetes is the major cause of leg ulcers such as arterial and diabetic foot ulcers. Growing prevalence of diabetes across the world is a major concern affecting the target population,as a result of which, the NPWT market is anticipated to witness rapid growth. Rising geriatric population base is also one of the significant market driving forces as they are more prone to developing chronic conditions such as diabetes and cardiovascular diseases. In addition, this population base constitutes bed ridden patients who are highly susceptible to developing pressure ulcers owing to their prolonged immobility, which is expected to be one of the major contributors for the growth of the market.
An increasing number of burn cases have been registered throughout the world. For instance, National Trauma Research stated that in 2013, around 40,000 hospital admissions had been registered related to burn injuries. Hence, such traumatic events also support the growth of the NPWT market to a great extent, particularly, in the low to moderate income countries.
Single-use NPWT over conventional NPWT devices has evolved as a promising therapy. The primary advantages offered by the single-use NPWT devices are their cost-effectiveness and portability factors. Single-use NPWT devices are canisterless pumps, which renders their usage easy, particularly in case of homecare settings. Its usability in home settings eliminates the need for prolonged hospital stays. This makes the whole single-use therapy cheaper and thereby affordable for patients, especially in the emerging economies.
Negative pressure wound therapy market is experiencing huge technological advancements pertaining to therapy pumps as well as dressings. The key players are focusing on undertaking new product development strategies, mergers, and acquisitions. For instance, in 2016, Smith & Nephew announced that its single use NPWT system, PICO offers improved wound healing and reduced complications post orthopedic surgery. Again, with the introduction of V.A.C. technology by Acelity, wound care management portfolio has become more diversified and is considered to be one of the leading technologies. Currently, the market is dominated by Acelity, owing to acquisition of Kinetic Concepts, Inc.(KCI), a major player in the NPWT market. However, the emergence of new players such as Smith & Nephew and ConvaTec are likely to affect the market share of Acelity in the long run.
Reimbursement policies are expected to be favorable for the NPWT market. In the U.S., NPWT products for homecare settings are covered under Medicare and private insurance. Hence, rising reimbursement coverage has increased the affordability factor of expensive NPWT treatments, there by rendering it a potential space for wound care management. The sales of Acelity's advanced wound care products witnessed a rise after the availability of Medicare reimbursements for V.A.C. therapy for homecare settings. In 2013, sales for V.A.C. therapy rose to around 80% with a 5% growth rate. However, due to the emergence of competitors in the field of advanced wound care, like Smith & Nephew, there has been a decline in the growth of V.A.C. therapy sales.

In-depth report on global negative pressure wound therapy market by Grand View Research:
https://www.grandviewresearch.com/industry-analysis/negative-pressure-wound-therapy-npwt-market