Industry : Healthcare
Accelerated growth of the Next-Generation Sequencing (NGS) market is expected to affect the NIPT market, as NGS market serves as the technology used in noninvasive prenatal screening, while the screening procedure serves as one of the many applications for NGS technology.
"Complementary implementation of NIPT and ultrasound as an alternative over the invasive procedures"
This NGS-enabled clinical application has been witnessing considerable uptake over the last 2 years. Usage of invasive procedures, such as amniocentesis and chorionic villus sampling, has declined in the recent years, as this test is now offered routinely at major treatment centers to all women with a high probability of having fetal genetic defects, such as Down syndrome.
More accurate than current first trimester screenings, NIPT results in lesser false positives and, consequently, the number of invasive amniocenteses performed also reduces. Presence of certain limitations with non invasive prenatal screening poses the need for a combination of the test with ultrasound and serum screening for alpha fetoprotein assessment.This cell free DNA (cfDNA) test does not consider each and every chromosomal detail, so even if the cfDNA test is low risk or negative, there are possibilities of fetal abnormalities.
The afore mentioned factors 1 regarding NIPT suggest that it is a "not an all-inclusive test."While NIPS is gaining popularity for the reduction of the need for invasive testing, it does not serve as a replacement for these procedures given its status as a screening tool and not a diagnostic test for the foreseeable future.
"Reimbursement call for NIPT in average and low-risk pregnancies"
Of particular note in 2015, Anthem, one of the largest health insurance companies in the Blue Cross Blue Shield Association, recently decided to provide reimbursement for this test in women with average probability, which is expected to impact the adoption rate of the NIPT.
Moreover, other players are likely to follow suit, which would further drive the role of NIPT in reproductive genetics. However, the American Congress of Obstetricians and Gynecologists Guidelines are expected to take significant time for the recommendation of the average risk adoption, thereby leading to growth at a slower pace.
Reduction in the number of expensive and risky invasive amniocentesis and CVS procedures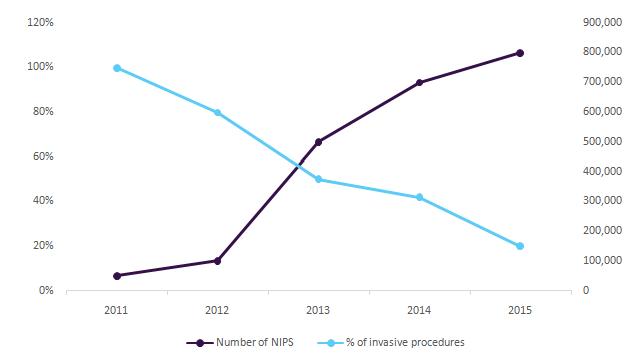 Moreover, high-risk pregnancy market is saturated and the ongoing competition is anticipated to result in major diminution in the average selling price of these tests. There can be increase in the penetration of these tests with lower price in the reproductive genetics market.
"Rising demand due to increase in maternal age"
China is expected to remain a significant opportunity for noninvasive prenatal screening, with nearly 16 million annual births, out of which around 900,000 fall under the category of high-risk pregnancies.
Moreover, there is less delineation between high-and average-risk pregnancies, which is expected to enhance the volumetric capabilities.
"Competitive outlook"
The market is saturated with major six players, and these participants are involved in embracing the trend of licensing agreement and procurement of royalty payments from the laboratories.
These companies are focusing on gaining the characteristics of both rapid growth equipment companies and emerging lab companies in order to gain larger share of the revenue.

In-depth report on global non-invasive prenatal testing market by Grand View Research:
https://www.grandviewresearch.com/industry-analysis/noninvasive-prenatal-testing-market