Industry : Technology
The Power over Ethernet (PoE) technology is gaining the attention within the market owing to the ability of combining the networking and electrical power into one cable. The cable provides both the data connection and electrical power to the powered devices in a single data cable, CAT6, CAT6A or CAT5e. The increasing demand for cost-effective and fast communication owing to growing number of internet users is expected to drive the market growth. The technology implementation helps in transferring of data signals which further saves the costs of installing different network of cables.
The increasing adoption and implementation of optical fiber cable for communication is expected to contribute to the market growth over the forecast period. Features such as susceptible to electromagnetic interference, flexibility and high reliability make them prior to copper cables in extreme environments such as overhead electric lines and underground ducts.
The development of advanced technologies such as cloud-based services and big data analytics have led to increased demand of data centers in developed countries which is contributing to PoE market growth. With the introduction and advancement in the PoE Plus, i.e., IEEE802.3at, the ability of delivering power to powered devices has increased to 34.2W, which is double to the PoE.
Based on the products, the market is segregated into power sourcing equipment (PSE) and powered devices (PD). The powered devices is expected to dominate the market with a share of over 50% in 2015 and is expected to continue over the forecast period. Increasing implementation of VoIP devices as a cost effective solution will further lead the market growth. Furthermore, rise in the deployment of network security based cameras, proximity sensors and RFID readers are anticipated to boost the growth over the forecast period.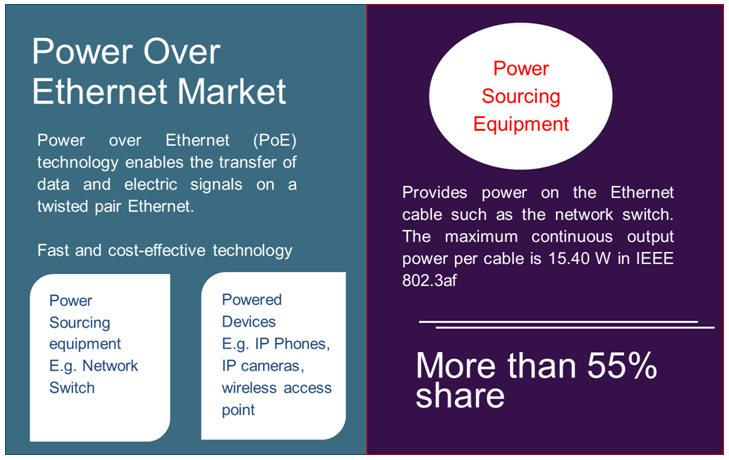 Residential application is also expected to emerge as key segment over the forecast period. Increasing implementation of IP cameras for security, webcams, VoIP phones are projected to lead the segment growth. The increasing trend and demand of consumers for smart home automation and control for centrally managing the appliances and other electric systems has also contributed to the residential sector application growth.
Furthermore, increasing security applications, i.e., webcams are also expected to be the few typical applications of PoE in residential segment. The benefit of PoE of carrying network connectivity and power over a single cable removing the need for installing separate wire is prone to contribute to the market growth in residential segment growth in next nine years.
North America is envisioned to emerge as a predominant region in terms of revenue over the forecast period.Increasing investments of government for the development of smart grids is the major factor contributing to the market growth. Increasing availability of high-speed internet will lead to the growing demand for PoE across the region.

In-depth report on global power over ethernet (Poe) market by Grand View Research:
https://www.grandviewresearch.com/industry-analysis/power-over-ethernet-poe-market