Industry : Digital Media
Analyst Perspective"
Technological proliferation, reduced prices of smart TVs, and the introduction of HD channels are anticipated to boost the global STB market growth. The increasing awareness pertaining to Internet-based STB devices, such as IPTV and OTT, is expected to present substantial opportunities for the growth of these technologies over the next few years.
The growth in the global Set Top Box (STB) market can primarily attributed to steep growth in consumer retail of OTT boxes and consolidation of top players of the global market. Technicolor's acquisition of Cisco's set top box division Arris's acquisition of Pace has led to STB market consolidation, where in the top players encompass considerable market share. The consolidation between the top four vendors undoubtedly strengthens their positions through market share and economies of scale, there by placing even more pressure on the smaller players.
STB Market Overview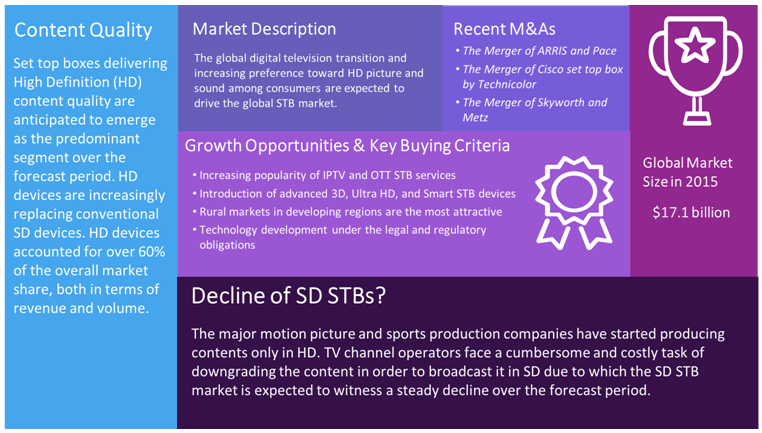 The ongoing mergers and acquisitions in the market are expected to further continue over the forecast period, thereby eventually leading to market consolidation. STB manufacturers are increasingly forming a strategic partnership with the content and internet service providers across the world, in order to leverage patent technologies and increase their geographic presence. The transformation to industry consolidation can be foreseen as a long-term strategy, adopted by the key companies, to from price leadership.
Consumers across the globe are increasingly demanding connectivity from their electronics devices, and set top boxes are expected to play a central role in the networking of products. Asia Pacific is expected to witness significant growth in IPTV STBs over the coming years as telecommunication companies in the region are seeking to generate higher returns on their investments in Fiber To The Home (FTTH) by pushing IPTV services.However, the coming years are presumed to experience a steep increase in shipments of cable HD STBs by Chinese operators across the world.
Whilst set top box is a much more matured commodity market, several innovations in telecom and broadcast technologies, such as the emergence of cloud-enabled and 4K services, are anticipated to continue to drive the demand for next generation hybrid STBs. Worldwide service providers are presumed to focus more on lifecycle and logistics challenges, in addition to testing and integration, in order to fuel the market growth, as well as focus on the upcoming 4K and HDR color set top boxes over the forecast period.

In-depth report on global set top box (STB) market by Grand View Research:
https://www.grandviewresearch.com/industry-analysis/the-global-set-top-box-market