Industry : Specialty Polymers
Stimuli-responsive polymers also known as smart polymers are considered as a family of efficient performance materials which are capable of altering its original physic-chemical properties by application of any form of external stimuli, such as temperature, moisture, pH, electric and magnetic fields are referred to as smart materials. Poly-N Isopropylacrylamide (PNIPAAm), chitosan, polythiophene gels, polyethylene glycol copolymers, and some polypeptides are classified as intelligent polymers.
Smart polymers are intelligent adaptive materials that offer distinctive purposes such as detection, and actuation. Furthermore, these materials are capable of retaining their original properties and heal themselves despite responding to stimulus.
Some of these intelligent materials such as polyacrylamide derivatives and chitosan can also be called as dual stimuli responsive due to their ability to respond to multiple stimuli such as a combination of both temperature and pH.
Smart polymers are used for manufacturing environment adaptive fabrics that are capable of enduring severe environmental conditions. On the basis of their response to distinct stimuli, these materials can be utilized for producing thermo-sensitive, shape-changing, color changing, pH-responsive, and electronic textiles.
The textile segment is a major application segment of the smart polymers market. This sector constituted 17.9% of the revenue share in 2015 and is considered to influence the market dynamics in the near future positively.
In the automotive application, smart polymers have significant growth opportunities to be used for manufacturing self-healing and color changing components and systems. Smart polymers can be used for manufacturing a broad range of automotive exterior and interior components such as actuating valves, fiber composite tires, self-healing bumpers, fluid shock systems, automated wipers, radiation fluid detection, engine air-flow control, airbag sensors and so on. Automotive is likely to be the fastest growing application segment and is expected to create lucrative growth opportunities for smart polymers in the global market over the years ahead.
Global cars production, 2005 - 2015, (Million Units)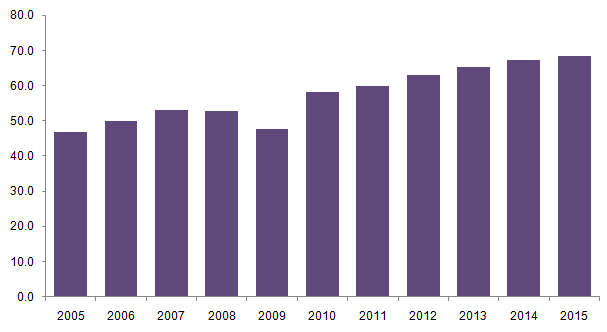 General Motors Corp. is focusing on research & development of shape memory polymers, which can change their shape, strength, and stiffness on responding to temperature changes. The company will be working in partnership with HRL Laboratories LLC, and key U.S. based academic institutions such as the University of Michigan, and Ohio State University based Smart Vehicle Concepts Center for developing prospective vehicle applications for new smart materials.
BASF SE, Nippon Shokubai, Advanced Biopolymers AS, FMC Corporation, Autonomic Materials, Inc., Advanced Polymer Materials Inc., Nexgenia Corporation, Covestro AG, and Lubrizol Corporation, Sigma-Aldrich Corporation, Acros Organics are a few of the key market players operating in the global market.
These companies are currently focusing on achieving optimum business expansion through significantly investing in research & development. They are not only targeting major application sectors such as biomedical, textile, electrical, and automotive but also on other emerging applications such as nuclear energy especially in the detection of radiations and nuclear waste.

In-depth report on global smart polymers market by Grand View Research:
https://www.grandviewresearch.com/industry-analysis/smart-polymers-market