Industry : Specialty Polymers
Specialty polyamides are used as an alternative to synthetic polyamides and include polyamides 6/10, 6/12, 10/10, 10/12, 11, and others. Higher polyamides such as PA 11 and 12 provides improved humidity resistance, superior thermal and mechanical characteristics and offers additional resistance to the majority of commonly used aids & solvents. These two polyamides can be molded, extruded and made into films, or utilized in fibers. Such types of engineered nylons have tightly controlled particle size distributions and materials used for manufacturing are stabilized against degradation, eliminating waste and reducing the operational cost, supports to produce robust, flexible products which have wide-range of industrial end-user applications.
Specialty polyamide producers are considering high quality and eco-friendly alternatives to conventional crude oil-based raw materials and manufacture innovative, customized products for end-users. They are produced using the renewable sources such as castor oil (monomer derivatives feedstock including 11-aminoundecanoic acid, sebacic acid, hexamethylenediamine, 1, 12-dodecanedioic acid, etc.), palm kernel oil (monomer derivatives including 1,3-butadiene and ω-amino lauric acid (ALS), etc. Owing to their ecological benefits, engineered nylons are gaining acceptance and both production and consumption of specialty polymers are on the rise.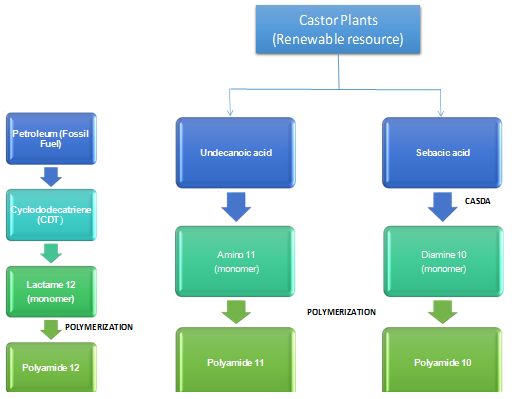 Stringent regulatory policies imposed by Environmental Protection Agency (EPA) and European Union (EU) and other international regulatory authorities regarding the use of specialty polyamides are predicted to reinforce the market growth further. However, raw material availability and volatile price trends, changing health regulations and scrutinizing polyamide organizations remain bigger challenges for the global market growth.
The largest market is in Asia Pacific with a healthy growth rate and is followed by Europe and then North America which is the fastest growing market of automobile, electronics, and consumer goods including retail. Demand from Chinese and Japanese Market is surging the growth of this market.
Major companies identified in this industry include Evonik Industries AG, Koninklijke DSM N.V. BASF SE, Arkema, Radici Group, and E. I. du Pont de Nemours and Company among others. Multinational specialty polyamide companies have joint ventures with raw material suppliers and have acquired regional medium-sized polyamide companies to expand its geographical presence.

In-depth report on global specialty polyamides market by Grand View Research:
https://www.grandviewresearch.com/industry-analysis/specialty-polyamides-market