Industry Insights
1,3 butadiene also known as butadiene is an industrial chemical used in the manufacture of synthetic rubber. It is produced as a byproduct of the steam cracking process of ethylene and olefin production. It is a highly reactive, flammable and colorless gas with mild aromatic odor. It readily polymerizes with oxygen. It is soluble in alcohol and ether. However, it is insoluble in water. 1,3 BD acts as a predecessor to many processing materials and chemicals. Major derivatives include acrylonitrile butadiene styrene (ABS) and styrene butadiene rubber. These derivatives are widely used in automotive industry for the manufacture of tires and other components. The growth of auto industry particularly in emerging markets of China, India and Brazil is expected to remain a key driving factor for the global butadiene market. 1,3 BD acts as an intermediate material and also as basic feedstock for various petrochemical processes. Increasing preference in the production of consumer products is expected to boost butadiene market demand in resin. However, product maturity coupled with volatile raw material prices are projected to remain key challenges for butadiene market participants. Moreover, health concerns regarding exposure are expected to pose safety and regulatory challenges in the market. Due to the health concerns, regulatory authorities have established strict guidelines to maintain safety standards in industries. To overcome such challenges, industry has shifted its focus towards developing bio-based alternatives to 1,3 BD.
Application Insights
BD is a key raw material in the manufacture of different materials and chemicals that are used across a wide range of end-user industries such as building & construction, automotive, healthcare and consumer durables. Butadiene market can be segmented on the basis of the application of its derivatives. Major products derived include styrene butadiene rubber (SBR), acrylonitrile butadiene styrene resins (ABS), nitrile butadiene rubber (NBR), SB latex and hexamethylenediamine among other products such as PBR and adiponitrile. ABS as a terpolymer is used to manufacture lightweight electrical resistance products. SBR is derived by polymerization of styrene and butadiene monomers. It is used in adhesives and sealants as a modifier and in rubber based products owing to its high strength, viscosity, and abrasion resistance. SB latex is a water based emulsion copolymer made of styrene and BD. It is used in coated papers and carpet back coatings due to its high elasticity and adhesive strength. NBR is used in aeronautical and automotive industries to manufacture oil handling hoses, sealants, and grommets. PBR is used in the manufacture of tires that require high resistance. Adiponitrile is an organic compound that is viscous in nature. It an important material required for the production of polymers.
Regional Insights
Asia Pacific emerged as the leading regional butadiene market with India and China being the leading consuming nations. Asia Pacific accounted for over 40% of total butadiene market volume in 2013. Asia Pacific is also expected to be the fastest growing regional market for 1,3 BD on account of the growth of key end-use industries such as building & construction, automotive and consumer products in this region. Butadiene market in Europe and North America is characterized by growing demand for elastomers in the tire and other downstream applications.

Global 1,3 butadiene market volume share by region, 2013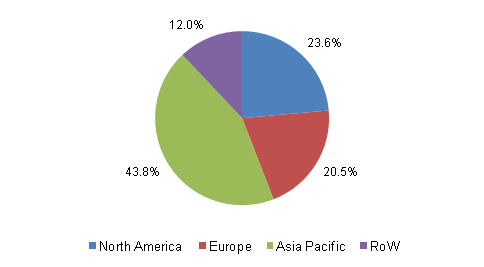 North America emerged as the second largest market for 1,3 BD at 23.6% of total market volume in 2013. RoW is also expected to exhibit considerable growth over the next six years owing to growing construction, automotive and other end-user industries particularly in Brazil, Argentina, and South Africa.
Competitive Insights
Some of the major operating in the global butadiene market include BASF S.E., Braskem S.A., Exxon Mobil Chemical Company, ENI S.p.A, Lyondell Basell Industries N.V., Royal Dutch Shell Plc., Sinopec, TPC Group Inc., Nizhnekamskneftekhim O.A.O. and Lanxess A.G.