Industry : Advanced Interior Materials
Thermal interface materials market is expected to witness significant market growth owing to rising usage of light emitting diodes (LEDs), automobile electronics, computing devices and sophisticated electronics. Thermal interface material is inserted in between two components to enhance the thermal coupling and heat dissipation.
Medical electronics are expected to be the fastest growing application segment on account of aging population and increasing chronic diseases coupled with rising demand for personalized, easy to use, and advanced healthcare devices. Moreover, growing construction of health care units and hospitals will further drive the usage of thermal interface materials in the future.
Global medical electronics market revenue, 2015-2024 (USD Billion)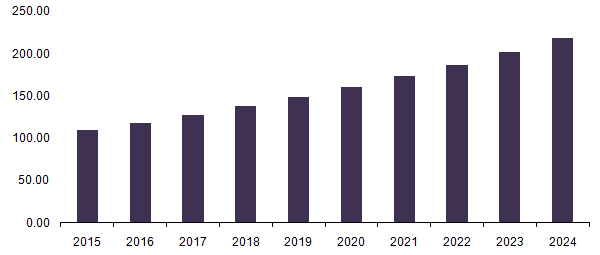 Overheating is the most critical concern in the computer industry. It restricts miniaturization, performance, power and reliability. Computers utilize thermal interface materials for transferring thermal conductivity from central processing units to the heat sink coolers.
Growing demand for computing devices in schools, colleges, and offices is expected to create opportunities for market expansion. However, physical properties can limit thermal interface materials performance and are anticipated to serve as a major challenge for manufacturers over the forecast period.
Grease & adhesives were the largest segments on account of their flowability and capability to reduce a broad array of surface irregularities of housing, heat spreader, and heat sink surfaces. Moreover, reworkability, low cost, low thermal resistance, and ability to form ultra-thin bond lines is expected to aid market growth over the upcoming years.
Asia Pacific was the dominant market and is expected to witness significant growth over the forecast period on account of growing automobile and mobile device manufacturing development in China, Taiwan, South Korea, Japan, and India. Population growth, increasing employment coupled with growing per capita income is expected to increase the usage of computers, mobile devices, and passenger cars over the upcoming years.
Rapid urbanization in the region in light of increasing government spending for social development will stimulate the construction of hospitals and healthcare centers which in turn will drive the demand for medical devices will spur market growth in the future. In addition, favorable political and economic scenario in India along with "Make in India" initiative has encouraged consumer goods manufacturers for setting up manufacturing facilities and offices in the country, which will open new market opportunities over the forecast period.
Key industry players include The 3M Company, Henkel AG & Co. KGaA, Indium Corporation, Dow Corning, Parker Chomerics, Laird Technologies, Momentive Performance Materials Inc., Fujipoly, SEMIKRON, ShinEtsu, AIM Specialty Materials, Wakefield-Vette, Inc., AOS Thermal, DK Thermal and Zalman Tech Co., Ltd. Market participants continuously invest on R&D, product innovation and expansion to increase their market share.

In-depth report on global thermal interface materials market by Grand View Research:
https://www.grandviewresearch.com/industry-analysis/thermal-interface-materials-market