Industry : Energy & Power
The unpredictability and fluctuations of crude oil price in past two years and turmoil in energy markets has led countries to look for alternate energies such as recovering energy from solar, the wind, fossil fuels, biomass, and waste. Waste to Energy (WTE) is the process of recovering energy from waste usually in the form of electricity and steam, with/without the presence of oxygen converting. There are two main technologies for converting energy using thermal and biological. Gasification, pyrolysis, and incineration are few of the advanced thermal advanced techniques to recover energy from waste. Countries across the world are implementing these technologies for converting municipal solid waste (MSW) in renewable energy.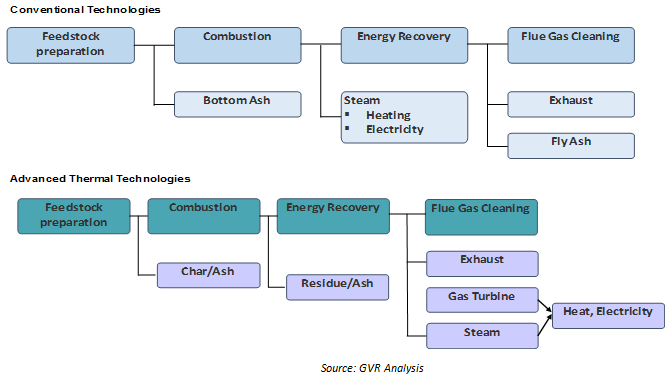 Why Waste To Energy is important?
Mostly it is seen that waste obtained is thrown into lands and water bodies without proper treatment in turn polluting air and water. These problems can mitigate through an adoption of WTE technologies. These methods are eco-friendly and are a perfect alternative to landfilling which in turns pollute surrounding soil and groundwater with toxins. When trash decomposes, it releases harmful gases such as methane, which causes certain climate change and is disorders in human beings. WTE is a profitable business to derive energy from waste. The co-products of the process such as charcoal, compost, bio-oil also serves many purposes. WTE is also bringing opportunities for the service companies to provide turnkey solutions all across the world.
Global Scenario
Increasing waste from domestic and industries has prompted governments across various regions to generate energy from waste. Favorable regulatory scenario coupled with government support in the form of tax benefits and financial incentives is expected to positively influence the market over the coming years. Growing environmental concerns regarding the use of non-renewable energy resources are projected to hinder the market growth.
Increasing demand for recycling industry across developed markets such as Japan, Netherlands, Germany, and the U.S. is anticipated to augment the market growth. Companies have adopted WTE techniques to reduce their waste produced and generate captive energy. Europe is the leading WTE market in the world led by countries such as Switzerland, France, Germany, and Austria. WTE accounted for 15% of total MSW generated in the region in 2013. Land filling, on the other hand, is the most used waste management technique at approximately 35% of total MSW in 2013. However, declining landfilling area in the region has led to growth of WTE in the region.
Upcoming Opportunities
Growing demand for energy and shift in trend towards reducing reliance on fossil fuels to match up with developed economies of North America and Europe is expected to fuel the growth of WTE market in countries such as China and India. Increasing industrialization and urbanization rates in these countries created waste management challenges for governments across these countries. Recently, there have been great developments in Asia, which created a favorable climate for the development of new waste management infrastructure in the region.

In-depth report on global waste to energy market by Grand View Research:
https://www.grandviewresearch.com/industry-analysis/waste-to-energy-technology-industry