Industry : Chemicals & Materials
White oil is a highly refined and decolorized mineral oil that is obtained from paraffinic crude and naphthenic feedstock. The product is highly hydrophobic, odorless, colorless, and chemically inert, due to which it is suitable for use in a broad range of industrial applications.
Furthermore, the product has low aromatic and sulfur content and can be easily blended with other oils so as to enhance the performance of finished goods. Technical, pharmaceutical, and food are the key commercial grades of white oil available globally.
Positive outlook regarding the expansion of the personal care, polymer processing, and pharmaceutical segments is expected to spur the white oil market growth over the forecast period. Furthermore, the fast growing requirement for the product in agriculture and adhesives sectors is likely to offer considerable opportunities over the next eight years.
Technological advancement, especially in the production, refining and ultra-purification areas are expected to offer better growth prospects for the industry over the upcoming years. Major market players such as, Bechtel Corporation and Axens Group, provide advanced oil processing technologies that enhance the quality of white oil grades.
Exxon Mobil Corporation offers technology capabilities and solutions to other market players to keep up with the rise in demand. Strict regulations imposed by authorities such as NIOSH and the UK HSE especially in the U.S. and Western European countries is expected to act as a challenge for the industry expansion.
Global pharmaceutical market, 2008 – 2024 (USD Billion)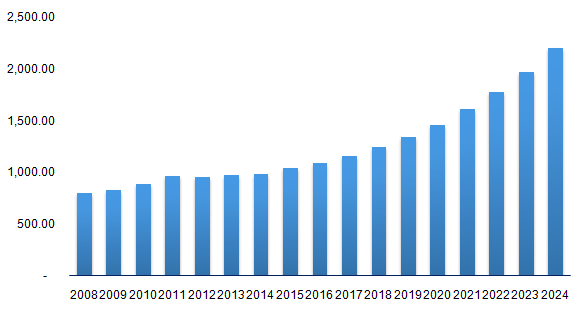 Adhesives and agriculture segments will further aid product demand. Better transparency, excellent temperature stability, biocompatibility and ease of lubrication are some important features of the product, which will increase its market share over the upcoming years.
Asia Pacific was the dominant market and is projected to witness significant rise over the forecast period on account of increasing usage of cosmetics, medicines, thermoplastics, and textiles in the region. This scenario is expected to be reflected mainly in China, India, South Korea, and Thailand. Changing lifestyles of individuals, widespread consciousness regarding enhancement of overall personality of an individual, along with growing GDP across various countries including India, China, Malaysia, and Sri Lanka is expected to drive industry growth.
The Middle East & Africa followed by Latin America are likely to witness significant growth over the next eight years. Brazil is projected to be the primary consumers of white oil as a result of improving economic conditions coupled with the development of core industries such as polymers, pharmaceutical, textile, and adhesives. Saudi Arabia and South Africa are the major white oil consumers in the Middle East & Africa and will show high gains over the next eight years in light of rapid consumption of luxury cosmetics, skincare products, and toiletries.
Key players in white oil market include Sinopec Corporation, British Petroleum, Sasol, Sonneborn, Inc., Exxon Mobil Corporation, Seojin Chemical Co., Ltd., Nynas AB, Petro-Canada, Renkert Oil, Inc., Royal Dutch Shell N.V., and JX Nippon Oil & Energy Corporation.

In-depth report on global white oil market by Grand View Research:
https://www.grandviewresearch.com/industry-analysis/white-oil-market