Database Overview
Grand View Research's data preparation industry data book is a collection of market sizing information & forecasts, competitive benchmarking analyses, macro-environmental analyses, and regulatory & technological framework studies. Within the purview of the database, all such information is systematically analyzed and provided in the form of presentations and detailed outlook reports on individual areas of research.
The following data points will be included in the final product offering in 3 reports and one sector report overview:
Data Preparation Industry Data Book Scope
Attribute

Details

Research Areas

Data Collection and Labelling Market
Data Labelling Solutions and Services Market
Data Integration Market

Number of Reports/Deliverables in the Bundle

3 Individual Reports-PDF
3 Individual Reports-Excel
1 Sector Report-PPT
1 Databook-Excel

Cumulative Country Coverage

27+ countries coverage

Cumulative Product Coverage

30+ Level 1 & 2 Products

Highlights of Datasets

Data Type Revenue, by Country
Sourcing Type Revenue, by Country
Deployment Type Revenue, by Country
Organization Size Revenue, by Country
Application Revenue, by Country
End-use Vertical Revenue, by Country
Regulatory Framework, by Country
Competitive Analysis
Pricing Analysis

Total number of Tables (Excel) in the bundle

251

Total number of figures in the bundle

44
Data Preparation Industry Data Book Coverage Snapshot
Markets Covered

Data Preparation Industry

USD 20.89 billion in 2021

17.0% CAGR (2022-2030)

Data Collection And Labelling Market Size

USD 1.67 billion in 2021

18.2% CAGR (2022-2030)

Data Labelling Solutions And Services Market

USD 8.69 billion in 2021

21.0% CAGR (2022-2030)

Data Integration Market

USD 10.53 billion in 2021

11.9% CAGR (2022-2030)
The global data collection and labelling, labelling solutions and services, and integration markets combine to account for USD 20.89 billion in revenue in 2021, which is expected to reach USD 88.33 billion by 2030, growing at a cumulative rate of 17.0% over the forecast period. The combination bundle is designed to provide a holistic view of these highly dynamic market spaces.
Data Collection And Labelling Market Analysis & Forecast
The global data collection and the labelling market size was valued at USD 1.67 billion in 2021 and is expected to expand at a compound annual growth rate (CAGR) of 25.1% from 2022 to 2030. The emergence of big data is anticipated to fuel the expansion of the artificial intelligence market since it necessitates the recording, storage, and analysis of important data. Developers of AI technology focus on controlling and enhancing the computational models associated with big data, which allows the deployment of artificial intelligence solutions more quickly. Since big data requires a significant amount of data to be gathered, saved and evaluated, its introduction is anticipated to propel the development of the AI industry, which would indirectly assist the growth of the collection and labelling market.
The market demand for data labelling and collecting has increased due to the growth of e-commerce businesses and online buying behaviour. In addition, the need for data collection and labelling services has also increased due to the rise in automobile markets and the tendency of consumers to make purchases using both online and offline channels. The market demand for real-time data labelling has significantly increased due to the continuous growth of IT industries and cloud-based services. Moreover, additional AI-integrated services and media services have emerged as potential data sources for collectors.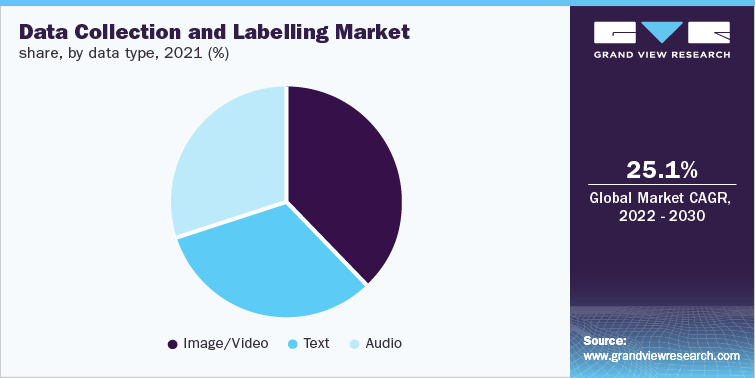 As image recognition has transformed the diagnostics method in the healthcare industry, gathering and labelling are anticipated to play a crucial role in the coming years. MRI (magnetic resonance imaging), X-ray, and CT scan images are examples of medical images used to train AI systems. For instance, Neural networks created by DeepMind, a British AI company, can diagnose eye problems as accurately as medical professionals. Additionally, an AI diagnostics business called IDx provides AI software that has been authorized for commercial clinical applications by the FDA.
Various databases or open sources are used for data collection, later labelled by manual data labelling services or tools. Traditionally, research on problems involving machine learning has focused on the labelling of data. For instance, semi-supervised learning is a popular study area in which the model is trained using a mix of mostly unlabeled and mostly labelled input. At the same time, unlabeled datasets are used for supervised learning methods, including active learning, crowdsourcing, programming, and fact extraction.
The amount of digital content in the form of photographs and videos has increased exponentially with the introduction of digital capturing devices, especially cameras built into smartphones. Through numerous applications, websites, social networks, and other digital channels, a lot of visual and digital information is being gathered and shared. Using data annotation, a number of companies have taken advantage of this freely accessible web content to provide their clients with smarter and enhanced services. For instance, The American tech start-up Scale AI, Inc. has helped its autonomous driving clients, including Waymo LLC, Lyft, Inc., Zoox, and Toyota Research Institute, by offering useful data Labelling services.
Data Labelling Solutions And Services Market Analysis & Forecast
The global data labelling solution and services market size was valued at USD 8.69 billion in 2021 and is expected to expand at a compound annual growth rate (CAGR) of 21.0% from 2022 to 2030. Data Labelling Solutions and Services are widely accepted in the automotive industry, mainly for self-driving vehicles. An autonomous vehicle is equipped with various sensors and networking devices to help the computer operate the vehicle. Computer models for autonomous vehicles can recognize and learn from the annotated data. As a result of advantages, including developing business insights and automatically organizing untagged snapshot collections from the socially shared picture, the market is anticipated to see a boom in technology usage.
Massive amounts of data are produced by technologies like the Internet of Things (IoT), Machine Learning, robotics, advanced predictive analytics, and AI. Due to evolving technologies, efficiency is increasingly crucial for developing new business innovations, infrastructure, and economics. The data Labelling solution and service sector have grown tremendously due to these considerations. Machine learning applications are frequently utilized for categorizing data items like news articles or tweets, this necessitates a precisely annotated training dataset, which aids in developing algorithms that automatically categorize future data items.
By utilizing a data-labelling network of clinicians and non-clinicians, healthcare organizations may provide a sizable source of high-quality labeled medical pictures at scale and speed for training AI algorithms. To effectively accelerate the creation of a tagged medical picture source at a scale and speed, administrations must have an impact on best practices and new AI tools. It is easier to label many complicated images when the best data preprocessing, training, ground truth, and quality processes are combined with developing AI technologies and trends. Artificial intelligence (AI) enables software to carry out tasks without explicit programming, making it a fundamental problem-solving technique for individuals and corporations.
Market players have begun using the client base growth approach by raising money to enhance their platform to obtain a competitive edge in the market. For instance, Scale Inc., an API provider used by autonomous vehicle manufacturers to speed up the data-Labelling process, reported that it had raised USD 18 million in funding to label data obtained from companies supplying self-driving vehicles, such as Embark and Lyft, Inc. Administrations have improved the efficiency of their workflows and gained a competitive edge by gathering insights from the data, usually in real-time.
Data Integration Market Analysis & Forecast
The global data integration market size was valued at USD 10,534.0 million in 2021 and is expected to expand at a compound annual growth rate (CAGR) of 11.9% from 2022 to 2030. The data integration market is anticipated to expand with the advancement of big data technologies. These technologies are gaining prominence owing to the requirement for processing large, random, and high-velocity data and providing decision-makers with the ability to reduce risks, get new insights, and enhance decision-making. This increase in big data technologies will result in high demand for data integration, as it is a fundamental component of big data technologies and a necessary step before analyzing big data for insights. Data integration merges data clearly and uniformly, allowing for easier data analysis using big data technology.
The development of new markets, regions, and places is made possible by automation and new technologies. However, this also introduces new data sources, such as new varieties of bank transactions, CRM programs, ERP software, the cloud, etc. Data inconsistency from these sources leads to silos and gaps. In addition to preventing organizations from utilizing the full potential of the data they collect; these silos also increase the likelihood of mistakes and serious delays. Due to this, businesses have begun to understand the value of data integration and invest in integration solutions.
Advanced integration solutions are needed by businesses to manage the complex dependencies that big data and the expanding number of data sources create. With the rapid advancement of AI, learning algorithms, and software development, it isn't easy to set standards and catch up with the essential expertise and strategies for dealing with newly created data. Data integration technologies must quickly adapt to the demands of businesses, enabling them to instantly mix cloud and on-premises sources and gain insightful information. Platforms for data integration must be dependable, secure, and adaptable. For instance, ZigiOps is an integration platform that can combine cloud and on-premises sources and satisfies all of the requirements for adaptability, usability, and security.
Customer data integration provides analysts and business managers with a comprehensive picture of key performance indicators (KPIs), financial risks, manufacturing operations, regulatory compliance, clients and supply chains, and other business process factors. Integrated data creates a layer of connectedness necessary for enterprises to compete in the digital market and organizations can achieve data consistency and efficient knowledge transfer by connecting and integrating systems that contain crucial data across departments and locations. For Instance, TIBCO Software Inc., a provider of business intelligence software, has announced updates to its TIBCO cloud data integration, providing scalable, adaptable solutions that support system, operation, and process integration, the organization updated the latest improvements in this platform through which they would accelerate business process automation, increase agility, and provide quick answers.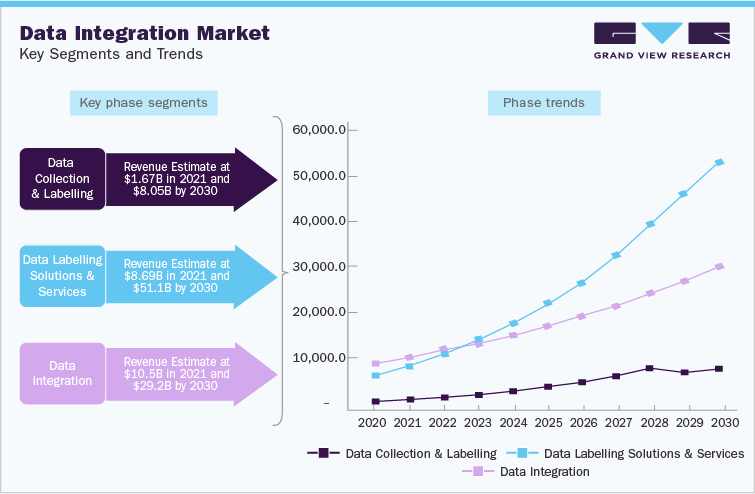 Competitive Landscape
The market participants are implementing several organic and inorganic growth strategies, including new product launches, product modernizations, collaborations, corporate expansions, and acquisitions and mergers. For instance, in May 2022, Informatica Inc. announced a partnership with the Oracle enterprise connectivity and automation platform which offers modernized data, applications, APIs, and business processes. The collaboration aims to provide cloud data governance and integration solutions for data warehouses, enterprise analytics, and data science. The customer base of Oracle and Informatica will be automating their data by shifting on-premises workloads to a cloud-based platform. In addition, they will be capable to use their investments and expertise while gaining insights from reliable data at scale.
This section in the final deliverables also highlights various strategic initiatives taken by the key companies in the recent past that strongly impacts this market space. The below figure represents the various strategies initiated by these market participants and the impact analysis: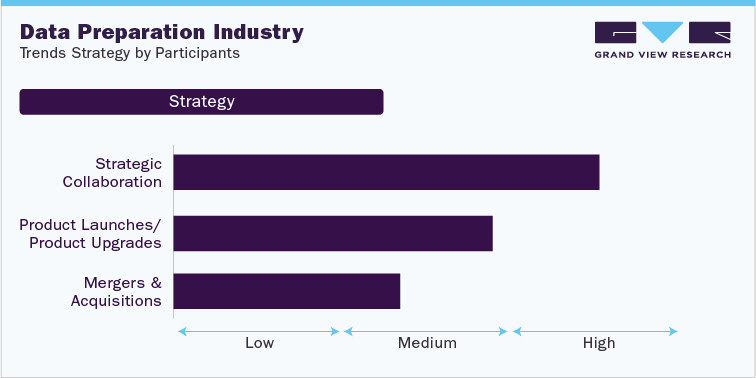 | | |
| --- | --- |
| Strategy | Spearheads |
| Strategic Collaborations | Labelbox, Inc., Appen Limited, Sight Machine, Informatica Inc. |
| Product Launches/Product Upgrades | Alegion, Scale AI, Shaip, Reality Ai, Cloudfactory Limited |
| Mergers & Acquisitions | Appen limited, Amazon Mechanical turk. |
Increasing mergers & acquisitions and collaborations are anticipated to capitalize on the economic and environmental advantages for the market players and enable them to share ideas and enrich their internal skills and technologies. For instance, in December 2021, Sight Machine announced a collaboration with NVIDIA Corp. for the acceleration of data labelling in manufacturing. Sight machine anticipates complying with the barrier in data labelling by connecting of its streaming data pipeline with the NVIDIA AI platform, which works using Microsoft Azure infrastructure for locating data to assets on a global scale.
Key Drivers
Growing need to make text/image more interactive and engaging

Rapid penetration of AI and machine learning

Growing R&D spending on the development of self-driving vehicles

Emergence of data Labelling tools and workflow trends

Accelerating medical Labelling for diagnostic AI

Rise of big data technologies

Technology advancement in cloud computing