Database Overview
Grand View Research's dyes and pigments sector database is a collection of market sizing information & forecasts, trade data, pricing intelligence, competitive benchmarking analyses, macro-environmental analyses, and regulatory & technological framework studies. Within the purview of the database, such information is systematically analyzed and provided in the form of outlook reports (1 detailed sectoral outlook report) and summary presentations on individual areas of research along with a statistics e-book.
Dyes and Pigments Industry Data Book Scope
Attribute

Details

Areas of Research

Dyes Market
Pigments Market

Number of Reports/Presentation in the Bundle

1 Sector Outlook Report + 2 Summary Presentations for Individual Areas of Research + 1 Statistic ebook

Cumulative Coverage of Countries

50+ countries

Cumulative Coverage of Products

02 Product Categories

Highlights of Datasets

Trade Data, by Country
Demand/Consumption, by Country
Company Market Share
Competitive Analysis
Dyes and Pigments Industry Data Book Coverage Snapshot
Markets Covered

Dyes and Pigments Industry

4,217.2 kilotons in 2022

4.7% CAGR (2023-2030)

Dyes Market

555.9 million tons in 2022

2.6% CAGR (2023-2030)

Pigments Market

240.0 million tons in 2022

2.9% CAGR (2023-2030)
Dyes and Pigments Sector Outlook
The economic value generated by the dyes and pigments industry was estimated at approximately USD 38.18 billion in 2022. This economic output, driven by the growth of end-use industries such as textile, construction, and plastics, is the major factor for the high demand for dyes & pigments.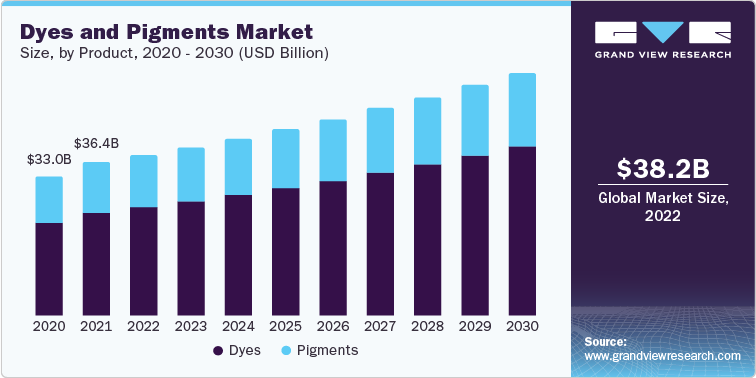 The global dyes and pigments market has witnessed remarkable growth as it is primarily used in key end-use industries such as textiles, construction, and plastics, to name a few. The textile industry is one of the largest end-users of dyes and pigments, with a wide range of applications in the production of clothing, home textiles, and other textile-based products. The construction industry with applications in the production of architectural coatings, automotive coatings, and other industrial coatings. The plastics industry is also a significant end-user of pigments, with applications in the manufacturing of plastic products such as packaging, consumer goods, and industrial components.
Textile industry is witnessing growth due to several factors such as a growing population, increasing disposable income, and changing consumer trends. It is one of the major applications for dyes and pigments and is expected to propel product demand over the forecast period. Factors such as robust demand, policy support, increasing investments, and competitive advantage are driving the textile industry, especially in Asian countries, such as China is the largest textile producer in the world, accounting for around 36% of global textile production. Other major textile producers in the Asia Pacific region include India, Bangladesh, and Vietnam.
For instance, according to the India Brand Equity Foundation, the Indian textile industry size was approximately USD 220 billion in 2020. Abundant raw material availability is a key advantage to the Indian textile market. For example, in 2021-2022, cotton production reached 33.8 million bales in the country. This is a positive sign of the increasing demand for dyes.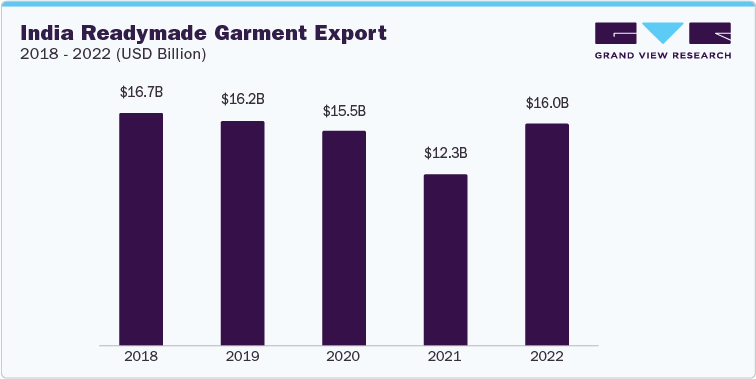 The increasing utilization of plastics across diverse industries, including packaging, consumer goods, and construction, has resulted in a heightened requirement for dyes and pigments. The adaptability of plastics has broadened the scope of applications for dyes and pigments, enabling the production of colored plastic products, such as toys, household items, and automotive parts, through the application of color-stable pigments. By employing specialized dyes and pigments, the performance of plastic products can be enhanced in terms of UV stability, weather resistance, and flame resistance.
Globally, per capita consumption of plastic products is growing in many developed nations. The U.S. has a high consumption rate of 139 kilograms per person per year, while the European Union's is 65 kilograms per person per year. However, in India, the per capita consumption of plastic products in India is expected to rise to 16-20 kilograms per person per year by 2025.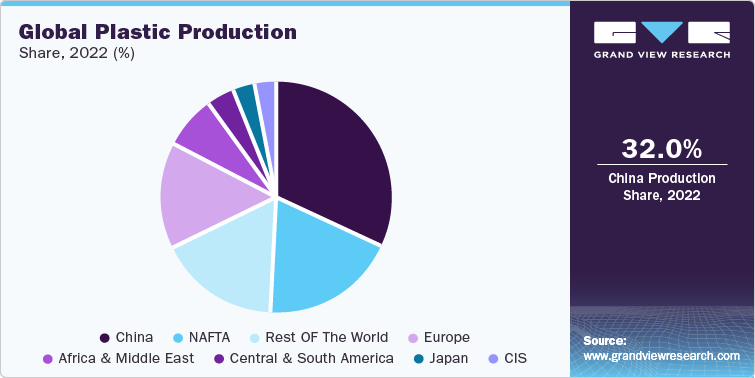 Chemical industry associations such as the European Chemical Industry Council (CEFIC) and Volatile Corrosion Inhibitor (VCI), along with other scientific groups are constantly working on evaluating and developing low volatile organic compounds (VOC) content pigments for application in various industrial sectors. Europe stipulates the ideal heavy metal content in several packaging applications via Directive 94/62/EC and requirements for color additives in food packaging materials via the European Council Resolution AP (89) 1 state.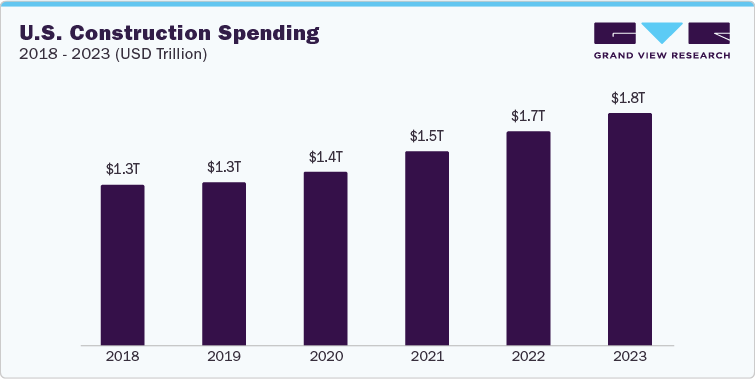 The provided graph illustrates the U.S. construction spending between 2018 and 2023, measured in billions of U.S. dollars. The construction spending in the country has shown a consistent annual increase during this period, and this upward trend is projected to continue throughout the forecast period. Several factors contribute to this expected growth, including the rise in infrastructural developments resulting from new import tariffs, evolving trade agreements, a strong economy, the emergence of large-scale projects, an emphasis on smart cities, and an increase in household formations. Additionally, the U.S. benefits from a low-risk environment, a stable economy, and a robust financial sector, which are expected to further bolster the growth of the construction industry in the country. Consequently, these factors are predicted to play a significant role in driving the demand for the dyes & pigments market over the forecast period.
Dyes Market Analysis And Forecast
Dyes accounted for an industry share of nearly 67% in 2022. Dyes play a significant role in various industries, including textiles, printing inks, paints, plastics, and cosmetics. Dyes are substances that impart color to materials through a process called dyeing. They are used to enhance the aesthetic appeal of products, provide color fastness, and create a wide range of shades and hues.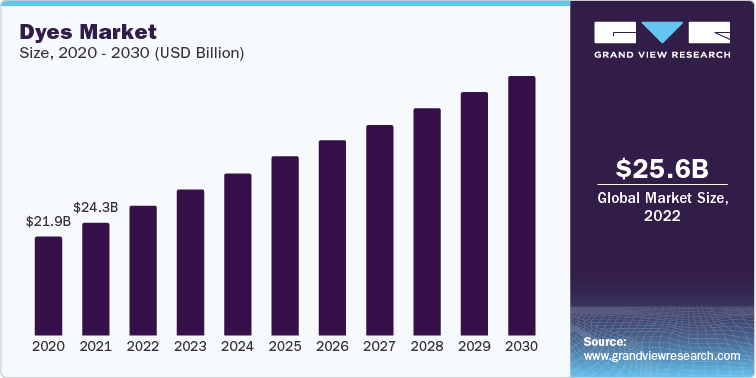 The use of cutting-edge technologies like nanotechnology and biotechnology in the production of dyes is boosting product performance and improving production efficiency. For instance, Lanxess recently announced plans to increase its production capacity for Macrolex dyes by 25% through an investment worth USD 5.68 million, in response to the growing demand for dyes market across the world.
Pigments Market Analysis And Forecast
Pigments accounted for an industry share of over 32% in 2022. The pigments market is vital to various industries, including paints and coatings, plastics, printing inks, construction, and automotive. Pigments are finely ground solid particles that provide color and opacity to materials. Unlike dyes, which dissolve in the substrate, pigments are insoluble and dispersed in binders or carriers. Pigments are used to provide color, opacity, and durability to paints and coatings, allowing for the creation of vibrant and long-lasting finishes. They are available in various forms, including organic and inorganic pigments, each offering unique properties and color options.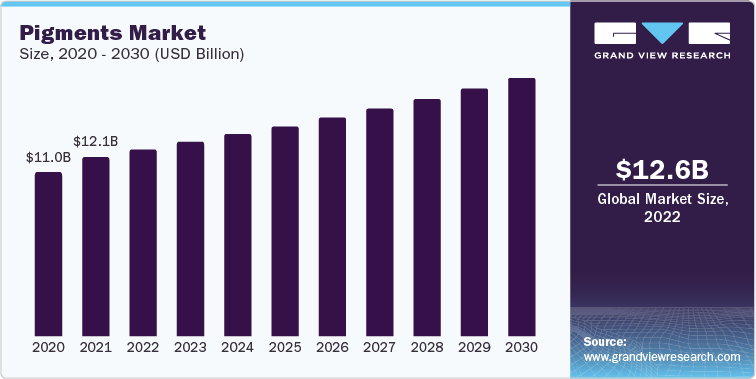 The growing adoption of digital printing technology is driving the demand for specialized pigments that offer high color vibrancy and durability. The strong presence of global players, such as BASF SE, Clariant AG, and Evonik Industries, is also contributing to the growth and development of the dyes and pigments market across the globe. These companies have a strong presence in the European market and are known for their investment in research and development of new and innovative pigment production methods, as well as their commitment to sustainability and eco-friendliness.
Competitive Insights
The market players are actively conducting research and development to create high-quality colors with enhanced features. They are also forming technological collaborations such as mergers & acquisitions, new product launches, and expansions to further support their R&D efforts. For instance, in July 2021, Sun Chemicals, DIC Crop acquired BASF SE's global pigment business which is known as BASF Colors & Effect (BCE). Also, In May 2022, Cabot Corporation announced the expansion of its inkjet manufacturing facility located in Haverhill, Massachusetts. The expansion will increase the global capacity of color aqueous pigment.
The primary distribution channels these companies utilize for their products are their own internal channels, with some utilization of third-party channels. These companies prioritize the expansion of their geographical presence as a key strategy to enhance their market share. The global dyes and pigments industry is characterized by a high level of fragmentation, owing to the significant number of manufacturers operating worldwide.
The global dyes & pigments market is characterized by some major players such as BASF SE, Clariant AG, DIC Corp, Sudarshan Chemical Industries Limited., and Huntsman Corp. These companies are dyes and pigments manufacturers that cater their products to various companies engaged in paints & coatings, automotive, textile, printing inks, and construction industries.
Company Financial Performance, for Dyes and Pigments Business Portfolio, 2022 (USD Billion)
Company

Contact Details

Revenue

BASF SE

Carl-Bosch-Str. 38,

67056 Ludwigshafen,

Germany

Tel: +49 621 60-0

Industrial Solutions: USD 10.81 billion

DIC CORPORATION

DIC Building, 7-20, Nihonbashi 3-chome, Chuo-ku, Tokyo 103-8233, Japan.

Tel: +81-3-6733-3000

Color Display: USD 1.7 billion

Sudarshan Chemical Industries Limited.

7th Floor, Eleven West Panchshil, Survey No. 25, Near PAN Card Club Road, Baner, Pune - 411 045, Maharashtra, India

Tel: +91 20 682 81 200

Pigments: USD 0.22 billion