Database Overview
Grand View Research's green packaging sector database is a collection of market sizing information & forecasts, trade data, pricing intelligence, competitive benchmarking analyses, macro-environmental analyses, and regulatory & technological framework studies. Within the purview of the database, such information is systematically analyzed and provided in the form of outlook reports (1 detailed sectoral outlook report) and summary presentations on individual areas of research along with a statistics e-book.
Green Packaging Industry Data Book Scope
Attribute

Details

Areas of Research

Food & Beverage Green Packaging Market
Personal Care Green Packaging Market
Healthcare Green Packaging Market
Others Green Packaging Market

Number of Reports/Presentation in the Bundle

1 Sector Outlook Report + 4 Summary Presentations for Individual Areas of Research + 1 Statistic ebook

Cumulative Coverage of Countries

50+ countries

Cumulative of Materials

10+ products

Highlights of Datasets

Production Data, by Countries
Import/Export Data, by Countries
Demand/Consumption, by Countries
Green Consumption Per Capita
Competitive Analysis
Food & Beverage Green Packaging Market, By Material
Personal Care Green Packaging Market, By Material
Healthcare Green Packaging Market, By Material
Others Green Packaging Market, By Material
Green Packaging Industry Data Book Coverage Snapshot
Markets Covered

Green Packaging Industry

USD 291.6 billion in 2022

Food & Beverage Green Packaging Market Size

USD 183.5 billion in 2022

7.4% CAGR (2023- 2030)

Personal Care Green Packaging Market Size

USD 31.6 billion in 2022

4.7% CAGR (2023- 2030)

Healthcare Green Packaging Market Size

USD 41.0 billion in 2022

4.8% CAGR (2023- 2030)

Others Green Packaging Market Size

USD 35.4 billion in 2022

2.5% CAGR (2023- 2030)
Green Packaging Sector Outlook
The economic value generated by the green packaging industry was estimated at approximately USD 291.6 billion in 2022. This economic output is an amalgamation of businesses that are involved in the raw material suppliers, manufacturers of green packaging products, distribution & supply, and application of green packaging.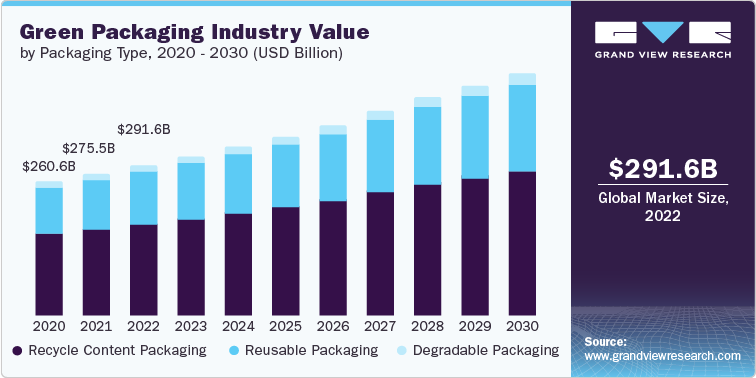 Based on packaging type, the green packaging market has been categorized into recycled content packaging, reusable packaging, and degradable packaging type. Among these, recycled content packaging type dominated the packaging type with a market share of over 60.0% in 2022. The recycled content packaging type is further segmented into paper, plastic, glass, metal, and others. Among these, recycled plastics such as polyethylene terephthalate (PET) and high-density polyethylene (HDPE) are the most used options in a wide range of packaging products such as pouches, bottles, and containers owing to their cost effectiveness compared to other recycled materials.
The degradable packaging segment is expected to grow at the fastest CAGR of 8.3% over the forecast period. This growth is due to the degradable packaging being obtained from replenishable stocks from microbial sources, marine food processing industry wastes, or animal sources. Degradable materials are environmentally friendly as they break down to produce quality compost, water, and renewable raw ingredients. Degradable packaging is very significant for specific applications, even though it is mostly impractical for a broader application. The most valuable benefit of degradable packaging materials is that they are less obtrusive & and break down upon littering. The production of degradable packaging also helps lower greenhouse gases; for instance, green polyethylene plastic uses sugarcane ethanol for production, whereas traditional polyethylene uses natural gas, oil, or other fossil fuel sources.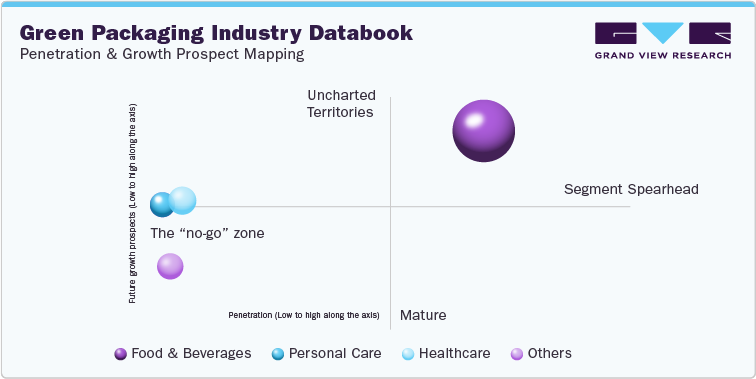 Based on application, the green packaging market has been categorized into food & beverages, personal care, health care, and others. Among these, the food & beverages segment accounted for the largest market share in 2022 owing to the rising popularity of sustainable packaging solutions such as compostable and molded pulp in fast food outlets, restaurants, frozen foods, dairy products, beverages, and pet food products. For instance, Burger King, a fast-food chain outlet offers recycled products for the most used items by consumers such as forks, knives, spoons, French fries containers, and others. Starbucks Coffee Company offers recycled content reusable cups every holiday season with a unique theme made with 50% recycled materials as a part of their sustainability initiative to reduce plastic waste.
The rising consumer awareness regarding sustainable packaging solutions and stringent government regulations such as a ban on single-use plastic packaging products. Green packaging solutions made from sustainable materials such as paper, plant-based materials, recycled materials, and other degradable materials reduce their carbon footprint throughout their entire lifecycle, from production to disposal.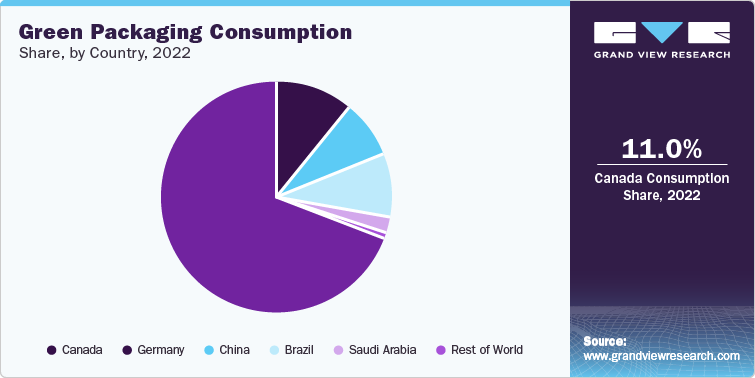 In addition, the stringent U.S. government regulations and policies on plastic packaging solutions have led to a positive impact on the green packaging market in the country. For instance, the U.S. government has emphasized sustainable packaging to encourage producers and suppliers to adopt green packaging solutions through initiatives such as the Sustainable Packaging Coalition, an environmental organization in the U.S. promoting sustainable packaging practices and providing resources and guidance to companies looking to implement sustainable packaging solutions.
Food & Beverage Green Packaging Market Analysis And Forecast
Consumer behavior directly influences packaging solutions in food and beverage applications. Despite the COVID-19 pandemic, the food and beverage industry has witnessed significant growth and is expected to continue to grow over the forecast period, positively impacting the green packaging industry. The food and beverage industry is consistently catering to the consumer's convenience by offering on-the-go consumption products, which are expected to cause a rise in demand for packaging in food and beverage applications.
There is also significant growth in online grocery stores, such as Amazon Pantry, which has encouraged the purchasing of packaged foods and beverages through online orders. Several companies have extended their delivery services with the introduction of pickups at specific drive-up locations. It is observed that consumers who prefer organic food are more likely to demand and buy products that are differentiated under green packaging; therefore, the growth of organic food products is directly affecting the demand for packaging that is recognized as sustainable.
Food packaging is essential to the food and beverage industry as it provides various functions, including tamper indication, convenience, traceability, food waste reduction and containment, and preservation/protection. Additionally, the packaging is an integral element in the marketing of the product. Therefore, the food industry is continuously trying to bring in distinctive packaging to increase sales in a competitive environment. In addition, the shifting consumer preferences, activism, and changing government policies in the wake of packaging pollution-related data, driving the growth of the green packaging industry in food & beverage applications.
Personal Care Green Packaging Market Analysis And Forecast
The personal care segment recorded a significant market share in 2022, owing to the wide application of recycled PET pouches, bottles, and containers for creams, body lotion, gel, and others. Moreover, personal care manufacturers are increasingly recognizing the importance of sustainability to their brand reputation as it helps to convey a company's commitment to sustainability and social responsibility to consumers, which further drives the demand for this segment. For instance, Olive Natural Skincare offers 100% recycled packaging for all its products and has achieved a zero-carbon certification which shows its customers its commitment to sustainability and uplifts its brand reputation.
Many green-conscious consumers are opting for sustainable packaging for personal care products. The past few years have been monumental for sustainable packaging, especially in Europe, as global brands have pledged to reduce, reuse, and recycle post-consumer materials. Manufacturers of personal care products and cosmetics pay attention to sustainable packaging primarily owing to the rising consumer consciousness regarding the origin of the products used by them. Cosmetic companies have historically fallen under the ethical radar with controversies related to animal testing, the use of harmful chemicals, and child labor. These companies have been trying to build a clean brand image wherein sustainable packaging has played a vital role.
While the primary raw materials used in manufacturing packaging for personal care products include metal, glass, and plastic, novel materials will soon gain prominence in the personal care & cosmetics industry. Industry experts have claimed that green packaging will become a mainstream practice instead of a simple trend. Brands that do not adopt green packaging may become insignificant in the future with ongoing government regulations along with equally significant consumer demands. Manufacturing companies have been coming up with interesting ideas, such as repurposeable and refillable packaging. Many packaging manufacturers are also working on reversing the problem instead of lowering their contribution to the issue of pollution; for instance, AirCarbon is creating biopolymers that use greenhouse gases for production with Newlight Technology.
Healthcare Green Packaging Market Analysis And Forecast
The healthcare segment is expected to grow at a fast CAGR of 4.8% during the forecast period, attributed to the increasing use of green packaging, such as molded pulp packaging solutions, instead of traditional reusable utensils in hospitals and healthcare facilities for more convenience. In addition, aluminum foil material is used for the packaging of pharmaceutical oral drugs such as pills and capsules. Moreover, the increased demand for disposable sustainable packaging solutions, driven by consumer concerns about hygiene during the global pandemic, is contributing to the growth of the segment.
There also exists a lack of recycling infrastructure for medical packaging materials, which has made it difficult to recycle the materials even though they are manufactured with sustainable practices and eco-friendly materials. Europe has been at the forefront of promoting recyclable medical packaging, where manufacturers gain a competitive edge by marketing and making recyclable packaging products. Healthcare Plastics Recycling Council (HPRC) has supported and led many hospital waste diversion strategies, although single-use plastics still dominate the healthcare industry.
HPRC has estimated that approximately 2800-3500 tons of plastic products and plastic packaging waste are generated daily from U.S. healthcare facilities. Most of this waste ends up getting incinerated or in landfills. The council also claimed that 85% of hospital waste is free from patient contamination or contact and is non-hazardous. Despite crucial challenges in adopting green packaging in the healthcare industry, the demand is expected to witness steady growth, with many pharmaceutical manufacturers willing to experiment with a new type of packaging to drive their product demand. The introduction of bio-based materials that replicate the properties of existing plastic materials is expected to further fuel the demand for green packaging. The healthcare industry could adapt conveniently and quickly to the materials compared to novel materials with different properties.
Others Green Packaging Market Analysis And Forecast
Other applications of green packaging include electronics, consumer goods, and automotive packaging. The green packaging trend has already picked pace in the electronics industry. For instance, Samsung Electronics, a leading electronics manufacturer, announced in 2019 that it would shift from using virgin plastic packaging to more sustainable materials such as paper and biobased or recycled plastics. Many electronics manufacturers are revamping their entire product packaging involving quality control, marketing, purchasing, and development for innovative packaging.
The companies are also using molded thermoformed pulp packaging made from sustainable materials to replace plastic holder trays. This is especially significant in a country like China, which is a hub for electronics. It has imposed a ban on single-use plastics in 2022, limiting and banning imports of packaging waste in 2017. Canada has also implemented Zero Plastic Waste by 2030, passed in 2018, which is expected to drive the market for sustainable packaging in the country.
Cardboard is gaining popularity in consumer goods manufacturing as it is 80% biodegradable and readily available. If it is not segregated, it can still break down quickly if it ends up in a landfill. The e-commerce players have adopted sustainable packaging as they are witnessing high growth and facing backlash for excessive use of non-sustainable packaging materials. These players are establishing industry partnerships and collaborative initiatives with organizations such as the Green Chemistry & Commerce Council, Better Cotton Initiative, Sustainable Packaging Coalition, and Textile Exchange. Considering the tangible business benefits of adopting sustainable packaging, many manufacturers are now switching to green packaging, thereby driving the former's demand in multiple areas.
Competitive Insights
The green packaging market is highly competitive, with the presence of both global and regional players. The companies offer a wide range of products that are available in a variety of shapes, sizes, and colors. Moreover, they offer custom packaging products to suit customer-specific requirements.
The market has also witnessed several new product launches and mergers and acquisitions over the last few years. The industry players are adopting several strategies, including collaborations, mergers & acquisitions, joint ventures, and partnership agreements to increase the customer base and individual market share.
In February 2023, Sealed Air announced the acquisition of Liquibox, a sustainable liquid packaging manufacturer. With this acquisition, Sealed Air is expected to expand its product portfolio in the food & beverage application to meet the growing demand of consumers for sustainable packaging solutions.

In September 2022, Sealed Air announced an expansion in its product portfolio by launching a new product range of protective packaging solutions containing more than 50% recycled plastic under its bubble wrap brand.

In October 2022, Ball Corporation announced an expansion in its product portfolio by adding two different sizes of recycled aluminum cups to cater to the food & beverage industries across the globe.