Database Overview
Grand View Research's pet care industry data book is a collection of market sizing information & forecasts, trade data, pricing intelligence, competitive benchmarking analyses, macro-environmental analyses, and regulatory & technological framework studies. Within the purview of the database, such information is systematically analyzed and provided in the form of outlook reports (1 detailed sectoral outlook report) and summary presentations on individual areas of research.
Pet Care Industry Data Book Scope
Attributes

Details

Areas of Research

Pet Product Market
Pet Food Market
Pet Supplements Market

Number of Reports/Presentations in the Bundle

1 Sector Outlook Report (PDF) + 3 Summary Presentations for Individual Areas of Research (PDF) + 1 Statistic eBook (Excel) + 3 Individual Databook (Excel)

Cumulative Coverage of Countries

15+ Countries

Cumulative Coverage of Products

15 + level 1 & 2 Products

Highlights of Datasets

Product Data, by Country
Import/Export Data, by Country
Demand/Consumption Data , by Country
Statistic e-Book
Competitive Analysis
Pet Care Industry Data Book Coverage Snapshot
Markets Covered

Pet Care Industry

USD 159.10 billion in 2022

5.1% CAGR (2023-2030)

Pet Product Market Size

USD 84.26 billion in 2022

4.6% CAGR (2023-2030)

Pet Food Market Size

USD 72.27 billion in 2022

5.6% CAGR (2023-2030)

Pet Supplements Market Size

USD 2.57 billion in 2022

4.2% CAGR (2023-2030)
Pet Care Sector Outlook
The primary growth drivers are the growing trend of pet humanization and rising consumer spending in the household and pet care sectors. Due to their ease of humanization and indulgence compared to larger creatures, people are also choosing to adopt small pets (cats, dogs, etc.). People are therefore prepared to invest more to guarantee that their pets receive the greatest care. Consequently, items for caring for pets, such as feeders, bowls, and waterers, have gained popularity.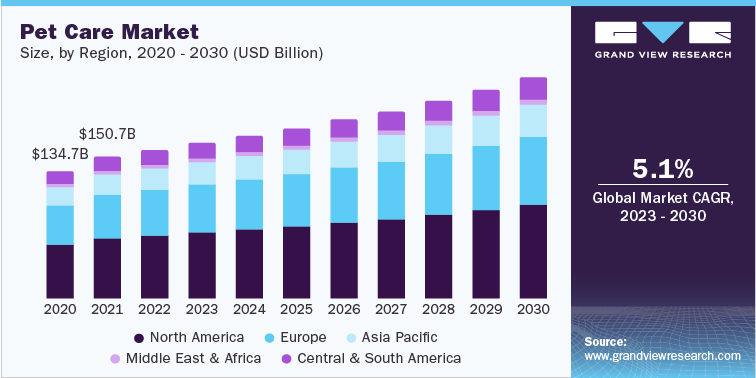 Over the years the trend towards pet ownership is growing, with pets being viewed more as members of the family and as companions. According to Petsecure, the U.S., China, Russia, and France are some of the countries with the most pet dog and cat populations. Moreover, Americans spend more than USD 50 billion on their pets annually. Pet training is necessary for any pet animal to build confidence, establish desired behaviors in pets, and create deep bonds between pets and pet owners.
Changes in lifestyle, such as increased urbanization, long working hours, and decreased outdoor access, have resulted in pets spending more time indoors and often being left alone for extended periods. This has led to boredom, anxiety, and behavioral issues in pets.
Pet Product Market Analysis And Forecast
The mainstream media outlets throughout the world have paid a lot of attention to the humanization of pets. A significant and defining trend in the pet food industry, particularly in industrialized nations, is the transition from pet ownership to pet parenting. In affluent nations, more than one-third of families have a pet. According to the National Pet Owners Survey (2019-20), which was done by the American Pet Products Association (APPA), more than 85 million U.S. households have one or more pets, with dogs making up the bulk of those. Thus, it is projected that the pet food sector would grow as pets become more humanized.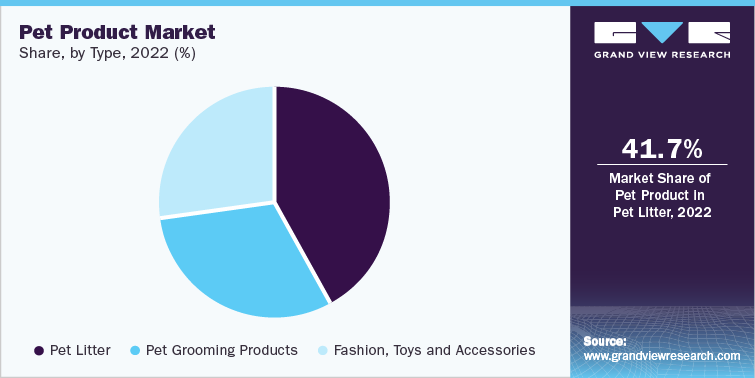 The basic hygiene requirements of companion animals are principally responsible for the dominance of the pet grooming product market. The product's specific formulation for pet care, which is intended to clean, condition, and deodorize the skin and hair of companion animals. Additionally, producers have created medicated shampoos with distinct compositions to address a variety of skin conditions and illnesses in companion animals.
Pet Food Market Analysis And Forecast
In response to the rise in pet parenting, pet food manufacturers are now advertising expensive products to pet owners. Some of the key reasons propelling the market growth include an increase in per capita disposable income, the tendency toward nuclear families, and the rapid acceleration of humanization. Pet parents typically use packaged nutritious food to give their animals enough nutrients.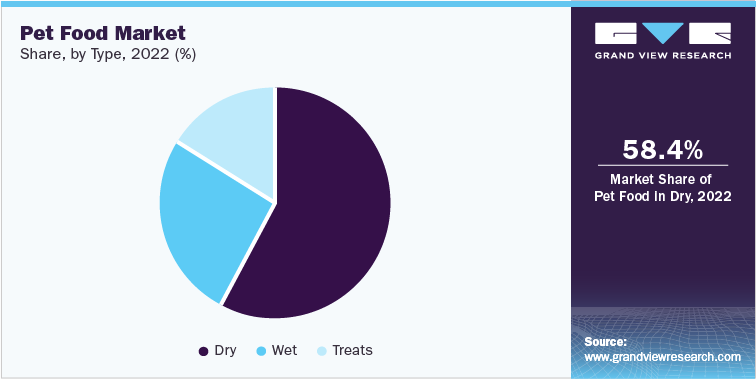 Functional foods are favored by pet owners above other treats because they provide their animals with extra health benefits. Major industry participants are creating new useful treats to satisfy pet owners' desires as a result of this trend. For instance, Hill's Pet Nutrition launched an innovative line of functional dog treats in 2019 that have been developed specifically to help dogs with weight, mobility, food allergies, and dental issues.
Pet Supplements Market Analysis And Forecast
Pet supplements include vital nutrients that support a stronger immune system and lower the risk of diabetes, cancer, inflammation, heart disease, and other illnesses. Additionally, supplements like fish oil, biotin, and amino acids promote skin health and strengthen resistance to common issues like bacterial infection, itchy skin, and environmental allergies. By giving antioxidants like vitamin E, vitamin C, L-carnitine, and coenzyme Q-10, they also help with cognitive development.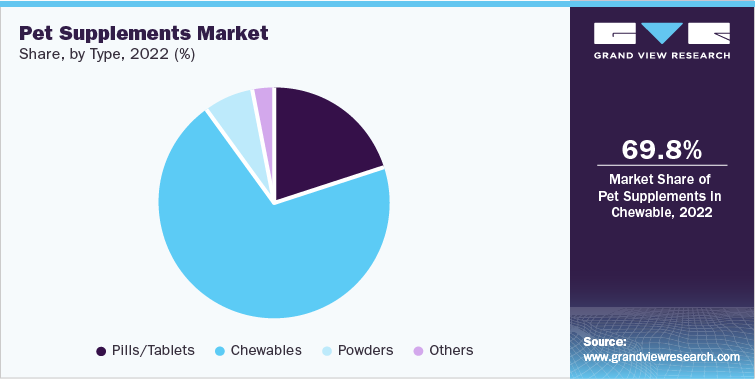 Powdered supplements are simpler to take, easier to mix into food and drink, and more quickly absorbed than tablets or pills. These elements are anticipated to improve product visibility among pet owners, leading to an increase in powder-based products over the course of the forecast period. A variety of powder-based products are offered by major companies. For instance, NOW Foods sells powdered pet supplements that promote the health of both cats' and dogs' circulatory systems.
Competitive Insights
The manufacturers aim to achieve optimum business growth and a strong market position through the implementation of various strategies such as acquisitions, new product launches, collaborations, and strengthening of distribution networks in the global as well as regional markets. Flooring material manufacturers aim to intensify their market positions by widening their customer base. Thus, multinational players are aiming to achieve business growth in the regional market through mergers, acquisitions, and other strategic initiatives.
For instance, in July 2020, the French retail company Carrefour and Invivo Retail's Noa pet care line collaborated to open a new concept pet store in Paris in July 2020. The idea of a retail store provides an extensive selection of supplements and other products for whole body maintenance.

For instance, in June 2021, Mars Inc. enhanced its goods line in India by introducing wet cat food under the Whiskas brand. Pet shops, supermarkets, and online retailers all offer the new product line.