Database Overview
Grand View Research's pharmaceutical packaging industry databook is a collection of market sizing information & forecasts, trade data, pricing intelligence, competitive benchmarking analyses, macro-environmental analyses, and regulatory & technological framework studies. Within the purview of the database, such information is systematically analyzed and provided in the form of outlook reports (1 detailed sectoral outlook report) and summary presentations on individual areas of research along with a statistics e-book.
Pharmaceutical Packaging Industry Data Book Scope
Attributes

Details

Areas of Research

Pharmaceutical Packaging Market
Parenteral Containers Market
Primary Pharmaceutical Packaging Market
Pharmaceutical Contract Packaging Market

Number of Reports/Presentations in the bundle

1 Sectoral Outlook Report + 4 Summary Presentations for Individual Areas of Research + 1 Statistics eBook

Cumulative Coverage of Countries

50+ Countries

Cumulative Coverage of Products

10+ Products

Highlights of Datasets

Pharmaceutical Revenue, by Countries
Plastic Consumption Per Capita
List of Pharmaceutical Companies Operating
Pharmaceutical Trade,2021
Avg Pircing of the pharma products
Competitive Analysis
Plastic Pharmaceutical Packaging, By Product
Parenteral Containers, by Product
Primary Pharmaceutical Packaging, by Product
Pharmaceutical Packaging Industry Data Book Coverage Snapshot
Markets Covered

Pharmaceutical Packaging Market

Plastic Pharmaceutical Packaging Market Size

USD 43,377.7 million in 2021

9.1% CAGR (2022-2030)

Parenteral Containers Market Size

USD 7,007.6 million in 2021

13.9% CAGR (2022-2030)

Primary Pharmaceutical Packaging Market Size

USD 88,504.2 million in 2021

9.7% CAGR (2022-2030)

Pharmaceutical Contract Packaging Market Size

USD 42,915.4 million in 2021

9.9% CAGR (2022-2030)
Pharmaceutical Packaging Industry Outlook
The economic value generated by the pharmaceutical packaging industry was estimated at approximately USD 117,007.3 million in 2021. This economic output is an amalgamation of businesses that are involved in the manufacturing of the products, distribution & supply, and application of the product in the end use industry.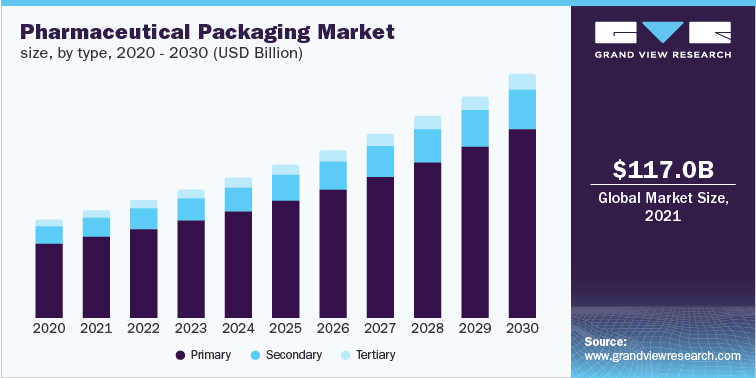 The value chain of the pharmaceutical packaging market comprises raw material suppliers, manufacturers, suppliers/distribution channels, and end-use industries. Pharmaceutical packaging products primarily include plastic bottles, caps & closures, blister packs, syringes, vials, pouches, and tubes. The key raw materials used for manufacturing the aforementioned packaging products include polypropylene (PP), polyethylene terephthalate (PET), polyethylene (PE), polyvinyl chloride (PVC), aluminum, and glass.
Table. 1 Installed Production Capacity of Plastics Raw material Suppliers, by Company, 2021
Company

Product

Production Facility Location

Production Capacity Analysis, 2021 (Kilotons per Annum)

Braskem

Polypropylene (PP)

America and Europe

4,045

HMC Polymers

Polypropylene (PP)

Asia

810

China Petrochemical Corporation

Polypropylene (PP)

Asia

350

LyondellBasell Industries Holdings B.V.

Polypropylene (PP)

America, Europe, Asia and others

5,270

Reliance

Polypropylene (PP)

Asia and others

3,500

BASF SE

Polypropylene (PP)

Europe, North America, Asia Pacific

2,610

Polyamide 6 and 66

820

Total Petrochemicals

Polyethylene (PE)

America, Europe, Asia and others

1,100

Polypropylene (PP)

2,950

Exxon Mobil Corporation

Polyethylene (PE)

Beaumont, Texas

1,700

Mont Belview, Texas

1,300

Low Density Polyethylene (LDPE)

Antwerp, Belgium

500

Meerhout, Belgium

300

Zwijndrecht, Belgium

200

SABIC

Polyethylene (PE)

Asia and others

1,500

Polypropylene (PP)

3,570

Indorama Ventures Public Company Limited

Polyethylene Terephthalate (PET)

America, Asia Pacific, Europe, and Middle East & Africa

4,200
Pharmaceutical packaging products are highly customized products and are bounded by strict regulatory compliances, especially with regard to the sterility of the packaging. Thus, the packaging and pharmaceutical product manufacturers work closely during the development of packaging products. Manufacturers usually undertake production after order confirmation by the end-use companies, which limits the scope of third parties in product distribution.
Plastic Pharmaceutical Packaging Market Analysis And Forecast
Plastic is light in weight, easy to mold, and considerably cheaper than metal and glass. Therefore, end-use companies majorly prefer plastic-based packaging products. Increasing demand for convenience, lightweight, and travel-friendly packaged pharmaceutical products from this industry is expected to augment the growth of the plastic & polymers material segment in the coming years.
Polypropylene (PP) accounted for the largest share in the plastic & polymers material segment in 2022. Polypropylene is considered an economical material as it offers a combination of mechanical, physical, electrical, and thermal characteristics that are not found in any other thermoplastic. When compared to high or low-density polyethylene, polypropylene exhibits a higher working temperature and tensile strength.
Polypropylene offers a reasonable chemical resistance in corrosive environments. In addition, it provides resistance against degreasing agents, organic solvents, and electrolytic attack. It is light in weight, has a low moisture absorption rate, and is resistant to staining. Thus, on account of the aforementioned properties, the adoption rate of PP-based packaging is considerably higher.
PET accounted for the second-largest share in the plastic & polymers segment in 2020 and is expected to witness significant growth over the forecast period. PET is used for the packaging of liquid oral drug formulations and is the most used and globally accepted form of plastic for the packaging of pediatric and geriatric drugs. This is attributed to its transparency, robustness, low cost, and lightweight.
Plastic is a non-degradable material and thus, presents sustainability issues. Increasing sustainability awareness among consumers has been forcing end-use companies to opt for eco-friendly packaging material. This trend is expected to negatively impact the demand for plastic packaging. However, the unavailability of an efficient alternative to plastic, performance issues, high cost of bioplastics, and stringent regulatory compliances associated with pharmaceutical packaging materials are expected to negate the negative impact of sustainability concerns.
Parenteral Containers Market Analysis And Forecast
Parenteral containers include cartridges, vials & ampoules, syringes and bottles. Most of these parenteral containers made of glass and partial portion of the containers are made of plastic. The growing significance of biotech drugs and cost sensitivity in the healthcare sector have resulted in establishment of stringent regulations related to the drug delivery products. Most of the glass pharmaceutical packaging manufacturers are investing in vials aimed at increasing the shelf life of the drug. The companies such as SCHOTT AG and Gerresheimer AG (Gx RHOC) ensure tight geometric tolerances with the help of 100% camera inspection for tubing and containers in their vials. Gerresheimer AG uses Gx THOR (Thermal Hydrolytic Optimization and Reduction), a technology developed to reduce delamination susceptibility in vials and Gx FLASH, another proprietary test procedure to predict the susceptibility of vials to delamination.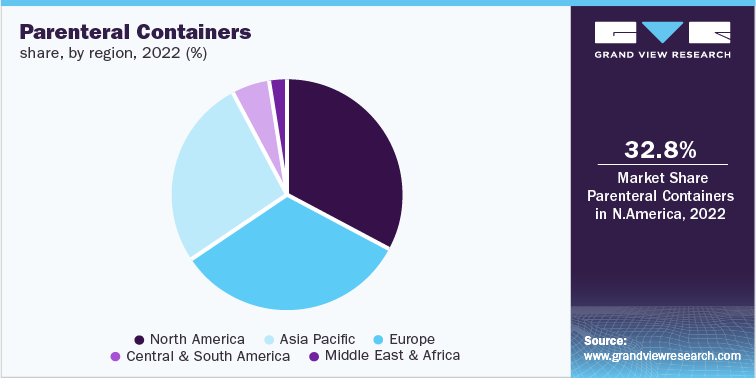 The companies have been constantly investing for the development and improvement of the production and quality processes in the tubular glass conversion for making injection vials. For instance, in March 2017, Gerresheimer AG introduced its Gx RTF vials with the Ompi EZ-Fill packaging technology combining the company's core competencies of molding vials from the glass tubing and the ready-to-fill process for the prefillable syringes. This product is available in several formats for nest and tub. With this new packaging technology, these vials can be used at any time from the development phase of new medications to small-batch production or even industrial-scale production.
Ampoules are one of the most used glasses based primary packaging for injectable, and their growth is clearly being seen in the cost-sensitive markets of emerging nations. In 2019, post Covid-19 break out, top biotechnology and pharmaceutical companies have engaged in the development of vaccine for the disease. In 2020, the demand for glass-based vials has experienced a huge spike in demand owing to the increased COVID-19 vaccine production by the companies including GlaxoSmithKline plc (GSK), Sanofi, AstraZeneca, Pfizer, Johnson & Johnson, Moderna, Chongqing Zhifei Biological Products Co., Ltd, BioNTech SE and CureVac N.V. The demand further increased since 2021 with more orders for vaccine from countries throughout the world coupled with growing COVID-19 cases. The demand for parenteral containers is expected to normalize by the year 2023 with the expected stability in COVID-19 infection spread.
Primary Pharmaceutical Packaging Market Analysis And Forecast
The Primary packaging first envelopes the drug and protects it from contamination. Along with protection, primary packaging used in this industry is often involved in dispensing and dosing drug contents. Labels containing information regarding drug use, caution, and others are often printed or attached to primary packaging products such as bottles, pouches, tubes, vials, blister packs, and others.
Primary pharmaceutical packaging is expected to emerge as the largest segment over the forecast period. This can be contributed to factors such as minimal product-package interaction, protection of quality, and enhanced performance at point-of-use. In addition, ease-of-use for the patient is a major driving factor for the primary packaging segment on account of the increasing trend of self-medication. Further, the complex needs of the rapidly growing biologics market are spurring developments in parenteral packaging.
Key companies operating in the primary this market includes Amcor plc, Becton, Dickinson and Company, AptarGroup, Inc., Drug Plastics Group, Gerresheimer AG, Schott AG, Owens Illinois Inc., SGD Pharma, West Pharmaceutical Services, Inc., Berry Global Inc., WestRock Company, Comar, LLC, and Vetter Pharma International.
Pharmaceutical Contract Packaging Market Analysis And Forecast
Pharmaceutical manufacturers often outsource the packaging from third-party suppliers, usually known as contract packagers, to mainly focus on their core competencies, which are pharmaceutical production and research & development associated with it.
Market players in pharmaceutical industry have increased the outsourcing of packaging activities to save their expenses and time. Instead of investing in the packaging of products, pharmaceutical manufacturers are shifting toward outsourcing jobs to specialized and capable contractors. In addition, the market is a highly regulated one and contract packagers possess better expertise in producing pharmaceutical packaging as their core business is packaging, as compared with pharmaceutical manufacturers.
Moreover, regulatory requirements associated with pharmaceuticals and there are gradually becoming stringent, and contract packaging organizations are in a better place to address those changes. This factor is increasing the attractiveness of these services and, thus, is anticipated to augment the growth of contract packaging end-use segment over the forecast period.
Competitive Insights
The global pharmaceutical packaging market is highly fragmented with the presence of large and medium-sized international companies as well as small-sized domestic players. The global market is steadily moving toward sustainable packaging owing to rising stringent regulations regarding the use of excessive plastic packaging coupled with growing sustainability awareness among consumers.
The production of vaccines for COVID-19 from the end of 2020 has generated exponential demand for primary packaging products especially parenteral packaging products, thus impacting the market positively. This is expected to largely benefit glass vial manufacturing companies such as Owens Illinois Inc., AptarGroup, Inc, Gerresheimer AG, and Schott AG.
Furthermore, these products such as strips, blisters, flat pouches, bags, tubes, stand-up pouches, and sachets have been witnessing significant traction in the market since the past few years. Flexible packaging requires less energy for its manufacturing and offers significant savings in transportation costs due to its lightness as compared to rigid packaging products such as plastic bottles and jars.
In March 2022, SGD Pharma and Stevanato Group together launched ready-to-use (RTU) sterile 100 mL type I molded glass vials using SG EZ-fill packaging technology.

In March 2022, Gerresheimer opened a new plant in Ohio, Berlin for the production of plastic pharmaceutical containers. This new production plant will produce plastic packaging of the Duma Twist-Off square brand with a 40 ml filling volume with a child-resistant closure and desiccant for filling solid medications.

In April 2021, Amcor plc announced development of recyclable Polyethylene-based thermoform blister packaging under the brand name AmSky™. The development is aimed at sustainable packaging that can reduce carbon footprint. The product is expected to reduce carbon footprint up to 70%.