The days of consuming food products just for their wonderful taste are far behind us, as a new wave of health-aware population demands nutritional value from what they consume. This is where agar-agar gum, a hydrocolloid, comes into the picture.
Does the term 'agar-agar gum' ring a bell for you? If it does not, well, in the near future, it definitely will. It is a gelatinous polysaccharide used in food products that is well-known amongst the vegetarian and vegan crowd, as shifting lifestyle choices across the globe has prompted various substitutes for animal-based items such as gelatin in the food industry. Gelatin, once highly popular and a crucial ingredient for baked goods, desserts, confectionaries and similar items, is now considered by many as "non-vegetarian" since it is derived from animal sources. This has pushed the demand of agar-agar gum, its 'vegetarian substitute', in many regions.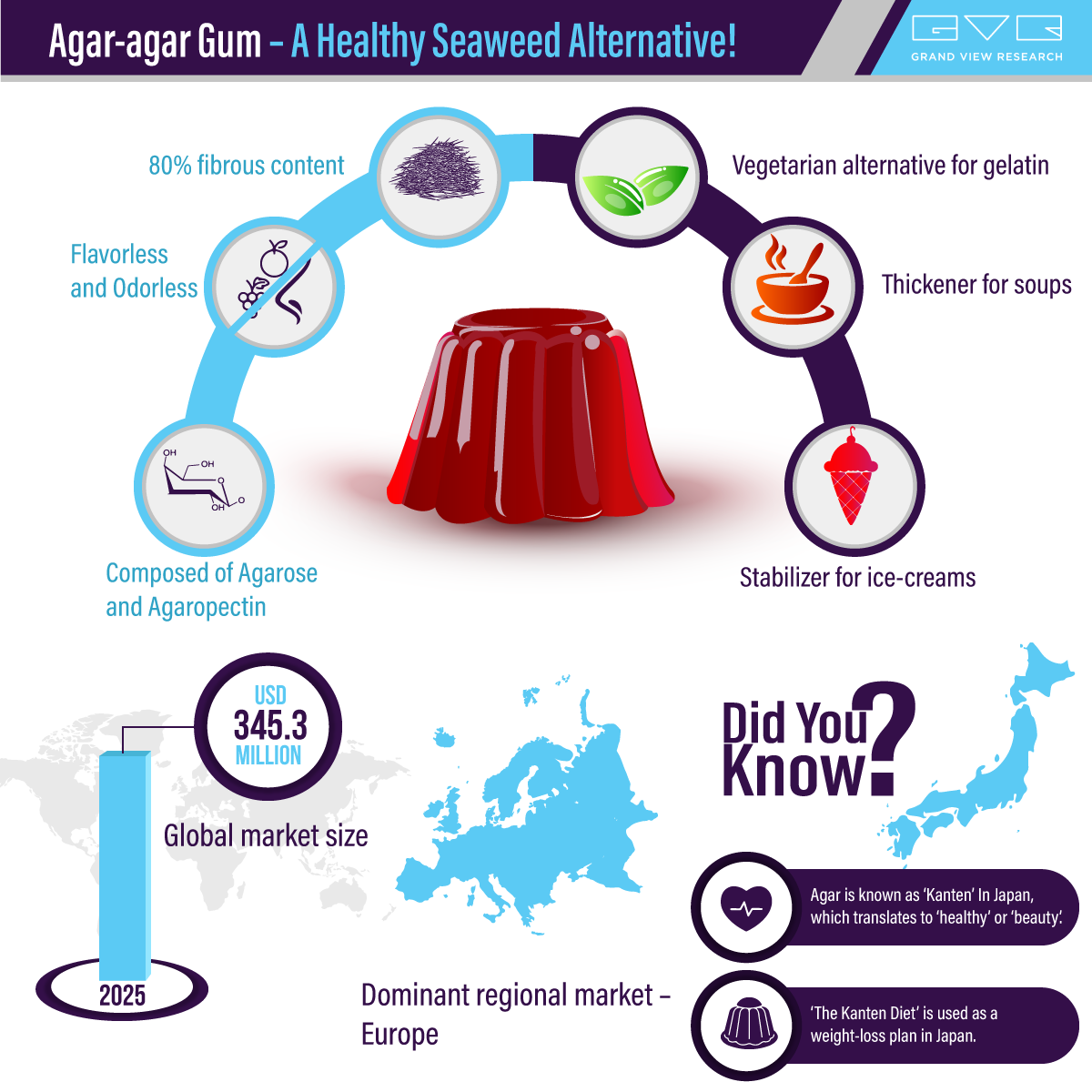 Of Great Nutritional Value
Agar is actually composed of two substances, namely agarose and agaropectin. The gum is derived from seaweed, extracted and processed under stringent conditions to produce powders, squares or strips which can be utilized directly in cooking or baking applications. The best thing about agar-agar gum is that it is colorless, flavorless and odorless, which eliminates requirement for any processing, and it is sold in the form of dehydrated flake or powder, and helps in attaining a "thick" texture, from custards to soups. Another feature of this product is that it is high in fiber, iron and calcium, while being devoid of fats.
The major difference between agar-agar gum and gelatin is that unlike the latter, agar-agar sets more firmly, maintaining its furnace even at high temperatures. Many of the dairy products need a firm gel structure, and this is where agar-agar comes into the picture. The gel helps in maintaining the shape and consistency of the products, thus preserving optical freshness. Even at lower concentration levels of 0.04%, the gel can provide stability and thickness to the food items without any technical assistance. The gel strength of agar-agar is also significantly higher, when compared to gelatin.
Agar-agar gum is synonymous with health benefits, and it is no wonder that the food industry has recognized its potential and moved quickly to integrate it in different products. Some of the important benefits are:
Agar-agar gum contains 80% fiber, minimal amount of carbohydrates, and no fats, which translates to very low calorie count.

Due to its high fiber content, it is used as a laxative as it moves rapidly in the digestive system.

Agar-agar gum has been incorporated in traditional eastern medicines for treating diabetes and constipation.

The product is rich in minerals such as potassium, magnesium and folate, and is ideal for weight loss plans, being used in Japan as such.
Extraction and Cultivation
The extraction of agar-agar is done from several types and species of red seaweeds which belong to the Rhodophyceae class. The agar containing species are called agarophytes, with Gracilaria and Gelidium being the major commercial species. Natural seaweed beds in Morocco, Spain, Portugal, Japan and South Korea are the major points of extraction, while attempts to cultivate them have been unsuccessful. The National Fisheries Office in Morocco, in April 2019, found that the country's artisanal and coastal fishing industry has seen an increase in yield by 15% from April 2018, with the seaweed fishing output showing a substantial increase by 242%, a good sign for the agar-agar gum market.
Competition has risen exponentially for purified agar, owing to its increasing demand in the food industry, which created a shortfall in the supply for microbiological applications in the recent past. However, increasing strategic alliances and the discovery of new micro-bacterial compounds in the soil have created a positive outlook for the development and supply of agar-agar gum. Companies are also attempting to cultivate seaweed themselves, in order to streamline their procurement and integrate themselves into raw material production along the value chain.
The industry also contributes largely to employment generation in rural areas, since the seaweed is washed ashore in the aforementioned coastal regions such as Spain, Portugal, and the others. Numerous women workers who do not participate in other community fishing activities actively take part in seaweed harvesting and collecting.
Generating High Demand!
Some of the major driving factors contributing to the development of the agar-agar gum market are:
Consumer preference has started shifting towards animal-free products, and with gelatin being derived from animal sources, consumers have naturally moved away from it towards vegetarian substitutes.

The global population has steadily become health-conscious, which has led to the popularity of dairy-based products in consumer diet, again factoring in the growth of the agar-agar gum market.

The activity of seaweed harvesting and collection has been a major source of income to the rural fishing population of Spain, Portugal, Morocco, and Chile, among others, especially to the female demographic.

Major technological advancements have been made in this industry, such as metal scrapers, which ensure that large quantities of seaweed can be extracted with minimum effort.

New and improved techniques for pre-treatment, cleaning, dewatering, and filtration and gelation have been introduced, which has propelled the agar-agar gum industry.

With vegan and vegetarian diets now governing a significant number of households, creative cooking methods have taken a hold of the market. Textured foods and foamed products have also proved critical for market growth of the product.
Industry Players
Key companies in the industry include TIC Gums, AEP Colloids, Meron Group, Myeong Shin Agar, Marine Science Co., Ltd, Agarmex, Orient Resources Company, B&V, Titan Biotech Ltd, AgarGel, Central Drug House (P) Ltd., Agar Swallow, Agar Corporation, Ltd., AsionsChem, Indoalgas and Able Sales Company. These organizations are actively investing in R&D and supply chain management to improve their existing portfolio and boost the properties of agar-agar gums.
Gelita, a Germany-based supplier of collagen proteins, has successfully created agar-agar sheets, which eliminate the need for spoon measurements as well as conversions regarding different powder solutions. Also, many new players have risen rapidly in the market, such as Living Jin, which has expanded its agar-agar gum offerings to different size variants.

In-depth report on global agar-agar gum market by Grand View Research:
https://www.grandviewresearch.com/industry-analysis/global-agar-agar-gum-market