Ever wondered why milk and juice taste so fresh even days after manufacturing? How do medicines remain free from bacteria and germs even after days of packaging? How do manufacturers ensure that baby food, whose freshness and nutritional value is of the utmost importance, can stay safe for consumption for a long time? Well, for that, you have aseptic packaging to thank! This is the type of packaging that helps in their extended shelf-life, sterility, and uncompromised flavor (in case of food substances). The aseptic packaging market has seen huge growth in recent years, and we will see what are the reasons for its high demand.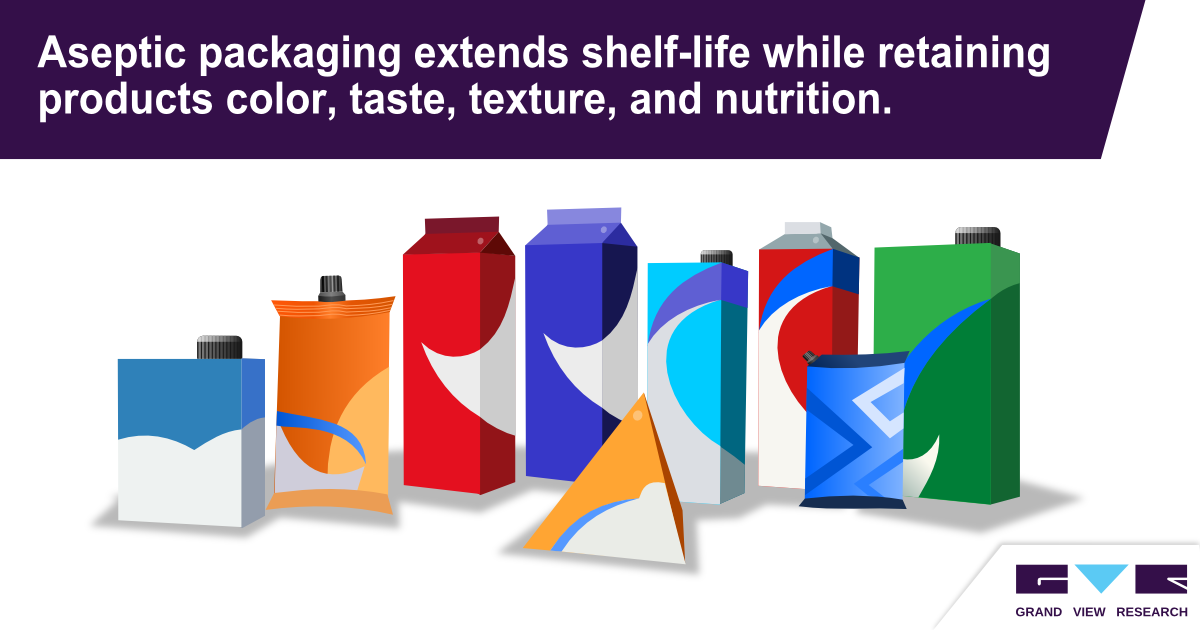 The Various Aspects Of Aseptic Packaging
What is aseptic packaging? Basically, it involves the filling and sealing of a sterilized product in a sterilized packaging material. The product quality is expected to remain consistent, along with ensuring that it cannot be damaged due to external factors such as transportation and weather. These conditions are met through the use of semi-rigid paper, plastic and aluminum. The paper helps in the shaping of the package, besides providing strength and stiffness. The package is made liquid-tight through the use of low-density polyethylene on the innermost layers. Finally, aluminum acts as a barrier against oxygen and light, prevents refrigeration requirement and acts as a preservative itself.
The large-scale use of plastic in the packaging process is influenced by the low production cost of plastic materials, along with their light weight and easy transportation, as well as energy efficient production process, when compared to metal or glass packaging. However, what has prompted the use of aseptic packaging on such a large scale across different industries, particularly the F&B sector? There has been a drastic change in the life-style of the working population. This demographic demands food on-the-go, and for it to stay fresh long after it has been opened; to put it more clearly, there has been a rapid increase in the demand for hassle free, ready-to-eat meals, and dairy & nondairy products. It also raises the demand for frozen meals, snacks, and pre-mixes for nearly all existing cravings.
Brief Insights On Aseptic Products
Aseptic cartons are generally made using a thin layer of aluminum, plastic, and paperboard. However, rapid changes are taking place to boost their recyclability and attractiveness.
Products in the aseptic packaging market comprise:
Bags & Pouches - They are used in aseptic solid raw materials, as well as sterile pharmaceutical auxiliary materials, on account of their sterility and non-toxicity.

Bottles - Aseptic bottle filling has caught on quickly with beverage processors and packers. The first aseptic bottle filling line was started in Switzerland in 1961. Europe and Asia are the regions with promising product demand.

Cartons - Aseptic cartons are one of the most notable area of implementation of aseptic packaging, with common consumer goods such as fruit juices and milk being carried by them. Cartons, being lightweight, offer great packaging versus product ratio (7%-93%), as opposed to metal cans (13%-87%).

Prefilled Syringes - Prefilled syringes have seen huge growth in demand in recent years on account of advances in biotechnology and biologics. This aseptic packaging technique offers protection from contaminants and drug degradation, while also eliminating the need for refrigeration.

Vials & Ampoules - These are related to syringes, and must be properly sealed so as to avoid any outside contaminants. With advancements in drug delivery and greater need for product safety, vials and ampoules demand attention from manufacturers. Aseptic packaging enables vials & ampoules-carrying medical specimens, drugs, pharmaceutical products, and reactive liquids to be stored without refrigeration during transportation.
Packaged Perfectly!
Aseptic packaging not just offers 'temperature control', but also retains the appearance, texture, nutrition, & flavor of food or beverages. Moreover, light weight and recyclability lower the maintenance costs.
The major end-use industries for aseptic packaging include:
Beverages - This segment has seen huge growth in the past few years, with kids' juice containers being a major application area. However, dairy as well as non-dairy drinks have also seen huge interest from the market, with protein shakes and milk-based drinks, along with almond and soy milk making use of this packaging. Additionally, ready-to-drink tea and iced coffee are also promising and still-expanding application areas.

Food - Food products are also packaged using this process, as they help in the retention of nutrients better as compared to canned food. Also, the texture of products such as meat is likely to become tough, as compared to when they are canned. All these factors have helped in the growth in demand of aseptic packaging in food sector.

Pharmaceuticals - Drugs and medicines require proper protection from the outside environment, as they are highly sensitive to temperature changes. Along with this, the rigidity and strength of the packaging allows for easy transportation of pharmaceutical products across regions, without any loss in their effectiveness.
The beverage segment generated over 40% of the global demand in 2015. Juices, dairy & non-dairy products largely contributed to the growth of packaging cartons.
The aseptic packaging market offers self-stabilizing packaging at ambient temperatures, allowing manufacturers to store & ship materials across the globe. This feature extends the shelf-life of products, reducing wastage. Moreover, it decreases the need for preservatives in food products. According to Grand View Research, Inc., the aseptic packaging market is expected to grow to around USD 85.5 billion by 2024.
Competitors Vying For Market Space
Robert Bosch GmbH, Tetra Pak International S.A., Greatview Aseptic Packaging Co., Ltd., Schott AG, SIG Combiboc Obeikan, Reynolds Group Holdings Limited, and Agropur Inc. are some of the primary market players. The recent developments that the industry has seen include:
In January 2020, Tofusan, a start-up company in Thailand, teamed up with SIG Combibloc to launch the country's first organic UHT soymilk in aseptic carton packs, in original flavor and low sugar varieties.

In October 2019, Sumol+Compal released the Compal brand in Tetra Pak's 'Tetra Stelo™ Aseptic 1000 Edge with Bio-based WingCap™ 30'. The former would be bringing a number of juices in the carton, which features an easy grip and one-step opening.

In October 2019, ARaymondlife and groninger teamed up with Schott, bringing Schott's adaptiQ® ready-to use (RTU) vials, ARaymond's RayDyLyo® RTU plastic press fit caps, and groninger's Nestfiller machine portfolio. This is expected to better meet the demands for flexibility in aseptic manufacturing process.

In-depth report on global Aseptic packaging market by Grand View Research:
https://www.grandviewresearch.com/industry-analysis/aseptic-packaging-market