In the earlier days of 1800s, Steel, as a product was very expensive to produce, therefore, could only find its way into smaller expensive objects like knives, swords and armors among others. However, Henry Bessemer's development of the Bessemer converter in 1857 changed it all. Steel began to be produced on a large scale. Now, steel production has reached its zenith, due to the several technological advancements and emergence of new industries in 20th and 21st centuries.
Sectors like construction, surgical tools, automotive industry, aerospace industry and others, readily accept steel and its variants (Especially Stainless steel) as their main raw material for manufacturing components of their products. Now the question that pricks our intellect is,
What On Earth Is So Special About Steel And Its Variants?
Steel, which is an alloy, is made up of iron and carbon along with several other elements (depending upon the need it strives to fulfill). Basically, if you fuse some amount of iron and carbon with other elements like chromium, nickel et cetera together, then Ta-Da, you get a variant of steel. Talking about the variants, Stainless Steel, the MVP variant of steel is made up of steel (Duh!) mixed withchromium, nickel, molybdenum, silicon and aluminum in standard proportions. It is used on the largest scale compared to all other variants.
Industries like automotive are the major sectors where the consumption of stainless steel makes up for a good big chunk. In fact, Automotive Stainless Steel Tubes Market is projected to grow at a CAGR of 3.9% from 2016 to 2024, according to a report by Grand View Research, Inc.
Why?
Stainless steel is that student of the batch, who gets straight As in every subject and also, is the leader of the college football team, along with the quiz and debate teams. Now, what makes it so special? Stainless steel is preferred in the automotive industry due to its favorable properties such as high strength, corrosion resistance (thanks to Chromium), and ability to perform under extreme temperatures and pressures. All in all, stainless steel in the automotive industry is used because of two things-the durability of the material, and the quality that it gives.
Stainless Steel And Automotive Industry Saga.
In automotive industry, stainless steels are used heavily to make several components, especially tubes and pipes, which are deployed in the automobiles, right from the simpler diesel spark plugs to the complex fuel lines and exhaust gas recirculation systems.
The automotive stainless steel tubes market is segmented into Welded and Seamless, on the basis of product. Welded tubes have the highest penetration in the market. These are cost effective and have minimum waiting period which is likely to increase its popularity in cost-conscious countries such as India and China. Seamless tubes get an extra edge due to their ability to nullify the problems of leakages arising from the welded tubes, giving a boost to their automobile market potential. Both the products are expected to register high growth rate and are set to flourish in the market.
Which Region Is More Voracious?
The demand for automotive stainless steel tubes was the highest in the Asia Pacific region in 2015, accounting for the 52.5% of the volume share. Growing automobile industry, as well as regulations regarding strength and safety of vehicles, has resulted in increasing use of stainless steel tubes by automobile manufacturers. This region was least affected by the economic slowdown from 2007 to 2009, which slowed down the automobile industry in some of the other regions.
Europe accounted for the second largest share in 2015. This region has witnessed a revival in the automotive sector, since the financial depression of 2007. Germany, which is considered to be the automotive hub of Europe, has led this revival. The market in UK has also seen increased demand for automotive stainless steel tubes. Major automobile manufacturers such as Volkswagen, Renault, Volvo, and Fiat are headquartered in this region.
After Europe, North America comes into the picture, where US is ruling the roost since a long time. Here welded tubes hold the highest market share; however, seamless tubes have also been growing with the highest CAGR in 2014-2015.
Regional insights are more clearly highlighted by the pie-chart below.
Automotive stainless steel tube market, by region, 2015 (%)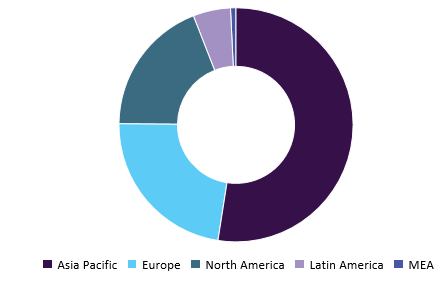 Cut-Throat Competition
The automotive stainless steel tube market is dominated by major players such as ArcelorMittal, Sandvik Group, Nippon Steel & Sumitomo Metal Corporation, ThyssenKrupp, and Fischer Group. These companies have R&D centers, manufacturing facilities and distribution networks throughout the world. The emerging Latin American and Asia Pacific regions are expected to provide an opportunity for these players to grow further.
The majority of the manufacturers of stainless steel tubes have adopted forward integration strategies. These involve manufacturing and supplying the final product to the end user, i.e. automobile manufacturers, directly. However, some manufacturers make use of distributors and retailers in order to sell their products.

In-depth report on global automotive stainless steel tubes market by Grand View Research:
http://www.grandviewresearch.com/industry-analysis/automotive-stainless-steel-tube-market